Accommodation On The Gibb River Road
Station Stays, Wilderness Lodges, Wilderness Camps
There are quite a few excellent accommodation options along the Gibb River Road. Most people camp, but even die hard bush campers like me don't mind the odd night with a hot shower and someone else cooking dinner. (And doing the dishes!)
Also, some people would love to see all those beautiful gorges, but simply are not into camping at all. While I think it's more fun to rough it, you certainly don't have to.
Here are your options if you want a real bed along the Gibb River Road, listed in order from east to west.
---
Digger's Rest Station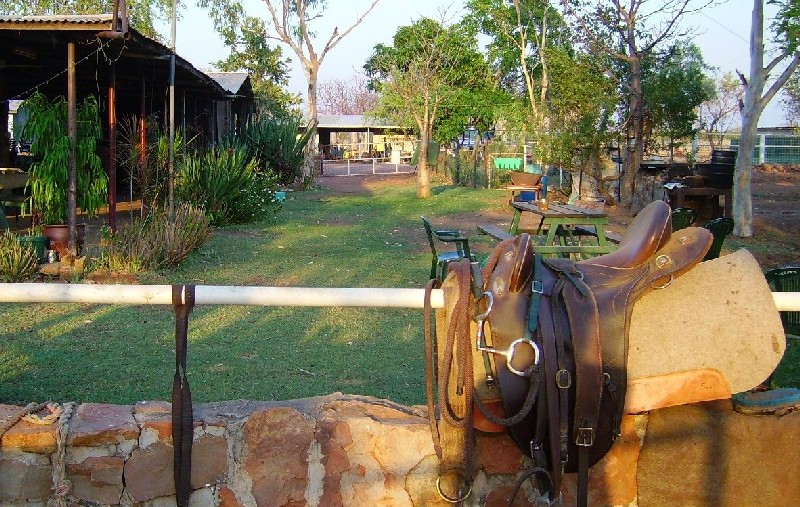 Homestead at Digger's Rest

Digger's Rest Station, a working cattle station, is technically not on the Gibb River Road itself. Rather, it is a great detour (or alternative route from the Pentecost River to Wyndham) that the more adventurous of my readers take.
The station is in a beautiful and remote area under the Cockburn Ranges, on the banks of the King River, near the intersection of the King River Road (out of Wyndham) and the Karunjie Track (from the Pentecost River).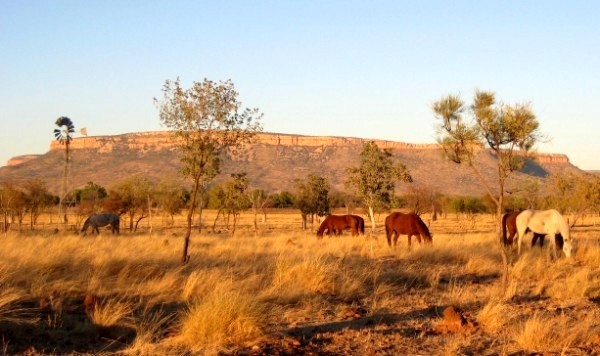 Morning at Digger's Rest

Diggers Rest offers accommodation (bush huts or air conditioned bunk house), camping (bush style or with facilities), home cooked meals and a large range of activities, including great fishing and horse trekking. A taste of the real Kimberley.
---
El Questro Station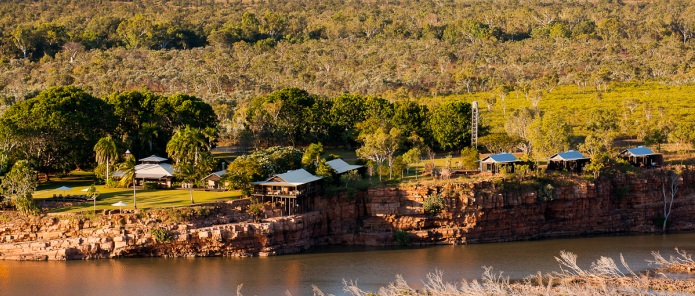 El Questro Homestead

Only about 100 km from Kununurra (less than 50 km on the Gibb River Road), El Questro is by far the biggest and best known tourist venture in the Kimberley. Their marketing machine is so efficient that people overseas get the impression El Questro is the Kimberley, and the Kimberley is El Questro.
El Questro used to be owned by Voyages, the same mega corporation that also owns Ayers Rock Resort amongst others. (Voyages since sold EQ to fellow giant Delaware Parks and Resorts).  And like Ayers Rock Resort it receives mixed feedback.
Many people find that El Questro is too touristy. It is also perceived as overpriced. Others love the good facilities and professional service. I guess as usual, it all depends what you expect.
The land El Questro owns is absolutely beautiful. It's not that hard to get away from the touristy aspects of it and they do offer facilities for all budgets, right down to bushcamping.
El Questro is, however, huge and you need to bring a lot of time (or money) to appreciate it. Most people do not have enough of either to fully appreciate what El Questro has to offer.
The easiest places to visit on El Questro are Emma Gorge, El Qestro Gorge and the Zebedee Hot Springs (where you get kicked out at lunch time to make room for the more illustruos clientele.) There are many more gorges and 4x4 tracks to explore, either by yourself or on a guided tour or cruise.
Those who could afford to see El Questro in style loved it. If you like a bit of luxury, check the link above for prices and deals. You never know your luck...
And for us cash strapped mere mortals there are plenty of other options at "ELQ"

---
Home Valley Station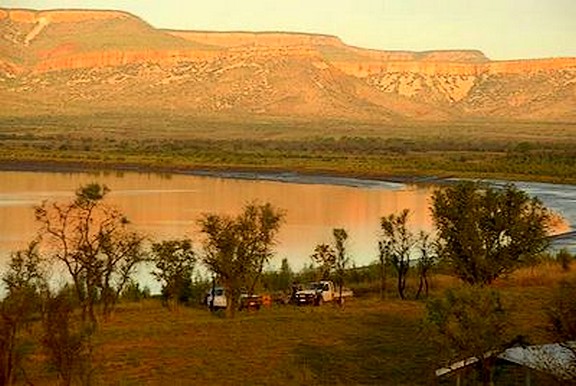 View towards river campground at Home Valley Station

Home Valley Station is situated right on the Gibb River Road, just on the other side of the Pentecost River Crossing.
The working cattle station is owned by the Indigenous Land Corporation. As an indigenous TAFE academy it offers programs for Aboriginal students and trainees from many communities in the Kimberley. Trainees study practical skills like fencing, welding or concreting, horsemanship and stock handling and also tourism.
Home Valley Station has been open to tourists since 2006 and then underwent another major renovation and upgrade in 2008, turning it into a full blown holiday resort.
Like El Questro they offer accommodation for all budgets, from luxury right down to bush camping by the river.
The river campground is definitely one of the most scenic in the Kimberley.
The food was fantastic last time I checked, but chefs change often in this part of the world. I hope you will still find the same delicious brand of Kimberley camp cooking meets five star cuisine.
---
Ellenbrae Station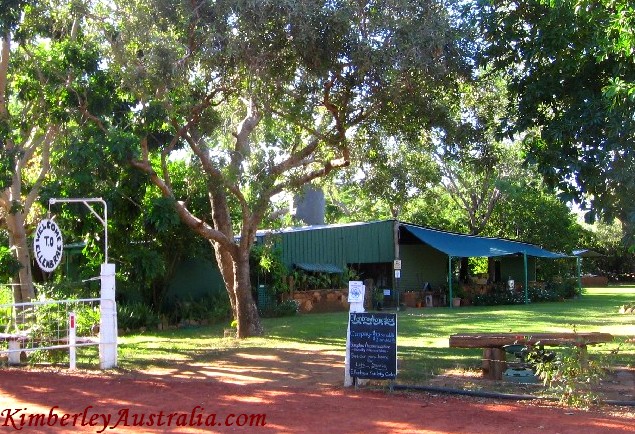 Entrance to Ellenbrae Homestead

Ellenbrae Station is roughly 230 km from Kununurra and 70 km from the Gibb River Road/Kalumburu Road intersection.
The small, family run place offers great camping facilities (with a nice swimming hole) and accommodation in basic stockmen's cabins. They also offer dinner and breakfast for accommodated guests and snacks for all other visitors. (The scones, cream & jam are legendary and many tourists stop just for those!)
Every building and every structure here is built by hand from bush materials, with ingenuity and creativity. The facilities are basic and unusual, like the outdoor bathroom attached to a massive boab tree (Edit: sorry, the boab tree fell over in May 2016 so the bathroom is no more) or the donkey water heater at the campground.
The gardens are lovely and so is the veranda with the well visited bird feeders where you enjoy your scones.
It's a genuine Kimberley bush residence. I love it here!
---
Drysdale River Station

The gardens outside the accommodation at Drysdale River Station

Drysdale River Station, located 60 kms along the Kalumburu Road, is the last civilization outpost for people visiting the Mitchell Plateau.
This family run business is a working cattle station, running 8000 head of cattle on a million acres. Drysdale Homestead is a friendly place where you can get fuel, ice and some basic supplies, and also accommodation and meals. It's also the last place where you can get any of the above.



The bar and beer garden are great and the burgers are legendary. As is the coin operated pay phone in the fridge.
For accommodation you can choose from twin, double and family rooms and for the campers there are two campgrounds.

Check out their website, it's friendly, very useful, and has good information. Just like the real thing!
---
Mt Elizabeth Station
Mt. Elizabeth Station is a working cattle station, 30 km off the Gibb River Road. The turn off is about 70 km after the Kalumburu Road intersection, 345 km from Derby.
This is a REAL working cattle station, not a tourist resort that still runs some cattle in the background.
Mt. Elizabeth Station offers homestead accommodation with a three course dinner, bed and breakfast.
There is also a very spacious and well appointed camping area. (Dinner at the homestead can be arranged for campers if you let them know ahead.)


Wandjinas at Mt. Elizabeth Station

You can explore Mt. Elizabeth Station by 4WD (self guided), there are a couple of beautiful gorges, hiking, swimming and fishing, and there are also several exceptional rock art sites that can be visited via an Aboriginal guided tour in a station vehicle.
Read more about Mount Elizabeth Station.
---
Charnley River Station
Charnley River Station, also a working cattle station, is located 42 km off the Gibb River Road. The turn off is about 165 km after the Kalumburu Road intersection, or 256 km from Derby.
This was the very first station along the Gibb River Road to offer accommodation to tourists. Back then it was known as Beverly Springs and run by Marion Nixon and her husband. (Marion became known for her book "Children in the Sun", where she describes her life bringing up her five children on the station).
The property was then bought by Peter and Cheryl Camp who renamed it into Charnley River.
Accommodation and meals were available until 2014, alas, not any more. The station is now managed as a Wildlife Sanctuary by the Australian Wildlife Conservancy (www.australianwildlife.org) and offers only camping.
Read more about Charnley River Station.
---
Mornington Wilderness Camp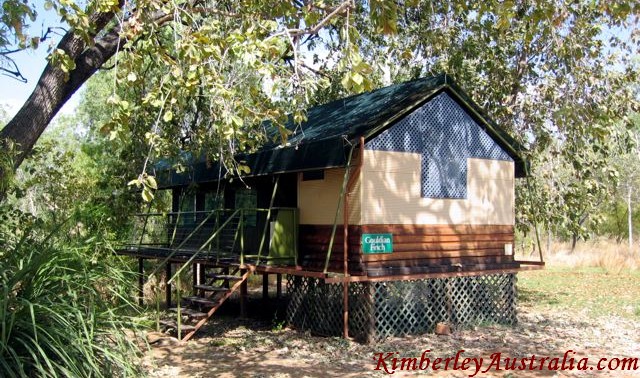 Safari Tent at Mornington Wilderness Camp

The Mornington Wilderness Camp and Wildlife Sanctuary, managed by the Australian Wildlife Conservancy (www.australianwildlife.org)  is a must see. It's a bit off the beaten track (90 km off the Gibb River Road to be precise), which makes it even more attractive. All friends or readers I spoke to rave about it.
Mornington is unique because the focus here is on conservation work and not on tourism or cattle, and that makes for a very special vibe. And even though tourism is not the main objective, the facilities here most definitely rank among the very best along the Gibb River Road.

Accommodation is in luxury safari tents. There is of course a normal campground as well, you don't have to stay in the luxury tent, you can sleep in your own. Just like you have the choice of cooking your own meals and raiding your own esky or visiting the excellent restaurant and bar!
Read more about Mornington Wilderness Camp and Mornington Wilife Sanctuary.
---
Mount Hart Wilderness Lodge
Mt. Hart Wilderness Lodge is located 50 km off the Gibb River Road and the turn off is about 200 km from Derby.

Accommodation is in two heritage homesteads with shared bathroom facilities. (These are not just shells that have been renovated into luxury hotels, they are still very much like they were built.) One building is the original homestead, the second homestead was built by former proprietorTaffy, in the same style as the original one.

Accommodation prices include a three course dinner and a cooked/continental breakfast, lunch is available at additional cost.
Camping is also available. The campground is 800 m north of the homestead on the Barker River and has very good facilities.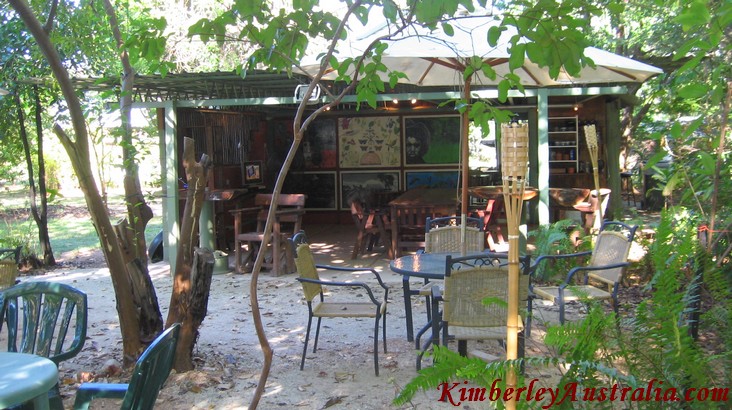 The "Three Dingoes Bar" at Mount Hart

Campers can book into the restaurant and use the "Three Dingoes" licensed bar.
And of course everyone has access to the magnificent country surrounding the homestead, including Annie Creek and Mt. Matthew Gorge.
Read more about Mount Hart Wilderness Lodge.
---
Birdwood Downs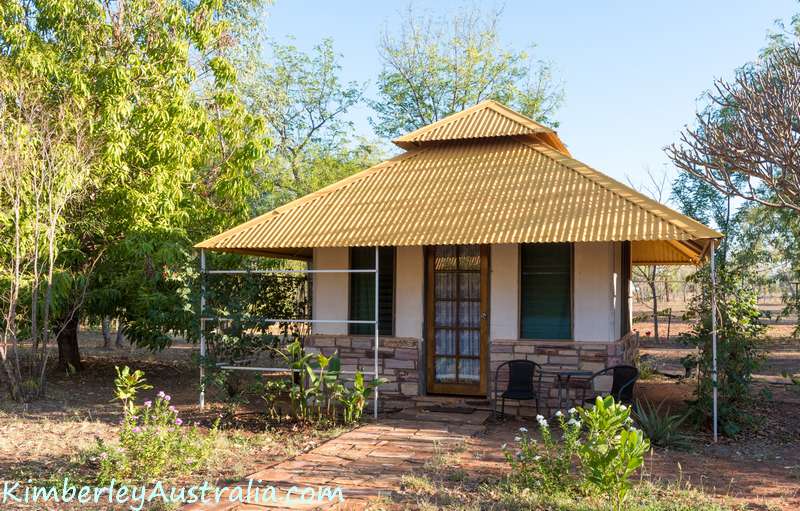 "Savannah Hut" at Birdwood Downs

Birdwood Downs is a working cattle station close to the western end of the Gibb River Road. It recently changed hands and is now part of Northern Pasture Management
Accommodation is available in single bedroom Savannah Huts built from Kimberley colour stone and located in the homestead gardens.
Bathroom facilities are shared and there is a well equipped camp kitchen to prepare simple meals. Only thing to bring is food and drink.

And, as everywhere, you can also find a campground here!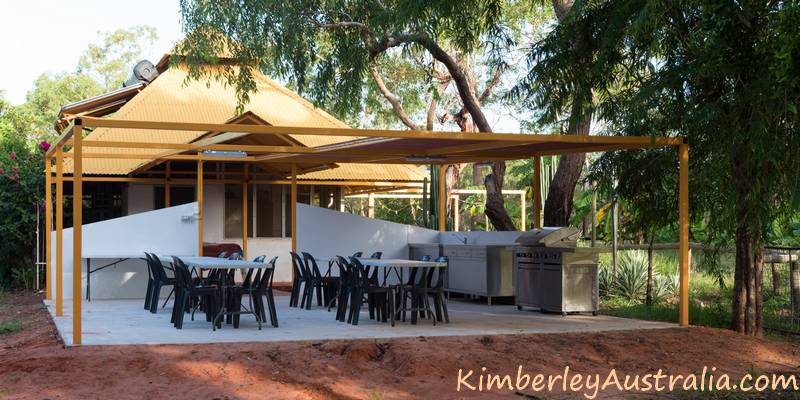 The Camp Kitchen at Birdwood Downs
---
That's it, all the places along the Gibb River Road where you can have a hot shower, buy a cooked meal, and sleep in a real bed!
What I didn't include is the tented accommodation that the giant touring company APT offers. You can google them.
Also check out the deals on offer at Tripadvisor. There's always the chance of picking up a real bargain in terms of flight + accommodation deals, car hire etc. You sometimes find other Gibb River Road stations and luxury camps there, too.
Return to Gibb River Road main page
Travelling to the Kimberley?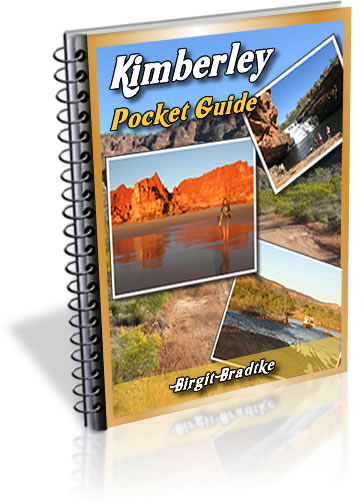 The FREE Kimberley Pocket Guide
A great introduction to travel in the Kimberley region and along the Gibb. This free resource will answer all the questions you might have in the early stages of planning a trip.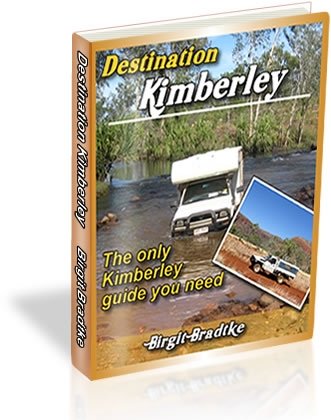 Destination Kimberley
The full Kimberley travel guide shows you how to make the most of your adventure at Australia's last frontier. Destination Kimberley includes the most detailed and most current guide to the Gibb River Road available anywhere. Also called "The Bible" by its readers.

Travelling to the Northern Territory?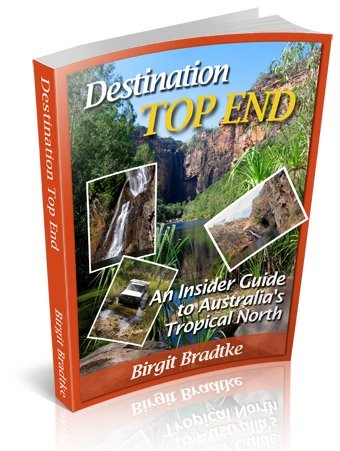 Destination Top End offers the same comprehensive, detailed insider information for the tropical regions of the Northern Territory. Be the best informed traveller in the Kakadu, Litchfield and Katherine Gorge national parks and beyond!

A must have if you travel to or from Darwin.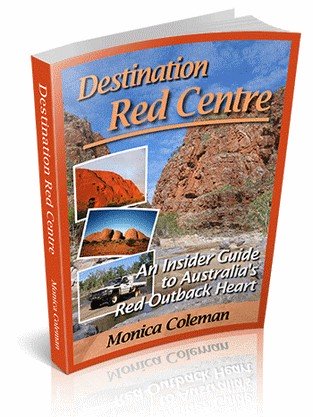 NEW! Destination Red Centre is the latest addition in this popular series. Monica Coleman takes you through Australia's red Outback heart, offering all the detail and insider tips that you have come to know and love about our guides. With special emphasis on Aboriginal communities and culture.

A must have if you travel to or from Alice Springs/Uluru.
Return to Gibb River Road main page