The Lhasa And Noumea Walkabout
This is Alain's detailed article about his family's four month trip across the Kimberley, northern Australia and Asia, which goes with his excellent compilation of photos on Facebook.
After Alain contacted me and sent me the links to his albums, I suggested he share some of his experiences with you, like many readers have done in their Kimberley trip reports.
Trip report submissions are limited to 10,000 characters. Alain emailed his report instead, and unfortunately it is over 25,000 words. Therefore I had to manually publish it as a regular page, which means there is no option to comment. If you want to comment on his report, you can do it here and that's also where you'll find the links to the photos that go with the article.
And now over to Alain:
The Lhasa And Noumea Walkabout

Let me start by saying that "not all who wander are lost". This famous quote by "J.R.R. Tolkien" has inspired me ever since I first read it. With a father that was an airline pilot, who strongly believed that travelling was an important part of one's education, and foreseen with the necessary portion of adventurous spirit, I was not made to sit down and wait... The world was calling.
I was fortunate as a kid to discover the great plains of central and southern Africa and it's huge amount of magnificent animals. I travelled many times to the USA to visit the gorgeous National Parks, especially on the west coast or in southern Florida. Later on, being a physical education student at the University of Leuven, I added the necessary physical challenge to the journeys abroad taking me to the French and Swiss Alps, the Argentinean, Peruvian or Colombian Andes and the Pakistani Karakoram for mountain climbing, to the Egyptian or Sudanese Red Sea, the Caribbean, the South African and Mozambican waters, the Ecuadoran Galapagos or the Australian barrier reef for scuba diving, kayaking the wild rivers of the French, Swiss or Italian Alps or rafting on the New Zealand Shotover river, the Peruvian Apurimac or the American Colorado. Even soaring over the Spanish, French or Belgian mountains and hills with my parapente was an incredible experience.
My wife Krista was very much like me. We both continued discovering the world as often as we could and encountered many new places on our fascinating blue planet : the African wilderness and beauty of Zimbabwe, Botswana and Namibia with its breathtaking nature and wildlife, the "Ruta Maya" in Guatemala, Mexico and Belize, the land of the golden temples of Myanmar, the silk road from Kashgar to Beijing in China, the double crossing of Australia by car from Melbourne to Darwin to Perth or even our 13.300 km long journey by car through Argentina.
When came our kids, we first of all thought of giving them unique names, names with a lot of symbolism. We named our oldest daughter Lhasa, being the capital of Tibet, referring to the mountains of the Himalaya and the nonviolent way of life of Buddhism. Then came our second daughter and she got the name Noumea, referring to the capital of New Caledonia, an island in the middle of the Pacific Ocean surrounded by beautiful white beaches, astonishing coral gardens and the most colorful fish.
We both agreed that we would continue travelling with our kids, as long as the circumstances would allow us to do so. Not just locally, in Belgium, but if possible, in far away, say "remote" areas as well. The idea grew of connecting Lhasa with Noumea, in other words, Tibet with New Caledonia. Hence the title "The Lhasa Noumea Walkabout". For those not acquainted with the word "walkabout", this name refers to a rite of passage during which male Australian Aborigines would undergo a journey during adolescence and live in the wilderness for a period of several months. In this practice they would trace the paths, or songlines, that their ancestors took, and imitate, in a fashion, their heroic deeds (ref. Wikipedia).
On August 3rd 2010, we left Brussels for a family journey of 4 months. We had been preparing this big trip for some two years. I spent most of the time preparing the trip as such, while my wife Krista spent most of her time organizing many fundraising activities, since we not only wanted to have a unique time together with our family but we also wanted to contribute to projects aimed at improving life of less favored children in the world, preferably in areas that we would visit. Finally, we chose to support educational projects of "Plan International" in Vietnam and Cambodia, two countries that had been badly affected by wars and genocides, not too long ago.
Our first stop was the island of Bali in Indonesia which we reached after taking a first flight from Brussels to London, then a second flight with a double-deck Airbus A-380 from London to Singapore and then a third flight from Singapore to Bali. To our surprise, the kids did great. The volcanic island of Bali is known for its natural beauty, its friendly people, its stunning rice terraces and its great scuba diving. It was a great start and a perfect place to digest our jet lag and the pre-departure fatigue, to see how the kids would cope with a totally new environment, and to catch up with some friends who were there for scuba diving and for relaxing. Actually, Danny Van Belle, three time winner of the "golden palm" in Antibes, France, for best underwater documentary, had organized the stay, and we didn't want to miss this opportunity. The "Scuba Seraya Resort" was a superb spot, located next to the sea on Bali's east coast, close to Tulamben, at the foot of the majestic, more than 3000 m high "Gunung Agung" volcano. It's hard to imagine a better place to start with a 4 month family adventure. The kids had their swimming pool and a nice yard to play in, we enjoyed the scenery, the scuba diving and the presence of some friends. Actually, the sea surrounding Bali is known for some weird and wonderful critters, like the mimic octopus, the hairy octopus, the wonderpus, the strangest species of ghost pipe fish, leaf scorpion fish, pygmy sea horses and other seahorses in all shapes and colors, Coleman, tiger and harlequin shrimp, mantis shrimp, boxer crabs, beautifully colored ribbon eels,… Too much to name. By the way, the wreck of the U.S. liberty ship near Tulamben is a great dive too, with beautiful soft coral formations, a colony of garden eels and a huge barracuda standing guard.
Besides of diving and relaxing, it would be a shame not to visit part of the island, especially the photogenic rice terraces and the most sacred temple on the island, the Pura Besakih. Some beautiful gardens like the one at Tirtagangga or the last Rajah's palace near Amlapura are also worth the detour.
After 10 days of paradise, we came to the conclusion that we couldn't have started our journey in a better way.
We took another two flights: one from Bali back to Singapore and another one from Singapore up to Darwin in Australia's Northern Territory. At 4 a.m. our plane landed on Australian ground. Our two kids were fast asleep, so we got out of the plane each one of us with a sleeping child on the shoulder. We cleared customs with our kids still fast asleep and collected our luggage a little further. The usual sniffing dogs and the necessary X-ray machines completed the whole procedure. Outside, we were greeted by our good friend Jim. We know him since 1992, when we first came to Australia. At that time he was our guide and showed us around for 5 days while bushwalking in Kakadu National Park. These days he flies the Sikorsky S-92 helicopters from Broome to the oil rigs out in the open sea. His wife Gwen is an intensive care medic, so, both of them keep very busy. We stayed a couple of days with them in Darwin and also arranged to get our 4WD campervan that would take us to the Kimberley and Bungle Bungle in Western Australia as well as to Kakadu and Katherine Gorge in Northern Territory. We bought food and drinks for the coming week so as to be safe and started our descend to Katherine, our first stopover. The campsite at the entrance of Katherine Gorge is just great. Good accommodation, correct food and most important of all, a beautiful swimming pool, that's all the kids ask for. We got there just before sunset and made our kids happy by showing them some rock wallabies who were hopping around on the parking lot. This was our first all Australian experience. A visit to the toilets at night was a great way to view some green tree frogs, to hear some barking gecko's and to have a close encounter with some baby rock wallabies. The next day we climbed up a steep path to the summit of Katherine Gorge from where we had a great view over the gorge and its surroundings. The kids had to climb on stairs and ladders, had to use ropes and chains, had to crawl over rocks and squeeze in between boulders, they just loved it. We did tell them though that wherever on this trip they'd encounter snakes, crocodiles, lizards, insects... they would have to leave the animal alone, back off and come and get us. Better be safe than sorry in a country where 7 of the 10 most poisonous snakes on earth are residents and where every year some salties get a very close look at tourists.
From Katherine Gorge we headed west towards Kununurra in the province of Western Australia, a drive of some 550 km. On the way we passed patches of bush that had been set afire. It's still not clear whether burning the bush is beneficial to the environment or if it destroys it. One thing's for sure, the whistling kites do take advantage of it. They just wait along the road and snatch all the insects and lizards that are fleeing the fire and that try to cross the road to safety. The second part of the road in between Gregory and the border of Western Australia is the most scenic one. You do not only pass Gregory National Park, Northern Territory's second largest national park, with its huge amphitheaters with rugged cliffs and unique baobab trees but also the Victoria River, weaving through the deep valleys and gorges, and just before entering Western Australia, the Keep River National Park with some striking sandstone formations.
Then, it's time to cross the border into Western Australia. Even though you're still in the same country, don't forget you're not allowed to bring fruit or vegetables into Western Australia, even not from neighboring Northern Territory. The main concern is that you would import the fruit fly. So, we made sure all our fresh fruit and vegetables had been eaten by then. Don't forget either that you get into another time zone, and that there's a difference of 1hour ½ with the Northern Territory.
After a busy day of driving, we arrived safely in Kununurra. We checked into a campsite next to the lake and jumped into the pool to cool off. From within the pool, we could see large numbers of flying foxes hovering over the campsite, leaving their sleeping grounds and heading towards the feeding grounds. After a quick visit to a fried chicken restaurant in town, we all were exhausted and quickly transformed our 4WD vehicle into an air conditioned sleeping palace. Nighty!
The next day was spent buying the last groceries and drinks before we would hit the "Gibb River Road". Around noon we left Kununurra and drove towards Wyndham. About 40 km before reaching Wyndham, we engaged into 4 wheel drive and started driving west on the gravel road called the "Gibb River Road". Our expectations were high. We had read a lot about this road, had bought a few books and maps and looked forward to what this remote part of Australia would offer in the coming days.
We first went to the "El Questro Homestead". It is a lovely site, quite well accessible, and known to many tourists. We were surprised to see as many people from all around the world. Most of them travelled in group in 4WD buses. For those who wanted, a helicopter flight could easily be arranged. We didn't stay too long, since we still wanted to make a hike in the "El Questro Gorge". This place is a little harder to get to and except for some sandy patches on the road, one also has to cross two creeks, one being quite deep which means … adrenaline guaranteed! Next to one of the creeks, two beautiful Brolga cranes posed for our cameras. The hike in itself, with small kids, is fun, though wet clothes will be hard to avoid. Either the stones on which they have to walk are slippery, either the level of the river is too high for little legs. But, with a temperature soaring into the high 30's (Celsius of course), a little bit of cooling is more than appreciated. The gorge is beautiful and has its own ecosystem. Lots of shade inside the gorge and a high degree of humidity, allow palm trees, unique species of plants as well as odd animals to be found here. Add some nice, refreshing pools and it would be a pity to overlook a visit to this place. Although other gorges and great hikes are to be found in the same area, we had to leave this attractive place since we still had to drive to the "Home Valley Station". This part of the "Gibb River Road" is stunning, especially in the late afternoon. The incredible views over the "Cockburn Range" and the crossing of the "Pentecost River", make it one of the highlights of the "Gibb River Road". We took our time, once we had crossed the "Pentecost River", to look at this mighty range and enjoyed the beautiful colors at sunset. While waiting, an Australian bustard passed next to our campervan. Just before dark, we drove into the "Home Valley Station", parked our camper on a lush piece of grass and hopped into the beautiful pool. The kids loved it and so did we! We had a good steak for supper, a cool beer to get rid of all the dust and looked at the kids who were dancing to the tunes of a country music singer. What a great day, again!
The next morning, while Krista and the kids were still sleeping, I decided to go for a hike. Right next to the campsite is a river that is home to a good bunch of fresh water crocodiles. I saw two of them slowly moving through the water with their eyes and nostrils barely sticking out of the water. A little further a wallaby hopped away. After having had breakfast, we drove with our camper to the main arm of the "Pentecost river". This mighty river that is known for very big tidal changes, is home to an impressive bunch of saltwater crocodiles. At low tide you can see them resting on the river banks along with heaps of mudskippers. These fish have adapted very well to life outside of the water and can stay outside of the water for hours, as long as their skin remains moist, just like amphibians. The view over the "Pentecost river" with the " Cockburn ranges" as a backdrop is stunning. Along the river bank we spotted a roseate spoonbill and on the way back to the main road we encountered a jabiru stork flying over as well as a wedge-tailed eagle on a branch. The plans of the day were to drive on to "Mount Barnett" and to camp at the "Manning Gorge campsite". The sceneries along the road were quite diverse. We encountered giant termite mounds as well as massive baobab trees. Large herds of cattle could be seen roaming the area. Wild animals were very rare. Since most of the area we drove through was dry and dusty, we assumed they would be staying in the vicinity of waterholes or billabongs. After a long days drive where we battled dust, corrugations and many other 4WD vehicles, we treated ourselves on a refreshing swim in the "Barnett River Gorge". Again, the kids loved it. Our campsite was under a great baobab tree and with a clear sky and a bright moon, it was quite a surrealistic sight.
The next morning, after a fortifying breakfast, we all four embarked for a walk to the "Manning Gorge". First of all we had to cross a billabong with a small boat and from there on we walked for approximately one hour to the gorge. It's an impressive swim hole, with a beautiful waterfall and lots, lots of space for a good swim. The water temperature was delicious, especially after a steady walk under a ferocious sun. We stayed there for an hour, enjoying the scenery. While in the water, a flock of red-tailed black cockatoos flew over making their well-known harsh noise. On the way back, we had to carry the kids for a while. Too much walking and swimming for them, or did they just want to be cuddled?
We hopped in our camper again and drove towards the "Mornington Station". This station is managed by the "Australian Wildlife Conservation" and is situated in the southern section of the "Gibb River Road", not too far from the "Adcock river". To get there, again, you drive through huge plains, decorated with some impressive baobab trees and giant termite mounds. Some nice rock formations are to be found along the road as well. The area on which the "Mornington Station" is situated is protected by law. It's a great place to see freshies (which we did) and supposedly one of the best places in Australia to see the Gouldian finch (which we didn't). The rangers told us they hadn't spot a Gouldian finch in a while because there was still sufficient water over most of the area, whereas with very dry years where water is much more scarce the few remaining water spots attract all the wildlife, Gouldian finches as well. Too bad, we'll have to come back :-). We made a refreshing swim in the "Kadjeput Gorge", keeping an eye on the freshies, and drove on to the "Leopold Ranges", a mountain range referring to our late Belgian King Leopold II. Later on that day, instead of driving further to Derby, we left the "Gibb River Road" and went on driving in southern direction towards the "Windjana Gorge", the best place to see freshwater crocodiles in the whole of Australia. And yes, amidst an impressive canyon, we saw quite a lot of freshies, a few of them full grown to at least two meters in length. We also had a nice encounter with the beautiful double-barred finch. We drove on to "Tunnel Creek" and had a look at the entrance of the cave. Since the afternoon was coming to an end and we still had to drive to "Fitzroy Crossing" that same evening, we didn't engage further in the cave. Maybe next time! Driving the last part of unpaved road, we enjoyed the impressive sunset, saw quite a big snake (a King Brown probably) cross the road and took some pictures of a frilled-neck lizard sitting next to the road. At about 7 p.m. we arrived at the "Fitzroy River campsite", where we washed away all the dust, enjoyed a good diner and a good glass of wine to celebrate the successful drive on the "Gibb River Road" from east to west with two small kids, aged 3 and 4. Yes, we did it, and yes they enjoyed every single moment of it!
The next day, we went to a supermarket in town to buy some fresh fruit and vegetables and some more groceries for the next couple of days. While shopping, our kids played outside with some aboriginal kids. This was a nice photo opportunity. We intended to drive to Purnululu National Park (also known as Bungle Bungle) that day. On the way we saw a few small helicopters flying over big herds of bulls and cows. This is the "modern day" cattle mustering. In the "earlier days", jackaroos and jillaroos used horses to get their vast herds of cattle together, these days, life has become a little easier.
The Purnululu National Park is located some 50 km off the main road Fitzroy Crossing – Kununurra. Whereas for the "Gibb River Road", in the conditions we found it, I pretty much think most of it could be done with a 2WD, on the contrary, this 50 km stretch of unpaved road really can be treacherous and certain areas absolutely need a 4WD. So, we were pretty happy to be driving around in one. In 2003 we had been driving 10.500 km with a Ford Falcon 2WD from Melbourne to Darwin and then on to Perth, and could experience Bungle Bungle from within a helicopter flying over the National Park. This time, we were inside the Park amidst the most colorful and delicate mountains of the whole of Australia. Bungle Bungle is unique and really is worth a detour. We had an impressive sunset that evening and nearing the campsite we came across a lone dingo. That night, we had a full moon, and we sat outside for a long time, enjoying the quietness of the night while the kids were fast asleep.
The next morning we got up early, because we wanted to get to the "Dome Walk" and "Cathedral Gorge" at dawn, so as to have the most beautiful colors on the rocks. The scenery was stunning and the walks inside these canyons were absolutely rewarding. We even got to see a big monitor lizard crossing the trail just ahead of us. The kids also liked to play in the potholes, crawling in and out and at times even through them, and finally our trail ended in "Cathedral Gorge", a massive cave like structure, in which a human feels quite humble. On the way back to the camper, we were happy to have brought sufficient drinks with us since the temperature neared 40°C, and the reflection of the heat on the rocks was considerable. Correct equipment and the ability to foresee things are a prerequisite when travelling with small kids. Better be safe than sorry! That night we stayed again in Kununurra, on the same campsite as on the way down. We were aware that we were slowly heading back to Darwin, but we still had a nice prospect ahead of us.
The next day was spent driving back from Kununurra to Katherine Gorge. The wallabies were still there, the pool was still as appealing, the kookaburra's were still flying over the pool to catch unfortunate insects and the green tree frogs were still visiting the toilets at night. It's nice to know that certain things don't change in life.
From Katherine Gorge we left the next morning towards Kakadu National Park. On the way to the southern entrance of the park, an overzealous constable made me stop for an alcohol check ... at 10 a.m. Either, it says something about that constable or it says something about the habits of Northern Territory Australian citizens. (B's note: the latter) Anyway, we reached the entrance of the park and drove to the start of the Maguk (or Barramundi Gorge) trail. On the way to the trail head we saw the highest termite mounds that we had seen in the last 10 days and we took a few pictures with the kids next to them to have a better idea of their sizes. The trail was pleasant as it followed the course of a small river and ended at a small waterfall. On our way to the fall we encountered a beautiful "Rainbow Pita", a colorful and quiet ground dweller, that allowed us to be photographed from quite nearby. Were we lucky again! On the way to our sleeping ground, the "Gagudju Resort", we again passed a few forest fires that were lit on purpose. The resort has been transformed over the years and can accommodate large groups of visitors these days. Also the swimming pool has been completely rebuilt. Sitting outside next to the camper after dark, an opportunistic dingo came by to see if there were any leftovers. We went to bed quite early since we wanted to go on the "Yellow Waters Cruise" the next morning.
If you're ever in Kakadu National Park, then don't miss out on one of these early morning or late afternoon cruises offered at a few locations in the park. They are mostly outstanding: that is if you're a nature lover of course. Depending on the season you will get just about all the animals you were asking for. Brumbies, water buffaloes, herons, egrets, spoonbills, ibises, jabirus, plovers, kingfishers, ducks, geese, cormorants, darters, sea-eagles... and of course, massive saltwater crocodiles. It is one of the most interesting wetland areas worldwide. The tours last some two hours and take you into the heart of Kakadu National Park on the south alligator river. The name is a little misleading since there are no alligators in the wild in Australia, only crocodiles. Once back at the lodge, we were in for a tasty brunch and a good bit of swimming and playing in the huge swimming pool. In the afternoon, we drove towards the site of "Nourlangie Rock", known for its beautiful rock paintings. The kids fell asleep while driving to the site, so Krista and I took turns keeping an eye on the kids and we decided to have a look at the paintings separately. One has to be flexible when travelling with young kids. The view over "Nourlangie Rock" from the Anbangbang billabong was impressive. In the late afternoon, I hopped onto a second "Yellow Waters Cruise" and I was again overwhelmed! I was able to take even better pictures than on the morning cruise closing with an absolutely breathtaking sunset. What a beautiful day again!
Here's our last day on Australian soil before taking off to New Caledonia. We decided on taking a "shortcut" back to Darwin. We headed for the "Old Jim Jim Road". The unpaved road is much shorter than the paved one and is barely known. There's one obstacle on the road which is the crossing of the south alligator river. But that did not seem to be of major concern since the water level was quite low. On our way we also got to see three dingos.
It felt kind of weird when we neared civilization again. We had become used to remote areas, few houses, no industry, few people, lots of wildlife. And now we were about to enter Northern Australia's largest city with its traffic, crowded areas, shopping malls, industry, noise, billboards, international airport.
We drove back to the house of our friends Jim and Gwen. We had a lot to do that afternoon: washing some clothes, packing for our very early flight the next morning, cleaning the campervan, filling it up with petrol, driving it back to the rental shop. We decided on having a tasty BBQ that evening so as to thank Jim and Gwen for their hospitality and so as to celebrate the extraordinary period of time spent together with our family in a for most people (even Australians) less known but utterly beautiful part of northern Australia. It's pretty hard to believe we will never come back to this little piece of paradise. :-)
Alain
If you want to comment on Alain's report, you can do it here and that's also where you'll find the links to the photos that go with the article.
Join in and write your own page! It's easy to do. How? Simply click here to go to Kimberley Trip Reports.
Travelling to the Kimberley?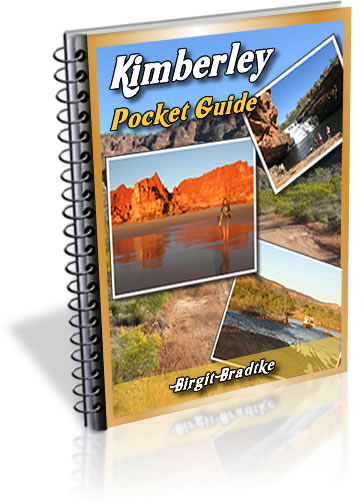 The FREE Kimberley Pocket Guide
A great introduction to travel in the Kimberley region and along the Gibb. This free resource will answer all the questions you might have in the early stages of planning a trip.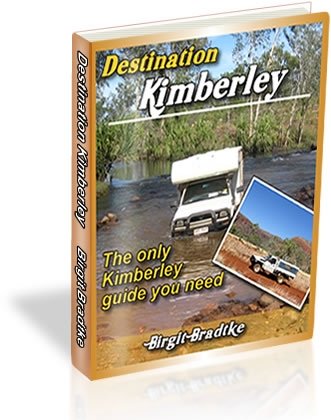 Destination Kimberley
The full Kimberley travel guide shows you how to make the most of your adventure at Australia's last frontier. Destination Kimberley includes the most detailed and most current guide to the Gibb River Road available anywhere. Also called "The Bible" by its readers.

Travelling to the Northern Territory?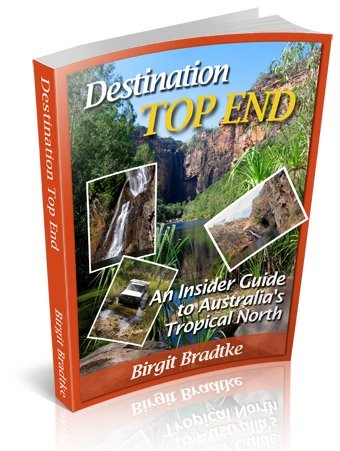 Destination Top End offers the same comprehensive, detailed insider information for the tropical regions of the Northern Territory. Be the best informed traveller in the Kakadu, Litchfield and Katherine Gorge national parks and beyond!

A must have if you travel to or from Darwin.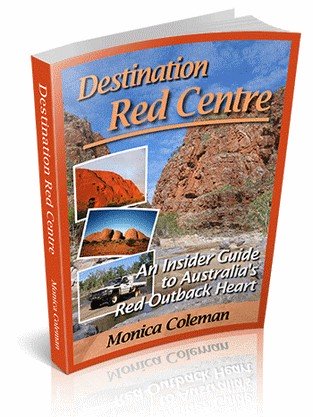 NEW! Destination Red Centre is the latest addition in this popular series. Monica Coleman takes you through Australia's red Outback heart, offering all the detail and insider tips that you have come to know and love about our guides. With special emphasis on Aboriginal communities and culture.

A must have if you travel to or from Alice Springs/Uluru.
Join in and write your own page! It's easy to do. How? Simply click here to go to Kimberley Trip Reports.