Our Muddy Adventure Down the Gibb May 2010
by Leanne
(Newman WA)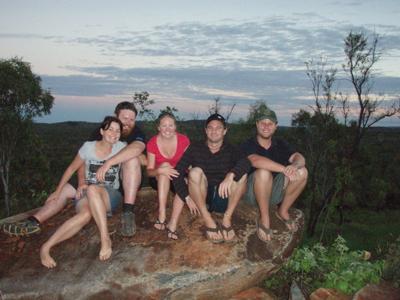 Us at Mt Hart Sunset Lookout
We decided last year in 2009 that we had to do a driving trip up north to explore our beautiful country, now or we'd probably never get around to it! We narrowed it down to a 4 week trip to cover the Bungle Bungles, Darwin, Gibb River Road and Broome.

Our Gibb River Road trip began in Kununurra mid May 2010 with some concern about the Gibb River Rd being closed to vehicles over 3T due to unseasonal rains. A visit to the Kununurra visitors centre didn't help this with our group being told to reschedule our trip if at all possible.

But this was a trip of our lifetime. We had only 3 weeks before we had to be back at work in Newman and Perth. So despite all this doubt off we went from Kununurra to the start of the Gibb, determined to see as much as possible. After all, we had two very capable 4WDs in our convoy with a wealth of 4WD experience between us.

Our first stop was Emma Gorge. The start of the Gibb was muddy as expected and the sky was very gloomy with low dark heavy-looking clouds everywhere. There was a lot of road works and diversions in place but we just kept our speed down and took it easy.

When we arrived, we did the trek down to Emma's Falls. It was quite a long walk but a big bonus of the weather was that the temperatures were down and the light sprinkle was a great relief. When we finally got to the waterfall at the end - we knew it would all be worth it!

From here we headed to El Questro and spent two fantastic nights here. We were lucky enough to get a private camp spot down on the Pentecost River. Thank God we were prepared with a massive tarp with poles and guy ropes - this was our saving grace! Otherwise we really would have been eating our dinner in our vehicles and going to bed very early just to stay dry!

Lighting a campfire also proved difficult at times but with a little planning we were able to get one going at most spots. At El Questro our favourite spot was Zebedee Springs - warm water, shady rainforest setting - just heaven. Followed closely by a lookout we found up a 4WD track out from the homestead which gave a great 360deg view of the station and surrounds.

From El Questro we travelled to Home Valley Station via the Pentecost crossing. Just as we were packing up at El Questro it started bucketing down, of course great timing we thought - so we quickly packed up as best we could trying to beat the increasingly heavy downpour.

The Pentecost crossing was fine - we just engaged low and cruised across it no dramas. The Gibb River Rd between El Questro and Home Valley was very slow going, it continued to bucket down for the whole drive so we really had to take it easy.

When we got to Home Valley Station, our spirits were at rock bottom and we were seriously considering having to turn around. But then about one hour after we got there, the rains relented and the sun was out in full force. We took this opportunity to unpack all our wet gear and dry it out. Luckily there was hardly anyone else at the camp ground because we took up plenty of room with all our tarps, swags, chairs everything spread out to dry!

We also took this opportunity to do some washing - which the Home Valley staff offered to machine dry for us for a minimal cost - we couldn't thank them enough! So day 3 we spent enjoying the pool and nice grassed area - chilling out in the sunshine.

After this we spent a second night at the bush camp at Home Valley Station which is about 5 km out from the station. Here we did some great fishing in the Pentecost River. We pulled in a bit of everything especially on the outgoing tide from sharks to crabs (yes on a hook!) to catfish to salmon. It was a great arvo out there. Plus this bush camp had great facilities including showers and flushing toilets - bonus!

Our next destination was to head up to Mitchell Falls but this was closed. So we drove up to Drysdale hoping the whole way that the last couple of dry nights would mean the road to Kalumburu might just open by some miracle. We had no such luck though so just spent a night at Drysdale's Miners Pool and then headed back down to the Gibb.

For the rest of our trip the weather was much better than the first 5 days! We did have one horrible night near Imintji where the rain was so heavy we filled a 40L bucket in less than 20min from the run off from our tarp.

Now after not going up to Mitchell Falls and Kalumburu as planned, we had a few days up our sleeve so we stopped in at pretty much every station along the way - Mount Barnett (Manning Gorge was great), Charnley River Station, Mornington, Mt Hart, and Windjana Gorge.

We loved Mt Hart - Taffy the owner was very welcoming and by this stage of the trip we were running very low on beer so spent each arvo down at the pub, sharing tales with other travellers and hearing all about the history of Mt Hart from Taffy.

Camping here was great, great facilities, a waterhole at the camp ground which was great for a quick dip to cool down. Plus our friends we were travelling with got engaged up at Sunset Lookout there which just topped off a fantastic trip!

We ended our trip in Broome where we treated ourselves to a bit of luxury staying in serviced apartment up there for a few nights before heading back to reality!
Travelling to the Kimberley?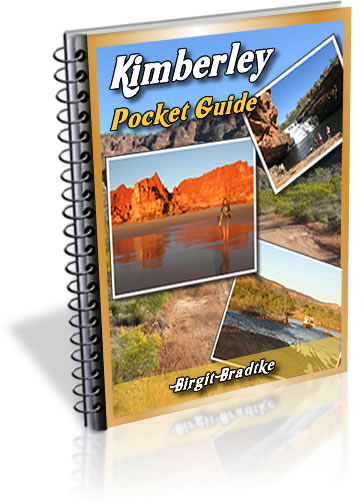 The FREE Kimberley Pocket Guide
A great introduction to travel in the Kimberley region and along the Gibb. This free resource will answer all the questions you might have in the early stages of planning a trip.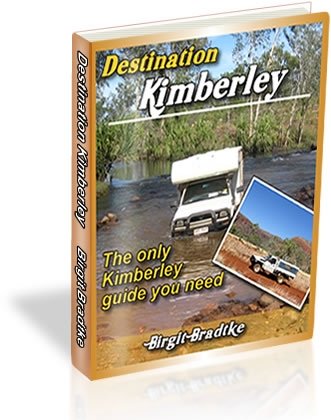 Destination Kimberley
The full Kimberley travel guide shows you how to make the most of your adventure at Australia's last frontier. Destination Kimberley includes the most detailed and most current guide to the Gibb River Road available anywhere. Also called "The Bible" by its readers.

Travelling to the Northern Territory?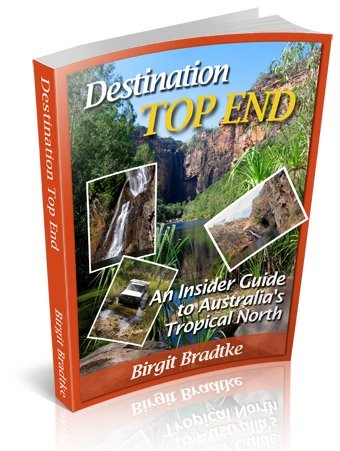 Destination Top End offers the same comprehensive, detailed insider information for the tropical regions of the Northern Territory. Be the best informed traveller in the Kakadu, Litchfield and Katherine Gorge national parks and beyond!

A must have if you travel to or from Darwin.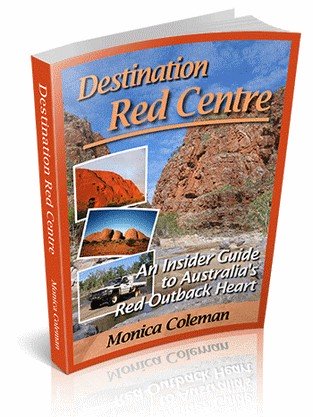 NEW! Destination Red Centre is the latest addition in this popular series. Monica Coleman takes you through Australia's red Outback heart, offering all the detail and insider tips that you have come to know and love about our guides. With special emphasis on Aboriginal communities and culture.

A must have if you travel to or from Alice Springs/Uluru.