Urals sidecars units
by David Seeker
(Saltspring Island Canada)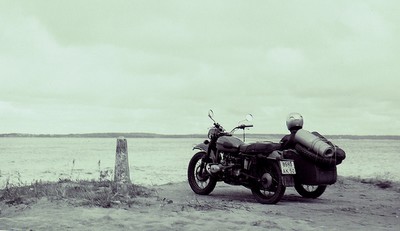 Photo by K.Ivoutin: "We rode that bike to hell and back"
As Urals sidecars units are now being sold in Australia, would they make a good vehicle to tour the Kimberley? They can ford between 12 to 16 inches of water. So how are the fords over the rivers in May or June? The plan for deeper fords is to pull the rig across with a rope puller. So would the croc's be a problem?
Plan A is bring a two wheel drive unit from Canada or Plan B get a single drive unit there and touring Australia for 6 months.
Re: Urals sidecars units
Hi David,
Oh dear, now you're pushing it. I have never heard of Ural Sidecars. Had to look them up...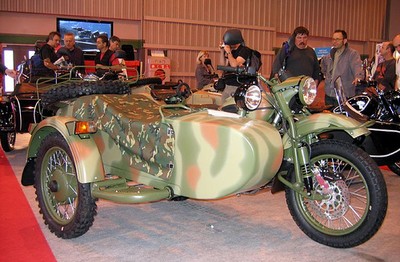 Photo by WorldWideMotorcycles
Would they make a good vehicle to tour the Kimberley? You certainly would attract attention, that's for sure.
It all depends what exactly you want to see. I think you can better judge the offroad capabilities of those bikes than I can.
It's not just the depth of water. 2 wheels or 4 wheels, you really need a vehicle that can go offroad.
What you are looking at are rough roads, either very rocky or very corrugated, and creek crossings with big rocks, deep holes or steep banks (all depending on where you go).
Regarding the water depth, you'd just have to check on the road conditions when you get here. Every year is different and every road is different.
The
track into the Bungles
for example will open a long time before the
track to the Mitchell Plateau
opens. Again, it all depends what you want to see and do.
There are plenty of places that you'd be able to go, and others that you might not.
The crocodiles would be a problem in the Pentecost River, and that is one of the crossings that may still be too deep for you in May.
(Did you watch the
Gibb River Road videos
of the guys who did it on bikes? That shows the Pentecost Crossing, though with little water in it.)
All other major crossings should be fine.
Tell you what, I am going to ask someone who actually knows something about bikes and get back to you with more details.
Update: Ural Sidecars to Tour the Kimberley
Ok, I did ask, and the man reacted just like I did initially:
"Are they a good vehicle for touring the Kimberley? I wouldn't think so."
But then he did some research and now he wants one :-). I wouldn't bother with a single drive unit, though.
There'll be some tracks you won't be able to go, even with two wheel drive, like the serious 4x4 tracks, with big rocks and deep sand. But all the usual stuff that you find on this website should be fine.
The only problem I can think of is that it might not withstand the endless corrugations, and that if anything fails or falls apart you will have no hope of getting parts.
As for river crossings, this part of the world is not as deserted as they make out it is, and I bet any other 4WD coming along will be honoured to give you a pull across.
It'll be a tough trip, but we reckon, go for it!