A Kimberley Scenic Flight of a different kind

Kimberley Australia Photo Gallery
The Kimberley is such a rugged and remote wilderness, a lot of it can only be seen from the air. Scenic flights are popular and many different operators offer different packages for all tastes and budgets.
I've never been much of a fan of scenic flights. They are too noisy and too far removed from the action, with the window glass separating me from the real thing.
I prefer to see things on the ground where I can touch and hear and smell them, where I can experience them.
But then someone introduced me to Stuart, and I had a chance to go on a flight with him. Now that was truly a scenic flight of a different kind! I loved it, and you will quickly understand why this scenic flight over the Kimberley is very different.
The photos below document a surprise birthday present I gave my mother who was visiting from Germany. Stuart picked us up at my place (in Kununurra), and until we arrived at the air strip she had no idea of what I had in store for her...
---
Kimberley Scenic Flight 1 - 3
Preparations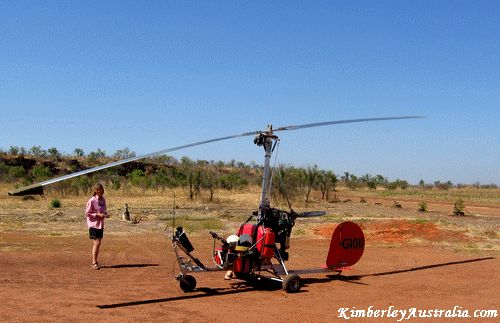 This is it! It's called a gyrocopter. It's best described as a double seat with three wheels, a lawn mower motor (not really, Stu hates it when I say that...) plus a fuel tank strapped to the back rest and a propeller above your head.
My mother might not appear overly confident in that photo but make no mistake: the lady has a sense of adventure. (And if you think of visiting the Kimberleys you better bring some of that, too!)
Stuart explained that the motor had actually been manufactured by Fiat, her favourite European car maker (she's never driven anything else). That dispersed her last lingering doubts...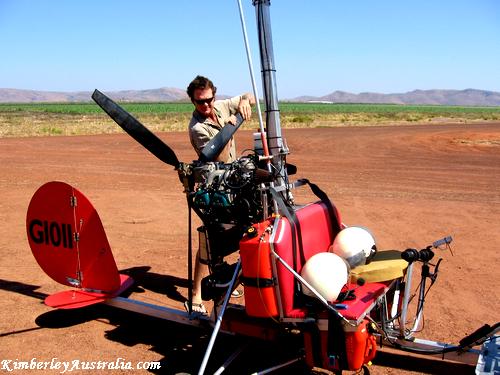 As you can see, our fearless pilot is checking his machine over thoroughly. He also has all the safety gear: seat belts, helmets... We won't look any closer at the safety footwear, but do note the fancy cushion for extra passenger comfort.
And off they go... Heading for the airstrip behind the shed. The strip is a graded bit of dirt, like most airstrips in the Kimberley. Don't expect any fancy airports out here...
---
Kimberley Scenic Flight 4
It does really fly!
Yes, it does really fly. And it makes you feel like you're really flying. It will take some getting used to as there is no floor underneath you and no walls around you. You are also a lot closer to the ground than a plane would be.
The view is amazing, the whole experience is amazing and exhilarating. It doesn't compare to anything you have previously experienced in terms of scenic flights.
The following pictures were taken by my mother during the flight.
---
Kimberley Scenic Flight 5
The Deception Ranges
I had asked Stuart to head for the Ord River. To get there from the airstrip he first needs to cross one of the many ranges. This particular one is called Deception Range.
The toes in the picture are the pilot's, by the way. The flight was one of the first times my mother used her new digital camera. Sorry for all the gyrocopter parts, passenger parts etc. in the photos.
---
Kimberley Scenic Flight 6 and 7
The Ord River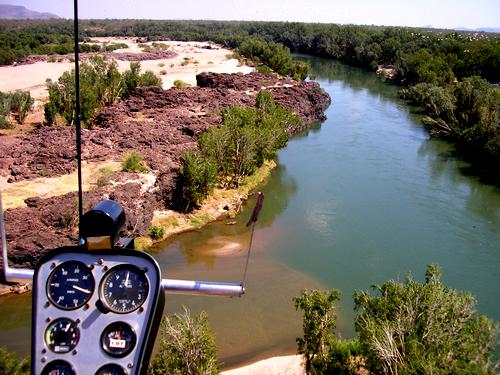 The Ord River has many different faces. Deep and slow flowing parts, shallow rapids, sand banks, rock bars. It is a paradise for waterbirds. But then again, every body of water in the Kimberley is. The whole Kimberley is a paradise, because we have so much water here.
---
Kimberley Scenic Flight 8
The Supermarket
This is the supermarket. It doesn't look like a supermarket you say?
This rocky section of the river has lots of rapids and snags, and the barramundi love it. So the fishermen love it, too. Supposedly it's as easy to catch a barramundi for dinner here as it would be at the supermarket.
---
Kimberley Scenic Flight 9 and 10
Saltwater Crocodile Country
Deep, slow moving water, preferably muddy, and sandy shores. Saltwater crocodiles love that!
Here they are. The only photo that doesn't have bits of gyrocopter in it, because it was taken over the side. Also the only photo where you can see the crocodiles well.
My mother brought back stacks of pictures of crocodiles. They are easy to see when you are in the air, but by the time you get close enough to take a good picture all you see is a muddy streak in the water. Saltwater crocodiles are very fast if they want to be!
---
Kimberley Scenic Flight 11
Ivanhoe Crossing
Ivanhoe Crossing seen from above. Ivanhoe is the place where the old highway from Kununurra to Wyndham crosses the Ord River. (You can see a car approaching the crossing from the left.)
It is another popular fishing spot. It's also a popular place for locals to hang out in the afternoons, have a swim (yes, although the crocs are only a bit further downstream...), cool down and relax.
---
Kimberley Scenic Flight 12
The Landing
Yay, they made it back safely!
Of course. A gyrocopter might look somewhat flimsy, but it is actually a very safe way of flying. A gyrocopter would not drop out of the sky if the motor failed. It would sink slowly while still moving forward, and the pilot has full control.
But best of all, it needs very little room to land. A plane will need a lot of clear space to roll out. A gyrocopter kind of stands immediately, the moment it touches the ground. It needs a lot of run up to start, but only a couple of metres to land.
Gyrocopters have become really popular here in Kununurra. Quite a few people own one.
Stuart not only takes tourists on scenic flights. He is also a fully licensed teacher. Most of the other pilots here learned of him. With Stu you are definitely in the best hands.
Unfortunately he doesn't advertise his flights anywhere. At this stage it's all just word of mouth and only some lucky people find out about it.
So, if you want to find out more, just drop me a line and I'll see what I can do for you!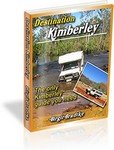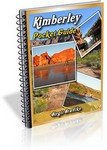 Travelling to the Kimberley?

The free Kimberley Pocket Guide
is a great introduction to travel in the region.
The full Kimberley Travel Guide


shows you how to make the most of your adventure at Australia's last frontier.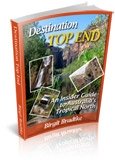 Travelling to the Northern Territory?
Destination Top End offers the same comprehensive, detailed insider information for the tropical regions of the Northern Territory.

A must have if you travel to or from Darwin.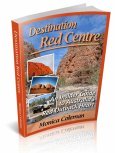 NEW! Destination Red Centre is the latest addition in this popular series. Monica Coleman takes you through Australia's red Outback heart, offering all the detail and insider tips that you have come to know and love about our guides. With special emphasis on Aboriginal communities and culture.

A must have if you travel to or from Alice Springs/Uluru.
Next page: The Bungle Bungles
---
Go to Kimberley Photo Gallery index
Return from Kimberley Scenic Flight to Kimberley Australia Travel Guide home page