Top End & Kimberley June/July 2010
by Eva
(Padova, Italy)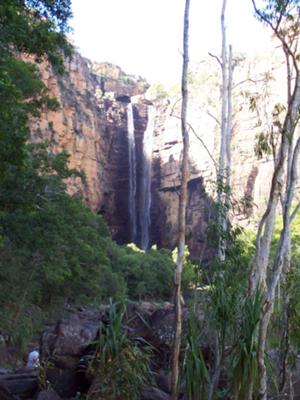 Jim Jim Falls
We are back from our great holiday to the Top End and the Kimberley. After 21 days (June 13th - July 3rd), 5,619 km and lots of dust we can say we are enthusiastic about our trip. I used B.'s guides for all the planning and booking and it turned out perfect.

We hired a Britz 4WD Bushcamper van (great idea: cover the seats with an old sheet brought from home to reduce sweat). The itinerary was as follows:

Darwin (Crocodylus Park - not great, but son was thrilled to hold a small freshwater soft croc) - Litchfield NP (we had already been there and we loved it once more) - Katherine (just a drive through) - Kununurra (long drive - my son was very upset about all the dead kangaroos on the side of the road).

Gibb River Road - Emma Gorge (freezing water, but dove in anyway) - ELQ Gorge - ELQ campground - Zebedee Springs.
Mt. Barnett Roadhouse - Campground - Manning Gorge (one of our favourites gorges)- Galvans Gorge (the flies there were sooo bad) - Silent Grove (Aussie fellow campers made us taste beefcorn made the traditional way on the fire and gave the recepy to my son for his diary) - Bell Gorge (got there early in the morning and were the only ones there. I swam all by myself.
Tunnel Creek - Windjana Gorge Campground (with beautiful view of the escarpment)- Windjana Gorge (my son saw 47 freshwater crocs).

We never needed to use the low gears, confirming what B. writes about the Gibb River Road, you do not need 4WD experience.

Derby (it was a Sunday and everything was closed and sad) - Broome (beautiful sunset) - Cape Leveque
- Kooljaman CP (one of the highlights of the trip - bath on the east side, sunset on the west side, scenic flight over the Buccanner Arch., bath - sunset) - Broome (shopping and great barbecue - the aussie way).

Fitzroy River Crossing - Geikie Gorge boat cruise - Fitzroy River Lodge CP - Bungles, (the drive in was dubbed as the most fun by husband driver and son) - Cathedral Gorge and Domes walks - Nothern Campground (no flushing toilets for us was a bit unconfortable, we feel they should charge a lower fee than other campgroungs that have flushing toilets and showers) - Mini Palms Trail and Echidna Chasm Trail - Drive out of the park never ended and son threw up - was then dubbed the worst of the trip.

Kununurra (shopping afternoon) - Katherine - we stayed at Low Level CP and kangaroos were coming into the campground, my son spent the whole afternoon following them around and was sooo excited (no canoeing - we had already done it 10 year ago and wanted a repeat with our son - but croc survey not finished yet and canoeing and swimming not authorized yet on 28th of June so we had one full "free" day we decided to spend it in Kakadu) - Cutta Cutta Caves (beautiful) - Mataranka (Pool and Bitter Springs which I preferred).

Early departure for Kakadu - stop over at Edith Falls (open for swimming - went under the top waterfall - awesome)- Gunlom campground - Trail to top of the fall (beautiful pools - spent the whole morning) - on that day (June 30th) they had just opened the road to Jim Jim Falls so there we went (Twin Falls was still closed) - the road was great with almost no corrugations - we finally used the low gears to go to the falls!!! (The falls were still beautiful with enough water) - Jim Jim Falls campground (the sky during the night was astonishing - so many stars ... we never get to see anything like that in Italy - fellow Aussie campers invited my son to eat marshmellows "coocked" on the fire).

Nourlangie rock art (my son said they drew kangaroos much better than people) - Yellow Waters sunset cruise - Cooinda Lodge Campgound (mosquitos - mosquitos and more mosquitos) the trail by the billabong was closed (too much water still) - Breakfast cruise (beautiful dawn with clouds - the whole sky was pink-orange) - there was an interesting offer for a second cruise at 10 AUD (we saw soooo many birds, my son who loves animals just could not keep up with them and was very happy) - Jabiru.

Fogg Damm (we went with the car through the dam and saw a croc from the last platform - we loved the place - nobody else was there) - last morning in Darwin walking and shopping - returned our "car".

We were sad, the holiday was finished. We had to rush a bit, but for us it was already difficult to get three weeks of holiday in a row. My son says he wants to move to Australia when he is older.
We hope to be back soon.
Travelling to the Kimberley?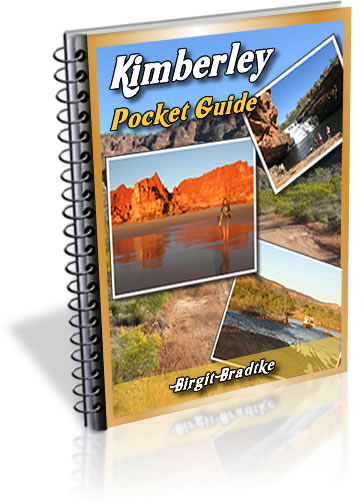 The FREE Kimberley Pocket Guide
A great introduction to travel in the Kimberley region and along the Gibb. This free resource will answer all the questions you might have in the early stages of planning a trip.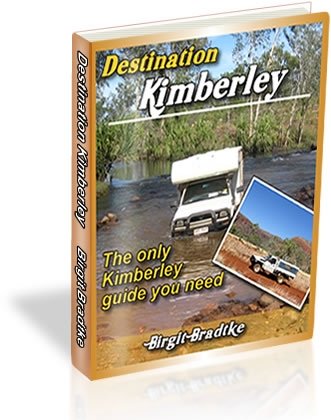 Destination Kimberley
The full Kimberley travel guide shows you how to make the most of your adventure at Australia's last frontier. Destination Kimberley includes the most detailed and most current guide to the Gibb River Road available anywhere. Also called "The Bible" by its readers.

Travelling to the Northern Territory?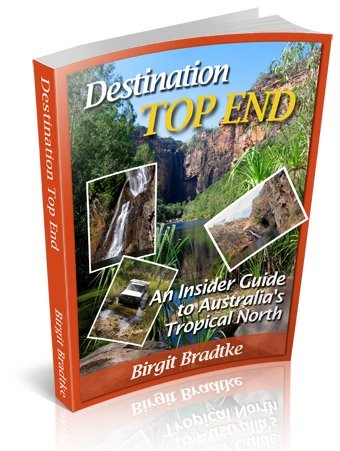 Destination Top End offers the same comprehensive, detailed insider information for the tropical regions of the Northern Territory. Be the best informed traveller in the Kakadu, Litchfield and Katherine Gorge national parks and beyond!

A must have if you travel to or from Darwin.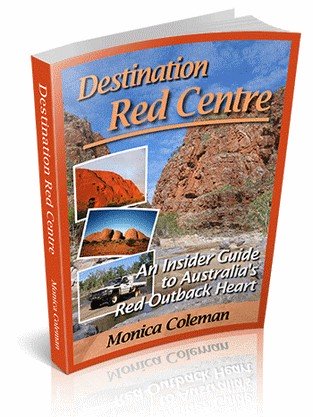 NEW! Destination Red Centre is the latest addition in this popular series. Monica Coleman takes you through Australia's red Outback heart, offering all the detail and insider tips that you have come to know and love about our guides. With special emphasis on Aboriginal communities and culture.

A must have if you travel to or from Alice Springs/Uluru.