Brisbane to Broome on bicycle via Gibb River Road
by Katie Wagner
(Gold Coast)
My husband, father in law and step brother are planning on riding their push bikes from Brisbane to Broome, leaving in 7 days. They are considering riding the Gibb River Road. I am quite concerned for them. Do I need to worry?

--
Related Reader Pages:
Bungles with a 1WD (Bike)


Re: Brisbane to Broome on bicycle via Gibb River Road
Hi Katie,
Wow, I'm impressed.
Well, do you need to be concerned? I don't think so. No more about the
Gibb River Road
than about the rest of the trip.
The idea may sound crazy to you, but it is not uncommon. People have done it before, and these days several tour operators offer push bike tours along the Gibb River Road. And then there's the
Gibb River Road Mountain Bike Challenge
...
Of course that's not the same as doing it on your own without the support vehicles.
It all depends on how well prepared and how sensible your men are.
Seeing they are riding all the way across from Brisbane, I would expect by the time they get here they will have a good idea of what they can handle, how much water and food they can carry, how to make it last etc.
Hopefully they will have done some offroad riding by then.
It will be a very dusty trip! That's for sure. I'd hate to ride in the dust clouds kicked up by all the cars and roadtrains. (They also want to make sure to stay well out of the way of the roadtrains.) But despite that, the number of push bikes on the Gibb is increasing every year.
The Gibb River Road is a busy road. If your men really find out they bit off more than they can chew, if they do run out of water or food somewhere, then someone will help them out. And if needed, they'll be able to get a lift. You really don't need to worry about them perishing out there :-).
They can always start the trip and see how they feel, and if they don't like it they can turn around and take the highway instead.
All the best for the trip!
Return to Gibb River Road Questions (Archive).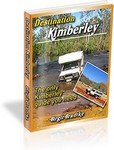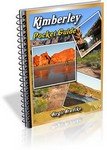 Travelling to the Kimberley?

The free Kimberley Pocket Guide
is a great introduction to travel in the region.
The full Kimberley Travel Guide


shows you how to make the most of your adventure at Australia's last frontier.
Travelling to the Northern Territory?
NEW! Destination Top End offers the same comprehensive, detailed insider information for the tropical regions of the Northern Territory.

A must have if you travel to or from Darwin.
---
Return to Kimberley Travel Guide home page