Broome in Western Australia

What Is The Kimberley Town Really Like?
Opinions on Broome are divided
According to the travel industry, the small town Broome in Australia is a picture perfect tropical paradise, the top destination in the Kimberley region, and therefore you must base yourself in Broome for your Kimberleys visit.
Well, it is hard to argue with the picture perfect part...
Endless white beaches, fringed by the turquoise waters of the Indian Ocean, strikingly contrasted against the red sands and cliffs...
It's impossible to take boring pictures of Broome.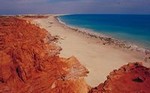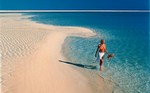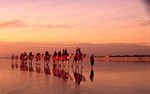 But when you talk to people who spent their holidays here, or visited Broome on their Australia or Kimberley trip, you will find that many of them were disappointed. Why?
I'd say for the usual reason: wrong expectations. I think people have a certain image of those "tropical paradises" that are also popular holiday destinations. Broome in Australia just doesn't quite fit that image.
With this section of the Kimberley Travel Guide I want to give you a true picture of what Broome, Australia, the "Gateway to the Southern Kimberley", is really like.
I tell you why I think it is so beautiful and why I love spending time there, but I also tell you about the problems and the things that I and others don't like. Of course I also give you all the information you need to plan your visit to Broome in Australia.
Because I'm sure that as long as you know exactly what you can and can't expect you will love it here.
Broome WA - Background Information

The History Of Broome, Australia
I'm not usually much interested in history, but I did and still do enjoy to read about Broome history and the town's early days as a pearling port. When you know about the town's riveting and sometimes violent past you look at it with different eyes.
---

Broome Weather: When Is The Best Time To Visit?
Can't have a section about a beach destination and not talk about the weather, can I? The weather and the temperatures are actually not the only thing to worry about. If you are looking forward to frolicking in the surf you better also learn about Irukandji, the nasties that frequent the Broome beaches and the oceans surrounding the Kimberley.
---

Is Broome In Western Australia Overrated?
Many visitors say yes, I say no. Let's look a bit closer at what people say and why they didn't like it. I think after reading this article you should be able to decide if the town has what you are looking for. And you should also be able to make sure that you won't end up disappointed.
---

Cable Beach Broome
Twelve years ago Cable Beach was magic. You had the whole 22 kilometres to yourself. But what is it like now? I took my camera and had a look.
Broome, Western Australia - Visitor Information

Broome Accommodation
The main thing to be aware of is that accommodation in Broome is often in short supply. This page shows you how to find out what's available, and the best deals... fast!
---

Map of Broome
Western Australia maps, Kimberley maps and street maps of Broome, Australia. There is a fantastic street map of Broome that also describes all attractions and you can print it!
---

Broome Attractions
What to see and do. With this info - and a printout of the street map from the link above - you can do a self guided tour of Broome. Or several. It takes more than a day to see all of it.
---

Broome Bird Observatory
The Broome Bird Observatory at beautiful Roebuck Bay is one of the world's top shore bird and wader locations. The famous research facility offers not just many walks and activities, but accommodation as well.
---

Broome Beaches
Where are they, how do you get there and what do they look like. Yes, they. There is not just Cable Beach. Cable Beach is of course the most famous, but there are many other beaches worth visiting.
---

Get Away From It All At Cape Leveque
You've seen all there is to see in Broome (it'll only take a few days...) and you've had enough of the crowds and the commercialism. It's starting to get a bit expensive, too... If that is the case then you need a few days at Cape Leveque.
---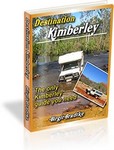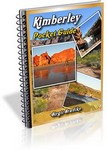 Travelling to the Kimberley?

The free Kimberley Pocket Guide
is a great introduction to travel in the region.
The full Kimberley Travel Guide


shows you how to make the most of your adventure at Australia's last frontier.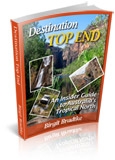 Travelling to the Northern Territory?
NEW! Destination Top End offers the same comprehensive, detailed insider information for the tropical regions of the Northern Territory.

A must have if you travel to or from Darwin.
What Do You Think About Broome?
Do you have a good story about it? Some tips? A great photo? Come on, share it!

Other readers would love to hear your tips and read about your experiences, so please share them with us.

It's easy! Just fill in the form below.

Read what others had to say.

(If you have questions please see the questions page. Thank you.)

Here's what others think about Broome
Click below to read the contributions from other readers and Kimberley fans...

Broome July 1010
Beautiful balmy warm tropical breezes but Broome airport was just like Perth--people everywhere and taxis were very hard to get. Cable Beach was packed …
Serviced Campsites North of Broome
Birgit, we have a group doing the Kimberley during August and have a detailed itinerary with just one gap. We are looking for camping around Coulomb Point …
Town Beach Broome
I worked in Broome in 1963. The Town Beach near to the old jetty was then still used by Stateships also the Centaur & Gorgon on the Fremantle Singapore …
Broome in December (Wet Season)
I'm from England and keep coming back to WA because I love it. But I am nearly always over in December - February and have never managed to get up to the …
Where to stay in Broome?
My partner & I have found some time to go on our first holiday together. I have only been waiting three years! We only have 6 night gap in our busy lives. …
Broome Wedding
My partner and I live in Sydney and we talked about getting married. After plenty of discussions we decided to elope to Broome. Everything was organised …
New Years Eve 2009 - 2010.....Please come and join
I heard it's the place to be for New Years Eve. Wanting to know if anyone else would be interested in joining us at the Sunset Bar on Cable Beach for New …
Broome and Cable Beach for two weeks?
I read your article on Broome and Cable Beach with much interest. I live in North Carolina, in the U.S. and literally stumbled on the Broome web cam …
Moving from New Zealand to Broome
Yes, we will be moving from New Zealand to Broome! We are a family of 6 and expecting our 5th baby (hopefully a boy) in April 2009. My husband is Australian …
Travelling to Broome in February
Is mid february really not a good time to travel to Broome due to the wet weather? I have booked to stay at the Sanctuary Rendezvous from the 17th Feb …
Broome in Aug-Sep
We are thinking of coming to Broome from Victoria in Aug-September. Is this a good time to come? It looks like on this website it is one of the better …
Limited time from Broome, is the Gibb River Rd worth it?
My partner and I have 8 days in Broome and really want to go inland for a few days. It appears that the Gibb River Road has some of the closest, best …
Clothes for Broome in mid June
We are travelling to Broome in mid June and are not sure what type of clothing will be required for the evenings.
Swimming in Broome
When can you swim safely in Broome? Answer: The general rule is that you can swim in Broome during the dry season. The reason is that Irukandji …
La Familia Hayburg: Down Under
I and my two children (daughter, 15; son, 17) had the pleasure of seven weeks Down Under from 28MAY-15JUL2006, and I am now writing my fourth book about …
How Safe Is Cable Beach At Broome For Swimming?
I just read your report on Cable Beach at Broome (which sounds amazing by the way) and was wondering how safe it is for swimming. Why don't the sharks …
Warm Clothes for Broome in September?
I'm arriving in Broome on Sept 2, for a 5 night stay, coming from Perth. I'm planning on doing the astronomy tour, outdoor cinema, possible other evening …
Moving To Broome
We are thinking of moving to Broome. Can you advise about work and residential availability? Me, that is my girlfriend and I and two dogs, are thinking …
Super sunset on Cable beach!
We only spent two nights in Broome, as our focus was on the Kimberleys. Hence, we did not see much of Broome, but next time we will! This photo is taken …
Old Zoo Cafe in Broome
We recently (June 2010) had dinner at the Old Zoo Cafe in Broome. It was fabulous. The food was well thought out, delicious and the service was friendly …
Some good things about Broome
We stayed at the Bayside apartments in Broome, opposite Matso's. Good self-catering accommodation, reasonably priced, everything provided. Lunch at Matso's …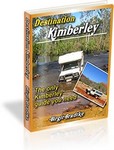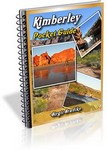 Travelling to the Kimberley?

The free Kimberley Pocket Guide
is a great introduction to travel in the region.
The full Kimberley Travel Guide


shows you how to make the most of your adventure at Australia's last frontier.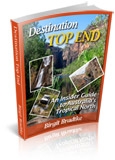 Travelling to the Northern Territory?
NEW! Destination Top End offers the same comprehensive, detailed insider information for the tropical regions of the Northern Territory.

A must have if you travel to or from Darwin.
Accommodation in Broome - Cable Beach | Broome Hotels | Budget Accommodation In Broome/Backpacker Hostels | Accommodation Near Broome
---
Kimberley Australia Travel Guide home page