Your Kimberley Trip - Self Drive Itineraries

Share Your Itinerary And Get Feedback
Putting together a Kimberley trip is not easy. There is way too much to see and do to fit it all in.
On top of that it's difficult to estimate the driving time, even when you know the distances. The quality of the Kimberley roads and tracks varies wildly.
100 km can take anything between less than an hour to four hours or more...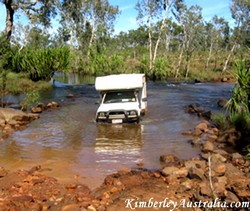 Destination Kimberley includes a list of self drive itineraries to give you an outline, a reasonable schedule to start from.
But of course everybody has different wishes, ideas and requirements.
So, if you have read Destination Kimberley, and you still wonder if your plan will work out, if you are still not sure about something, submit your DETAILED Kimberley trip itinerary here and get some feedback.
If you are confident in your itinerary, everything is planned and you are happy, submit it anyway to help others.
If you have been on a Kimberley trip, or know someone who has, if you could share what worked and what didn't, where you would have loved to have more time etc., that would be great too!
Check below the form for existing Kimberley Trip Itineraries.
For additional information and inspiration to help you put your trip together, you can also read through the many Kimberley Trip Reports and Gibb River Road Trip Reports that readers have shared.
Share your Kimberley Trip Itinerary
Use the form below to submit your itinerary or to ask any questions related to it.


Existing Kimberley trip itineraries
Click below to view the existing Kimberley itineraries and the associated discussions and feedback...

8 days Broome to Darwin. Are we mad?
Love your site! Thank you for the terrific information. My husband and I have quite limited time, so we will be travelling via the Great Northern Highway. …
14 days Broome - Kununurra - Broome via Great Northern Highway and Gibb River Road
Day 1 Broome , rent car and camping equipment Day 2 Broome - Mary Pool Rest Area via Fitzroy Crossing and Geikie Gorge Day 3 …
Darwin – Gibb River Road – Darwin in 22 days
I have enjoyed comprehensively reading both your Destination Kimberley and Top End guides and as a result feel confident I have devised a good itinerary …
30 Days Melbourne to Darwin (with Bell Gorge)
I have found your resources to be most helpful in planning my trip away with my wife and five children aged from 12 – 2 years. We are taking a Kimberley …
27 Days Darwin to Darwin
Dear Birgit, I bought your guide and the itinerary suggestions . So I would like to submit my itinerary to receive comments. We will arrive in Darwin …
28 days Darwin to Darwin via GRR
Hi Birgit, having spent 2010 road testing your Top End guide as far as Katherine - I can't wait to test the Kimberley guide ! I have really appreciated …
28 Days Darwin to Adelaide via Kimberleys/Uluru with Water Loving Kids
G'day Birgit, I have recently purchased both your Top End and Kimberleys books . They are brilliant and just what I was needing to plan our upcoming …
24 days Darwin to Broome via Gibb River Road, including Dampier Peninsular
We are a couple of NZdrs - 76 and 69 - hiring a 4wd camper in July to drive from Darwin to Perth (42 days). Last year we went to Katherine and Kakadu …
14 days -- Broome-Kununurra-Broome or Broome-Darwin?
As we only have 2 weeks we are undecided whether to do a Broome - Kununurra - Broome loop via the Gibb River Road and back along the highway, or …
21 night trip, July 2010
Thanks for this fantastic guide . I've poured over it. I also really appreciate all the reader stories. I'm travelling through the Kimberley on a 21 night …
21 Days Broome to Darwin via GRR
My husband, 12 yo daughter and I will be travelling this route late June/early July 2010. We are not experienced 4WD'ers so we don't want to be too rushed …
11 Day Trip Darwin to Broome in July 2010
Day 1: 24/07/2010 : Darwin, Lichfield, Kakadu • Tabletop Range : view intriguing magnetic termite mounds • Wangi Falls : swim in the pool at the base …
22 days Broome to Broome via Gibb River Road and The Great Northern Highway
We arrive in Broome 8th June and will be picking up a 4WD camper van. We have booked two nights accomodation in Broome. Day 3 Heading to Derby …
35 Days Halls Creek to Wolfe Creek Crater via GNH, Cape Leveque, GRR, Kalumburu Road, Mitchell River Track and Tanami Road.
We are a group of 7 people (with 1 more flying into Broome to join us and she will fly out of Kununurra. We have 4 4WD vehicles and 3 offroad campertrailers …
21 Days Broome - Broome
We would really appreciate your thoughts on the itinerary my partner and I are planning for late May this year. We are hiring a 4WD so are aware of the …
12 Day Broome to Broome via GRR/GNH
We only have 12 days to complete the loop, so timing is a bit tight. We leave early September and would like to know if the below itinerary sounds feasible? …
Ideal Broome to Broome itinerary for 8 or 9 nights?
I've just bought your Kimberley guide book and am beginning the planning for our late September trip, but before we get down into the nitty gritty of …
Kimberley trip feasibility - Aug 2010 - Sep 2010
I have attached the itinerary my wife is planning for our big trip in August 2010. Any comments or reality check would be greatly appreciated. Birgit, …
Kununurra to Cape Leveque to Kununura 24 days
Can you have a browse at my itinerary. My mother is coming up from Melbourne and I want to show her the Kimberley. Trying to see most things but bush camping. …
25 days Darwin to Broome (and then continue to Perth)
We're flying to Darwin in 2 1/2 weeks time and starting a six weeks trip to Perth... SOOO Looking forward to it! We're renting a 4WD campervan (Cheapa …
Broome to Darwin via Gibb River Road 12 days (13-07-09 / 24-07-09)
Day 1: Broome (picking up the camper 4X4 and getting to know it!) - Derby (camping) Day 2: Derby - Tunnel Creek (visit) - Windjana …
23 days Broome to Broome (parents with 4 year old), Gibb River Road, Mitchell Plateau and Bungle
I would greatly appreciate comments on our proposed itinerary. Have rented a serious 4 wheel drive and plan to do camping with an occasional dinner out. …
Broome to Broome incl Gibb River Rd and Cape Leveque for 13 days
Thank you for your Destination Kimberley guide . It has been amazingly helpful in starting to plan our camping trip in July. My husband and I are are …
Kimberley Trip, 17 days Broome to Kununurra
We are planning a trip to the Kimberley in late June till early July this year. This is what we have got planned so far. Arrive to Broome on midday …
16 days Broome to Darwin
I am planning a trip between Broome and Darwin 28th of June 2009 to 14th of July 2009. I would like to thank you for the detailed guide that you have …
9-day trip in and out of Broome
We are meeting our Swiss friends in July. We fly into Broome and we are both renting adventure 4WDs, which take 4-5 people (we have kids 8-14 yrs). I have …
27 days Darwin to Broome via Kakadu, Litchfield, Katherine Gorge, Bungle, GRR, Cape Leveque
We are travelling in 23 July - 18 August, and are wondering if you could have a look at our itinerary and give us some advice about 2 points: 1. Day …
How to coordinate extended time in the Kimberley to see things near their best?
My wife and I have recently retired and in are in our late 50's. We are planning an extended trip from Adelaide beginning late March and will spend about …
14 nights in the Kimberleys - Kununurra to Kununurra 1st-15th Aug.
We are leaving home (Port Macquarie NSW) on 2nd July 2009 to travel to Darwin, Kakadu and then the highlight of our trip, into the Kimberleys. Below is …
19 days Broome to Darwin - July 1st 2009
Hi Bridget Here is our proposed trip from Broome to Darwin . It is not set in stone but we only have 19 days and there are 4 adults. We propose …
Darwin to Broome - 19 days via Kakadu and GRR
Day 1 - Darwin Day 2 - Kakadu - travel around 220 km Day 3 - Kakadu - sight seeing Day 4 - Darwin - want to visit Mindil Beach (220 km) Day 5 …
17 days Broome-Kununurra GNH, Kununurra-Broome GRR
This is our planned itinerary for our first trip to the Kimberley. I hope to get your feedback if that is possible. Day 1: Pick up 4WD camper, …
9 Days Broome-Broome via Gibb River Road, Mornington... & Bungle Bungles?
My husband and I are planning a trip arriving in Broome on Saturday afternoon, staying 1 night. Sunday-Thursday we plan to drive to the Gibb River Road …
8 Days In Broome: What To Do?
I have 8 full days in Broome. I will be next week in Perth on masters swimming championships. After that I have time from April 22. to 28. Mining on the …
14 Days Darwin to Broome
I have formulated the below itinerary for a 14 day Darwin to Broome trip. If you get the chance could you look at the itinerary and let me know if you …
Broome to Kununurra (2 days)
I have a question regarding the Broome to Kununurra leg of our trip. Our time is limited so we are looking for the best value for time and money. We …
Day trip to Windjana Gorge from Broome
For our Kimberley trip we are basing ourselves in Broome for 8 nights, Kununurra for 6 nights, El Questro 2 nights and Cape Leveque for 3 nights. Can you …
7 nights in the Kimberleys: worth it to go all the way around?
We are planning to come to see the Kimberleys but unfortunately we are on limited time (Sat-Sat), about 7 nights in total. Just wondering if we'd be better …
Broome to Darwin Itinerary
Having 14 travel days with a 4WD camper between Broome and Darwin we have a dilemma. I am afraid your adopted country is too big! You sold us on the Gibb …
12 Days Darwin to Broome, revised (without Mitchell Falls)
Here is an updated draft of my planned 12 day itinerary from Darwin to Broome . I took your advice and excluded Mitchell Falls from the list of things …
12 days Darwin to Broome via Gibb River Road
We are planning a self drive trip from Darwin to Broome in early June. (No need to tell me that 12 days is not long enough. If I could I would take four …
Trek for 8 vans From Katherine to Broome 15th July to 22nd August 2009 This is the itinerary I promised I would send you after we did this trip. The trip was a great success with only one puncture to repair. Happy hour around the campfire and camp oven cooking was a real highlight ...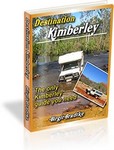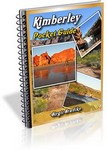 Travelling to the Kimberley?

The free Kimberley Pocket Guide
is a great introduction to travel in the region.
The full Kimberley Travel Guide


shows you how to make the most of your adventure at Australia's last frontier.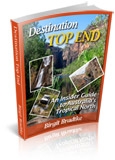 Travelling to the Northern Territory?
NEW! Destination Top End offers the same comprehensive, detailed insider information for the tropical regions of the Northern Territory.

A must have if you travel to or from Darwin.
---
Kimberley Australia Travel Guide home page