Trek for 8 vans from Katherine to Broome Itinerary - 15th July to 22nd August

This is the itinerary I promised I would send you after we did this trip. The trip was a great success with only one puncture to repair. Happy hour around the campfire and camp oven cooking was a real highlight.
Thank you for your wonderful web site...a great help in planning.
David Thomas,
President,
Trakmaster Off-Road Caravan Club Inc


---
Trakmaster Off-Road Caravan Club Inc

Details of proposed trek for 8 vans from Katherine to Broome
Itinerary - 15th July to 22nd August 2009
15th July
Meet at Knotts Crossing Tourist Park Katherine any time during the day.
Joint dinner this evening at Tourist Park Restaurant.
16th July
Timeless Land 3 Gorge Cruise with Nitmiluk Tours, commencing at Katherine Gorge 9.00 am. This is a great cruise and does involve some easy walking and boating on 3 different gorges. There is an opportunity for a swim at one of the gorges....and when you see it....you will definitely want to have a swim.
Return to Knotts Crossing Tourist Park on finish of cruise.
Make sure you have enough supplies for the next 5 days. Please note: before going into Kunnanurra your van will be gone over by the Quarantine people and they will take all your fresh vegetables, fruit, and honey...yes that is correct..your honey will be confiscated.
More information as to what you can and cannot bring into W.A.
17th July
Katherine to Gregory National Park...an easy drive. Fuel at Victoria River Road House (200kms from Katherine).
Walk the trek at Joe Creek Picnic Area. Camp the night on the banks of the Victoria River on Coolibah Station.
18th July
We hopefully will all do the Nawulbinbin walk...a 1.7 km loop with fantastic views. Relax for the rest of the day. For more information go to Gregory National Park.
19th July
Travel to Keep River National Park 468 kms west of Katherine. Enter the park and travel 28 kms to end of Park and camp at the camp site known as Jarnem. Visit Cockatoo Lagoon on the way in.
20th July
Do the Jarnem walk...8 km return loop. Fantastic Aboriginal Art.
For more information go to Keep River National Park.
In the afternoon drive to Hidden Valley Caravan Park Kununurra going through quarantine on the way.
21st July
Free in Kununurra. Maybe do a boat trip on Lake Argyle or drive around the irrigation district.
22nd July to 27th July
6 couples fly out to Faraway Bay, returning on the morning of 27th July. Shop for supplies for next week or so. Remaining couples free in Kununurra.
28th July
Leaving our caravans in the park...drive to Wyndham visiting the bird sanctuary at Parry Lagoon Nature Reserve on the way. We will visit the Afghan cemetery, and the 5 Rivers Lookout at Wyndham. We can eat fresh Barra for lunch at the local pub.
Return to Kununurra
29th July
Kununurra to El Questro via the start of the Gibb River Road.
Book in and set up camp. Now there are many walks and some challenging 4 wheel drives at El Questro. I highly recommend that everybody visit Zebedee Springs, take your togs and lie back and relax in the warm spring water cascading down the valley. The best time to visit Zebedee Springs is very first thing in the morning...it is likely you will have the whole area to yourself. 6.30am and no later than 7.00am is the best. Tourist busses will arrive after 8.00am and you will want to get out of there. The walks into some of the gorges are truly fantastic and not to be missed. The memories will last a life time. Emma Gorge, and Amalia Gorge, are not over difficult. The most challenging and the best (in my opinion) is El Questro Gorge. Do try to get to the end of the gorge where a magnificent pool and waterfall awaits you. Strip off and have a swim. You can enjoy a boat trip on the Chamberlain River...it's good. You can drive into Explosion Gorge...challenging...and also drive to Saddleback Ridge. There are other walks and drives to choose from also. I recommend an evening meal at the Steakhouse Restaurant ....it's good tucker. Basic supplies are available at the station store.
30th July, 31st July, 1st August
El Questro. Refuel here before leaving
2nd August and 3rd August
El Questro to Home Valley Station....camping on the banks of the Pentecost River. Dinner at the Dusty Bar and Grill is highly recommended.  Activities...your choice...canoeing and self drive and fishing all possibilities.
4th August
Home Valley Station to Durack River.
Bush camping this evening. The reflections of the trees in the river at early morning is something to behold. If you have a cray net or two, there is a good chance you will get a meal.
5th August
Durack River to Drysdale River Station. Staying at camp ground. Fill fuel tanks here. We can get some basic supplies here and I am told their hamburgers are just the best.
6th August
Today is subject to reports on the road condition....maybe some discussion will be necessary before a final decision is made...but all being well we are off up the Kalumburu road to bush camp this evening on the banks of the King Edward River. 
7th August
Today we visit Mitchell Falls leaving our caravans at the King Edward River camp site. The track in can be difficult so we will take our time. From the camp ground it is a 5 km walk one way to the falls taking approx 1.5 hours. So it 5 km back as well. A helicopter flight can be arranged at the campground as an alternative to walking. Along the walk a swim is possible at various rock pools and waterfalls. Tonight we camp again back at the King Edward River.
8th August
King Edward River to Drysdale River Station Camp Ground. Refuel again.
9th August
Drysdale River Station to Mt. Barnett Road House and camp at Manning Gorge. Swim in the Manning River and walk the gorge. Fuel up at the roadhouse.
10th August
Manning Gorge to Charnley River Station visiting Galvans Gorge on the way. There is a large camping area close to the homestead. I recommend we all book in and have dinner with the homestead owners one evening. There are lovely drives, gorges and rock pools to explore.
11th and 12th August
Charnley River Station
13th August
Charnley River Station to Silent Grove and Bell Gorge. Refuel at Imintji Roadhouse.
14th August
Silent Grove to Windjana Gorge N.P. camping area. Visit the ruins of Lillimilura Police Station and Windjana Gorge. Great place to see fresh water crocs.
15th August
Visit Tunnel Creek in Tunnel Creek National Park. Also known as Pigeon Cave. Who was Jandamarra? This is a must do. Make sure you bring a good torch and a change of dry clothing. We will walk the creek through the base of the hill (hence the name tunnel) through to the other side. Return to the Windjana Gorge campground for the night.
16th August and 17th August
Travel to Derby. We stay at the Kimberley Entrance Caravan Park. We will resupply, get the washing done and enjoy what the district has to offer. A 36 foot tidal difference means the port is a must visit. The Boab Prison Tree is a must see also.
18th August
Derby to Broome. A big day...but this stretch of road has little to offer with one poor overnight and noisy camping area. So we will have a long drive and have more time in Broome. We will stay at a caravan park (with luck) I have requested to stay at Roebuck Bay Caravan Park. Broome offers many attractions. To me the major attraction is to drive onto Cable Beach prior to sunset and enjoy happy hour as the sun starts to go down. The beach is over 20 kms long...so there is no shortage of where you want to pull up spots. The nudies can be a distraction...the things we have to put up with! Magic photos as the sun goes down as the camel rides wander slowly past.
19th August, 20th August, 21st August
All at Broome. We will finish the organized part of the trip here at Broome on the eve of the 21st August. If anyone wants to depart Broome earlier than this feel free to do so. If anyone wants to stay on...also feel free to do so....but do make a booking.
When leaving Broome and not in a rush we can recommend Barn Hill Station Stay (it's on the net) . A relaxing spot with good beach walks and even better fishing. Further down the coast we can highly recommend Cape Range National Park. A pristine area right on Ningaloo Reef. Good fishing and snorkelling. If interested.....arrive at the N.P. entrance early...like 5.00am or even a bit earlier..there is limited camping spots (caravans) and the ranger only lets in campers to replace those coming out. Jenny and I believe "Osprey Bay" has the best outlook of all the camping sites in the N.P. If there is a vacancy at Osprey Bay...go for it.
There is a caravan park on a cattle station a few kms before the park entrance...there is no need to book as they just keep filling up out in the paddock....this Caravan Park is well after you have passed the Lighthouse Caravan Park.


One last recommendation....if you are in the area of New Norcia in W.A....make sure you visit it. You can camp on the parkland nearby.
It is a monastery town. Have dinner at the pub....a very imposing building....and do the Monastery tour. The art gallery is amazing.
David Thomas,
President,
Trakmaster Off-Road Caravan Club Inc


Join in and write your own page! It's easy to do. How?
Simply click here to go to Kimberley Trip Itineraries.
Travelling to the Kimberley?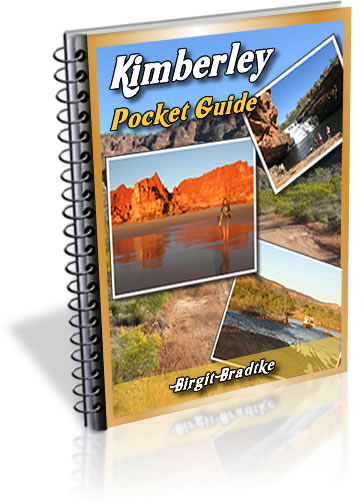 The FREE Kimberley Pocket Guide
A great introduction to travel in the Kimberley region and along the Gibb. This free resource will answer all the questions you might have in the early stages of planning a trip.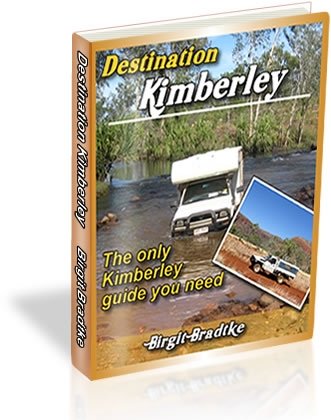 Destination Kimberley
The full Kimberley travel guide shows you how to make the most of your adventure at Australia's last frontier. Destination Kimberley includes the most detailed and most current guide to the Gibb River Road available anywhere. Also called "The Bible" by its readers.

Travelling to the Northern Territory?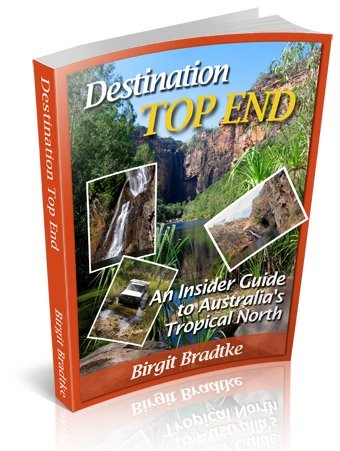 Destination Top End offers the same comprehensive, detailed insider information for the tropical regions of the Northern Territory. Be the best informed traveller in the Kakadu, Litchfield and Katherine Gorge national parks and beyond!

A must have if you travel to or from Darwin.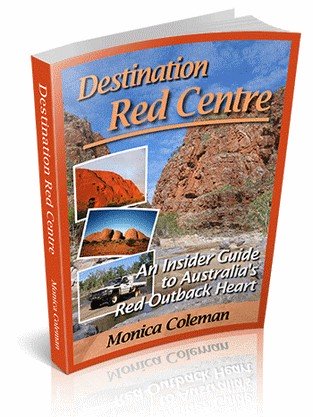 NEW! Destination Red Centre is the latest addition in this popular series. Monica Coleman takes you through Australia's red Outback heart, offering all the detail and insider tips that you have come to know and love about our guides. With special emphasis on Aboriginal communities and culture.

A must have if you travel to or from Alice Springs/Uluru.
Join in and write your own page! It's easy to do. How?
Simply click here to go to Kimberley Trip Itineraries.