Travelling The Gibb River Road

A Kimberley Adventure Trip From Derby To Kununurra
Self-driving the Gibb River Road is not as difficult as it used to be!
The legendary Gibb River Road, a 660 km dirt track right through the wild heart of the Kimberley, is one of the Kimberley's main attractions.
"The Gibb" takes you from Broome/Derby on the west coast to Kununurra/Wyndham on WA's eastern border...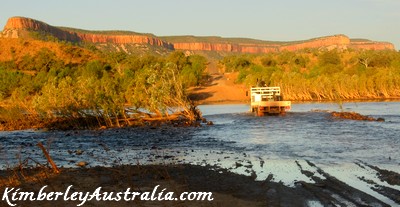 ...through a spectacular landscape of intensely coloured ranges, dramatic gorges and lush rock pools and waterfalls, everything the Kimberley is famous for.
The trip is still touted as one of the last serious adventures in Australia, a drive through a very remote area where all sorts of dangers loom, an undertaking that requires guts and four wheel driving experience...
Well, not any more!
There is absolutely nothing to be nervous about.
Your Gibb River Road trip can be an adventure, if that's what you want it to be. Or it can be an enjoyable and relaxing scenic drive. (Well, except for the corrugated parts...)
Anybody can drive the Gibb River Road. You need no special skills and experience at all.
Below you find a list of articles with more information. They tell you more about the road conditions, the distances, attractions, accommodation, the possible detours, the real adventures along the way...
You can also browse through trip reports and questions (plus answers) from other readers.
And if you are totally new here, then don't forget to grab your free Kimberley guide, which also talks a lot about both two wheel and four wheel driving in the Kimberley.
Don't worry, you will be well prepared.
Driving The Gibb - Plan Your Trip
Maps of the Gibb
Get an idea where it is, and where everything along it is located.
---

The Road Conditions
Really, you don't need any 4WDing experience...
Fuel Stops on the Gibb
... but you may need a jerry can or two.
---

What You Need To Know
I said above that this drive is by no means the risky adventure it used to be. However, it still requires some travel planning and equipment. Also, a good measure of common sense never hurts...
---
Gibb River Rd. Route Description
This gives you the kilometres from/to all the turn offs, side tracks, attractions, accommodations, supply points etc. coming from Derby (west to east). The description for a Gibb River Road trip in the other direction is here.
---

Accommodation on the Gibb Road
All the places where you can buy a cooked meal, have a hot shower and sleep in a real bed!
---

Campgrounds along the Gibb Road
All the places where you can still pitch your tent. (Many bush campgrounds have closed over the last years.)
---

Kimberley Gorges
The gorges and waterfalls are the main attractions and the reason for travel along the Gibb River Road. Here they are, with photos, descriptions, and comments (which should always be taken with a grain of salt...).
---

Gibb River Road Australia Pictures
If you just want to look at photos, here is a bunch of big ones.
---
Videos
Driving the Gibb: Broome to Wyndham and Kununurra to Broome
Darwin to Broome via Gibb River Rd.
Kimberley/Gibb Adventure In A Rental Troopy
Two Kimberley Videos
Broome to Wyndham via Gibb on motorbikes
Gibb River Road and Pentecost River by Motorbike
Great Kimberley Slide Show
Adcock Gorge
Kimberley Trip Reports, Reviews and Experiences
.)
GRR Related Reader Questions
Click below to read questions from other readers, and the answers and comments they received. (All pages open in new window.)
If you have a question yourself please see the questions page. Thank you.
Do I really need a 4WD for the Gibb River Road? Hey, I just have a really simple question. Is it possible to drive with a two wheel drive through the Gibb River Road or is it really necessary to have ...
Packing for Gibb River Road with children? Great site Birgit! Our family is planning to travel from Darwin to Broome, taking in Kakadu, the Gibb River Road and the Bungle Bungles. We are travelling ...
Rodeo Suitability for Gibb River Road My question relates to the suitability of our vehicle for the Gibb River Road, particularly as you point out the importance of your vehicle's clearance ...
Gibb River Road in Subaru Forester TNT magazine just had an article about a couple of backpackers who did the Gibb River Road in a VW Combi. I'm planning to do it this July (I'll have 3 ...
Buying a Suzuki for Gibb River Road We're in the process of buying a new car, and we were interested in getting a medium sized 4WD like a Suzuki Grand Vitara, so we could get about the NT ...
Gibb River Road with camper trailer? We are thinking to do the Gibb River Road in June next year, towing a camper trailer. We are travelling from Victoria around Oz with a Jayco Outback trailer ...
Towing Jayco Outback to Gibb River Road In reading the stories I see you are saying it is accessible to most areas. Does that include the Mitchell Falls area or would it be advisable to leave ...
Off-Road Caravans on the Gibb River Road I'm contemplating towing a 16 foot Regal Off-Road van (single axle - independent suspension)on the Gibb River Road, with the option of heading out to the ...
Towing a caravan on the Gibb River Road We are planning a trip from Darwin to Perth in July 2009 and have been told we could tow our 20ft full van with our Prado on the Gibb River Road. We would ...
Caravans On The Gibb River Road (Storage) Obviously you would not want to take a caravan on the Gibb River Road. However, is there place to leave our van on the eastern end as we make our way across ...
Travelling through the Gibb River Road area with dogs We plan to do the Gibb River Road with our dogs. Do you see many people travelling with a dog through the Gibb River Road area? I know our plan will have ...
Gibb River Road In June We're nervous about doing the 4WD roads - the Gibb itself and all the roads off it - given that we're 4WD virgins! We are thinking about coming ...
2wd for road to Drysdale River Station? My wife & I will be leaving Victoria in 4 weeks time to begin an around Australia adventure lasting 18 months. We will be travelling in a 2wd bus (Nissan ...
Silent Grove - Bell Gorge camp sites Birgit, I have your excellent 'Destination Kimberley' (I wish I'd known about it years ago ... I can now throw away all the printouts from tens of websites ...
El Questro I am writing in response to the negative comments regarding El Questro. The impression given is that the Homestead is the only style of accommodation ...
Mobile, internet reception along Gibb River Road My parents are travelling the Gibb River Road leaving Kempsey NSW 10 May. They would like to watch ABC news and speak to us occasionally. Can you tell ...
Here is the full list of all Gibb River Road questions
---