Travelling through the Gibb River Road area with dogs
by Jules
(WA --> SA)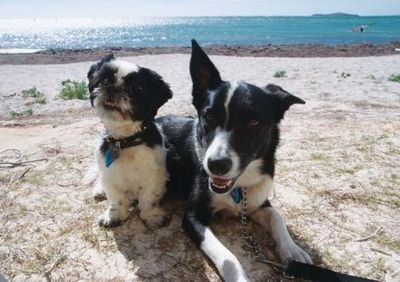 Roxy and Rusty want to see the Gibb River Road
We plan to do the Gibb River Road with our dogs. Do you see many people travelling with a dog through the Gibb River Road area? I know our plan will have it's restrictions, ie national parks, but I understand there are still places to camp with dogs (we're campers through and through) and sights to see where dogs would be ok.

We are from SA but came to WA for a year - 3 years ago! (ok we got side tracked as we love it here.) Next June we will return to SA - via a drive around Oz.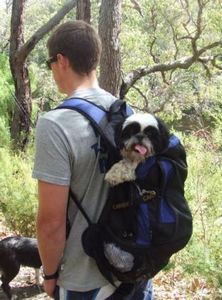 We have been doing a lot of research into travelling with dogs.
For the most part we have found dog friendly parks instead of national parks to hike, places to stay that are dog friendly and kennels for the occasions we can't have our beloveds. (Ie, the kennel in Broome while we explore Cape Leveque).
But we haven't found any info on the Gibb River Road. Do you have any thoughts or suggestions?
Btw, I really LOVE your website and your inspirational story about how you came to live in WA. Thanks in advance for your advice - and for creating such a brilliant website.
Jules.
Response to: Travelling through the Gibb River Road area with dogs
Update!!!
This question and my original answer is from 2007!
For current info on travelling the Kimberley and Gibb River Road with dogs see this page.
Hi Jules,
Thanks for the kudos :-). Much appreciated. I'm glad you like the site.
Camping with dogs... No, I haven't seen many tourists with dogs on
the Gibb River Road
. But that doesn't mean you can't take a dog. As you already said, it just means you have to skip the national parks and find other places. I think that's not a bad thing. It means you'll avoid the masses, too. June to August is peak season here after all...
Most of the sites in
Jan Holland's books
allow pets. I can't recommend her books enough. (She also has books about southern WA and the NT.) If you don't already own them, get them. A must have for bush campers and will save you loads of money.
Places you can't go on the Gibb River Road with a dog
are the big sights, mainly Bell Gorge (conservation reserve managed by CALM), Mornington (wilderness sanctuary and conservation reserve) and the
Mitchell Plateau
(national park).
I'm pretty sure El Questro is not too keen on dogs, but they don't say so on their site. (Update: indeed, no dogs.) I'd also contact Home Valley Station and ask. You never know your luck, they may allow dogs... (Update: nope, they don't.)
Also check out Drysdale River Station on the Kalumburu Road.
There are tracks leading to bush campsites on the banks of the Durack River, on both sides. Very nice waterholes, too.
You may be able to camp at the Pentecost River crossing. (You're not supposed to.) The locals go fishing and camping there all the time (outside the tourist season...) and we take our dogs. Just make sure you keep the dogs away from the water!!! Crocs LOVE dogs.
You can also take the Karunjie Rd/King River Rd from there to Wyndham. That's a really nice drive and has some camp sites and good fishing along the King River. Digger's Rest Station is in there, which is another great place that MAY allow dogs. You have to ask.
Barnett River Gorge has beautiful bush camp sites. Jan Holland mentions a few more little clearings and sites along the Gibb River Road where you may get away with bush camping.
You can take the dogs hiking and swimming at Adcock Gorge, and Galvans Gorge should be ok, too. (Of course I can't guarantee that nobody will put up "no dogs" signs before June...)
As for all the stations along the way, you'd have to contact them individually to find out more.
So, you can drive across the
Gibb River Road
with your dogs, and there are a few spots to pull up for a night. You can even see some of the
gorges
, but you will miss the best ones. But you knew that...
(
2009 updates: Dogs on the Gibb River Road. Also see Taking Dogs Along Gibb River Road (older).
)
Hope that helps some. All the best to all you guys (two-and four-legged)!
PS.: A couple of days ago I had a similar
question about camping with a dog on my Australian Outback site
. It was a very general question so I couldn't help much, but if you can give tips and ideas from your research feel free to chime in.
And last but not least, I and all travelling dog owners
would love to hear about your experiences
once you hit the road!