The Bungle Bungles/Purnululu National Park

Nowhere near as difficult to access as it used to be!
The Bungle Bungles National Park, or Purnululu National Park as it is officially called, is mentioned whenever the Kimberley is mentioned.
The park is known for the astounding Bungle Bungle range, which was only "discovered" by a film team in 1983.
Purnululu National Park was established in 1987 and skyrocketed to world fame in no time at all. And deservedly so...
The Bungle Bungle range is most definitely one of the most spectacular and memorable places I have seen in my life. I can't think of anything that even remotely compares to the experience of for example a day's walking along Piccaninny Creek.
In my opinion a night's camping in the Bungles should be on the must-do list of every Kimberley traveller.
But many travellers are hesitant to visit Purnululu National Park as self drivers.
The Spring Creek Track (that's the access road to the Bungles NP) has a bad reputation as a rough and difficult 4WD track, the park itself is very remote with few facilities inside or even nearby, and all of the walking tracks in Purnululu are rough bushwalking tracks.
As a result many visitors opt for organised tours or even restrict themselves to a scenic flight instead.
Before you do the same, please read through all the information on this website. Because as so often, most of what you have heard is likely either exaggerated, or plain outdated.
If you have a 4WD (rented or your own) and you are travelling through the Kimberley independently, then you can go to the Bungles independently, too.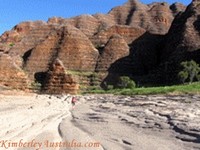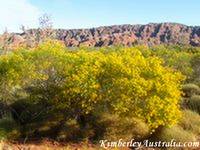 About the Bungle Bungles National Park

Purnululu National Park Background Information
Facts, history, where does the name come from...
Geology, how the striped domes were formed.
---
Bungle Bungles Tourism Information
The best time to visit, the weather and temperatures
Getting there: directions, distances, driving times, road conditions, fees and regulations.
Accommodation/camping in the Bungles
---

The Walks and Attractions of Purnululu National Park
Take a virtual tour through the park. For now. I hope you can make it a real tour soon...
---

Bungle Bungles Pictures
I have devoted one page of my Kimberley photo gallery to pictures of Purnululu National Park.
---
Kimberley Trip Reports, Reviews and Experiences
.)
Purnululu Related Reader Questions
Click below to read questions from other readers, and the answers and comments they received. (All pages open in new window.)
If you have a question yourself please see the questions page. Thank you.
Bungle Bungles from Warmun Turkey Creek in 1 day I have read in detail all the information and conversations about the Bungle Bungles and the time it takes to get there. I understand the time issues! Has ...
Emma Gorge to Bungle Bungle NP in one day We're travelling the Kimberley late September, beginning of October and would like to visit Bungle Bungle NP. Unfortunately we only have one day for that ...
Road access to the Bungle Bungles You state the access to the Bungle Bungles is only suitable for 4WDs. Does this include light duty all wheel drives similar to RAVs, X Trails and CRVs...
How difficult is Spring Creek Road/Bungles access? I am planning on visiting Purnululu National Park and was wondering just how difficult Spring Creek track is for someone who has done limited 4WD driving ...
Visiting Bungle Bungle with a caravan OK, I know that caravans are not allowed in the park, but where is the closest point at which you can (with reasonable security) leave a van so that you ...
Taking an offroad caravan to the Bungle Bungles On some of the websites showing road conditions into the Bungle Bungles there is a picture with the line thru a picture of a caravan. Is it strictly forbidden ...
Off Road Camper Trailers Allowed Into Purnululu National Park? I have had a read about towing caravans, thank you for that advice, but I have an Off Road Campertrailer that I have towed behind my 4WD vehicle to Kalumburu ...
Camper trailer/caravan storage when travelling to the Bungles We are travelling to the Kimberley next month with our Goldstream camper trailer, hoping to travel the Gibb River Road and the Bungles. We heard that we ...
Bungles in a Jayco pop top? How about taking a Jayco pop top caravan into the Bungles? It is called the "out back" series, it is not a full size caravan, is much higher off the ground ...
Mitsubishi DELICA 4WD van suitable for a trip to the Bungles? We are planning a trip next month (September 08) and we have a Mitsubishi DELICA 4WD van. How will this vehicle go travelling on the track to the Bungles...
Ford Territory to Bungle Bungles I will be visiting the Kimberleys and Bungle Bungles in July / August - driving an All Wheel Drive Ford Territory, towing a standard 18' tandem caravan ...
Bungle Bungles in a Rav4? We're planning a trip to the Kimberley in July/August and have been looking into flying to Darwin & hiring a 4WD for the trip - which is getting more expensive ...
Bungle Bungles overnight hike We would like to do the overnight hike to Piccaninny Gorge in the Bungle Bungles and wonder how to camp out. Will a sleeping bag be enough protection ...
Here is the full list of all Purnululu questions
---
Return from Bungle Bungles to Kimberley Australia Travel Guide home page