Gibb River Road Pictures

Kimberley Photo Gallery
Many myths revolve around the Gibb River Road in the Kimberley. Some are true, some aren't.
True is that the corrugations are sometimes deep enough to lie in.
Not true is that you are on your own out here, that the drive is challenging, that you need to be an experienced four wheel driver, yada, yada, yada.
The exception is the start of the tourist season, when the road re-opens after the wet season closure.
Before the graders have done their bit, when the rivers and creeks still run deep and fast, then it can indeed be a real adventure.
However, also not true is that you will experience the solitude of an untouched wilderness. Those days are over.
True is that it is still a great trip. So fear not, pack up your four wheel drive and go. The tourist numbers here will only increase.
---
Gibb River Road Pictures 1
Typical View Of The Gibb River Road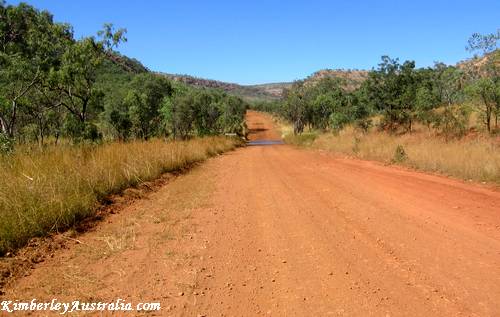 This is a very typical view of the Gibb River Road. Some sections are even sealed but most of the road consists of red dirt and gravel. A lot of it is badly corrugated. This stretch was reasonable.
There is still a puddle left from one of the creeks, but it is very early in the season. Most people will not see much water at all on their trip.
---
Gibb River Road Pictures 2
Pentecost River Crossing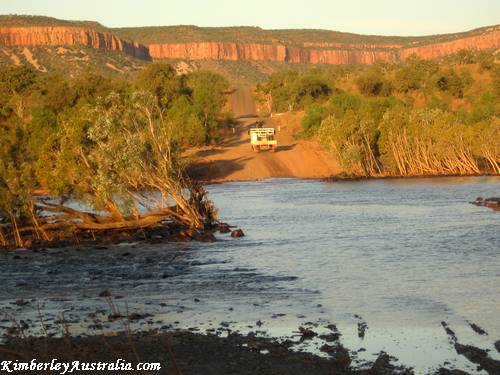 This is probably the most famous of all Gibb River Road photos: the Pentecost River Crossing and the Cockburn Ranges at sunset.
The Pentecost River is one of the few big rivers that you have to cross on your trip and at the very beginning of the season that can be a bit of a challenge.
Note: the Pentecost River is full of saltwater crocodiles that have caused trouble in the past. (One attacked campers in their tent at night time.)
---
Gibb River Road Pictures 3
Getting Sidetracked
This picture was taken on a side track, not the main road. It's the access track to Adcock Gorge to be precise. As you can see, this track is a bit rougher than the main road.
And that is the reason why in my eyes it doesn't make sense to drive the Gibb River Road in a conventional vehicle. Even once all the water has dried up, the tracks to many of the less known attractions remain very rough and you are much better off with the clearance of a four wheel drive vehicle. (You don't need exceptional skills, just a vehicle with clearance.)
---
Gibb River Road Pictures 4
Bell Gorge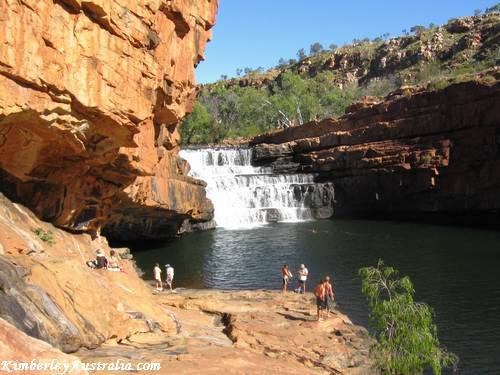 One of the most famous Kimberley gorges is Bell Gorge. It's 30 km off the main road. When I was there (always early in the season) it was a four wheel drive only track for sure, but during peak season and after you should be able to negotiate this one in a conventional vehicle.
Of course, the Gibb River Road and all the tracks to the attractions are constantly improved and upgraded. There are also plans to seal all of the main road in the near future. Yes, overall access will become a lot easier, but then the tourist numbers will increase, too.
---
Gibb River Road Pictures 5
Galvans Gorge
If you do go in a conventional vehicle, this is one of the places that you can definitely see. Galvans Gorge is only a short walk from the main road. It's the perfect place for a lunch break and a swim. The only thing I found wrong with it is, you guessed it, the amount of people.
I managed to shoot a photo without other tourists in it, but this would not have been possible 10 minutes later. It pays to be early, early in the season and early in the day.
---
Gibb River Road Pictures 6 and 7
Road Trains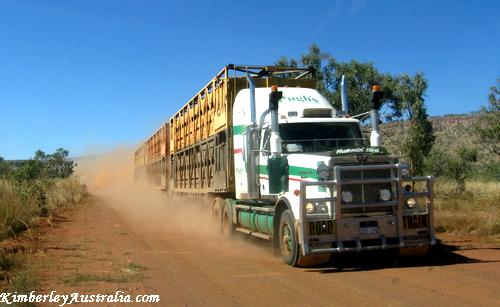 Road trains are looooong trucks with three, four or more trailers. By the time you get here you will have seen many of them on the highways. But they don't kick up as much dust on the highways...
The Gibb River Road is an important beef road and you will come across many cattle trucks. They drive fast and it's not easy for them to slow down, so please don't do stupid things like pull out in front of them or similar. Here's another one: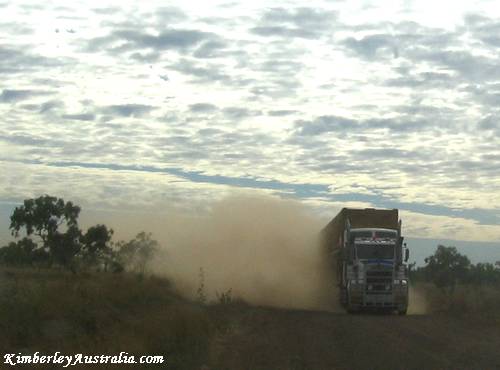 Meeting them like this is not too bad. You just pull up and wait till the dust settles. But it's not much fun to being stuck behind one and you can imagine your chances of seeing the road ahead. Overtaking them is usually not an option.
It's best to have a break instead...
---
Gibb River Road Pictures 8
Home Valley Sunset Lookout
What you can see here is the Pentecost River and the Cockburn Ranges in the distance.
Sunset or not, the sunset lookout is a nice place for a break. There is even a table and some seats made from rock and an invite from people who don't take no for an answer:
---
Gibb River Road Pictures 9
Don't you dare...
Pretty clear directives...
I can recommend you follow them. Home Valley Station is definitely worth stopping at. Here is an image of the view of their riverside campground...
---
Gibb River Road Pictures 10
HVS Riverside Camp
That will do for a night, don't you think?
More about the Gibb River Road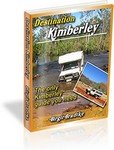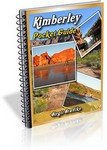 Travelling to the Kimberley?

The free Kimberley Pocket Guide
is a great introduction to travel in the region.
The full Kimberley Travel Guide


shows you how to make the most of your adventure at Australia's last frontier.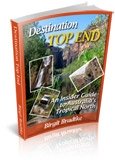 Travelling to the Northern Territory?
Destination Top End offers the same comprehensive, detailed insider information for the tropical regions of the Northern Territory.

A must have if you travel to or from Darwin.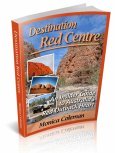 NEW! Destination Red Centre is the latest addition in this popular series. Monica Coleman takes you through Australia's red Outback heart, offering all the detail and insider tips that you have come to know and love about our guides. With special emphasis on Aboriginal communities and culture.

A must have if you travel to or from Alice Springs/Uluru.
Next page: Lake Argyle
---
Kimberley Australia Travel Guide home page