An Early 2017 Kimberley Adventure -
After A Huge Wet Season

By Valerie from Sydney


Our 3 week Kimberley round trip (Broome to Broome) was due to start on 23rd May 2017 and I began to follow the weather reports with trepidation.  News of the biggest wet season in a long time kept coming and I wondered how we city slickers would cope.
However with everything booked and paid for, there was no turning back.  So we set off on what was to become a great adventure visiting one of Australia's most special areas – The Kimberley.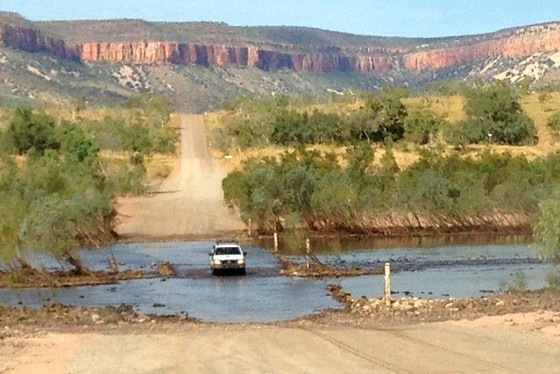 DAY 1, Tuesday 23rd May
On 23
rd
May, we flew from Sydney (approx 15°C early morning) to
Broome
(approx 30°C midday) to begin our Kimberley adventure.  Collected our automatic, high clearance 4WD (Mitsubishi Pajero) at Broome Airport and thankfully I'd asked to be shown its features before we left.  That new knowledge was to become invaluable later in the trip.  Most of the time we were to drive it as a regular car.  
After a visit to the supermarket to load up with food, water and other necessities for this experience into remote Australia, we were ready.     
DAY 2, Wednesday 24th May
We left Broome and drove up the
Cape Leveque Road
, the first 100kms of which are graded and the last 100kms of which are bitumen.  First stop was the church at Beagle Bay, an aboriginal community.  The famous church is decorated with pearl and other shells throughout.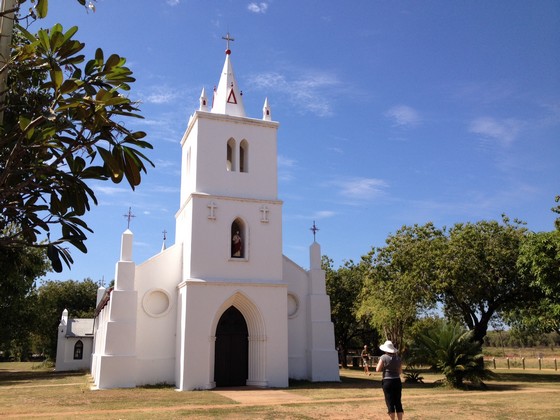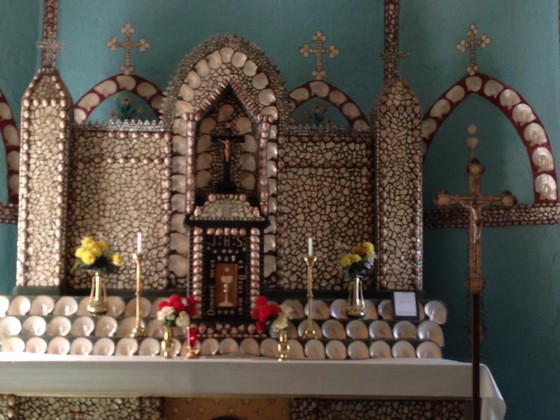 After a brief call into Lombadina Aboriginal Community, we continued up to
Cape Leveque
and visited the
Kooljaman Eco Resort
.  I had the most expensive pulled pork burger in my life and K had the most expensive serve of chips she'd ever had, but they were all soooo good.
A walk in the hot sun isn't my preferred activity, however I was only ever going to be at Cape Leveque once in my life, so we walked to the Eastern Beach and then around to the Western Beach.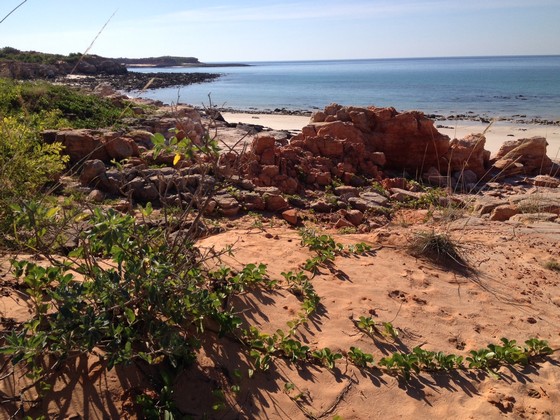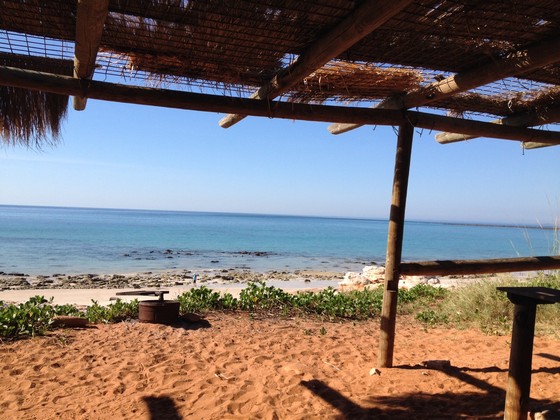 Most of the staff were backpackers from all over the world, especially the northern hemisphere.  Such lovely young people who really enjoy Australia's heat, even at 30°C+.   It was good to see some indigenous staff working there also.  We were entertained by a young Canadian musician from Toronto, with his girlfriend, while we enjoyed our super expensive, but casual, lunch. 
The tourist season in the Kimberley is May to September usually, depending on the rain.  After four dry years, the continual rain in 2017 was very welcome and it made everywhere look beautifully green.  It also meant that some roads were still not open, but at this early stage of the trip we weren't affected.
Leaving Cape Leveque we drove over to Cygnet Bay...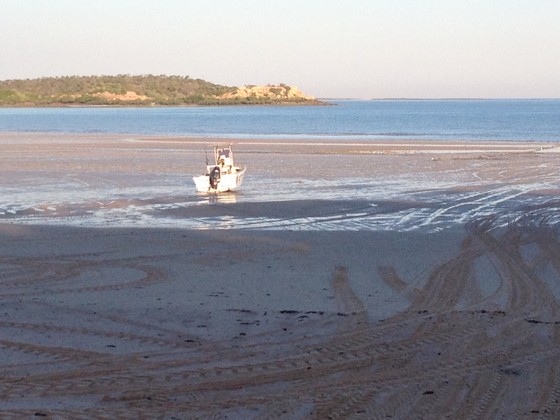 ...where we were booked into our fully screened safari tent.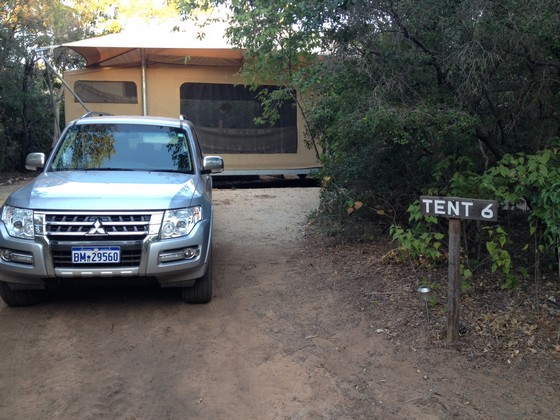 Looking at the above photo, the ensuite in this tent is on the left, behind the car.  It wasn't large but it meant we didn't have to go outside for ablutions.  Absolutely purrrfect.
It's important to be off the road and at your accommodation before it gets dark (5.00ish this time of year) as rental cars are not covered by insurance if driven between dusk and dawn.  The Kimberley is populated with pastoral leases, so lots of cattle stations, and cattle wander wherever they like, including onto the road in front of cars.  Add to that some inquisitive kangaroos and you can understand why it's easy to write off your car if you drive in the dusk/dark.  We heard a few awful stories of people who had disregarded that advice.
As K had remembered from our booking that there was a BBQ at our Cygnet Bay accommodation, she had bought lots of fresh veges in Broome the day before, so we could have a BBQ… veges only.  Unless you carry a fridge you can't keep perishables in the heat.   By the time we got settled into our safari tent and made our way to the BBQ it was completely dark.  So we put on our head torch lights so K could see what she was doing –not a flattering look but no other sensible people were at the BBQ in the dark so it didn't matter.  I have to admit that it all tasted fabulous as I was by then quite hungry.   After that we played cards, with the help of our head torch lights as the lights in the tent weren't overly strong – and it was only 7pm!!  The entire area is heavily geared to conservation therefore power, although available, isn't to be over used.
Day 3,  Thursday 25th May
We drove to Ardayaloon Aboriginal Community at One Arm Point to see the fish hatchery.  It's quite primitive but very interesting and worth a visit.  Called into the General Store to pay the fee for visiting.  Nemo and his friends were there in huge tanks.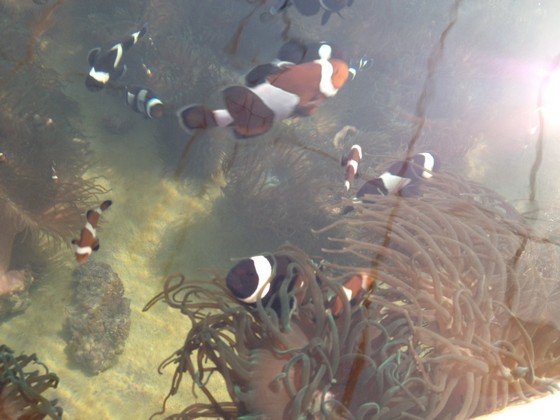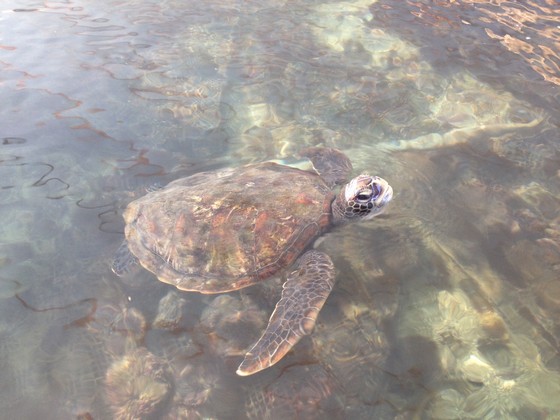 The view from the hatchery was fabulous as the massive tides rip past the many small islands.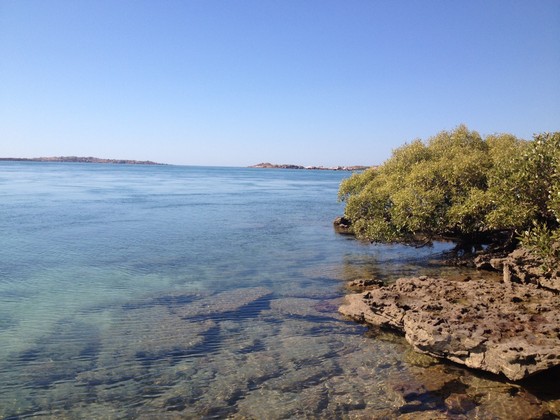 Then back to Cygnet Bay for a tour of the pearl farm.
Raced back (as much as you can on those roads) from the hatchery to Cygnet Bay for our morning tour of the pearl farm.  It's an amazing story of an Australian who decided that if the Japanese entrepreneur, Mikimoto, could find a way to culture pearls in the waters off Western Australia, then it was time an Aussie did.  So Cygnet Bay Pearl Farm was founded and is now the oldest, continuously operating Australian pearl farm, celebrating its 70
th
year of operation.  It is still owned and operated by the family.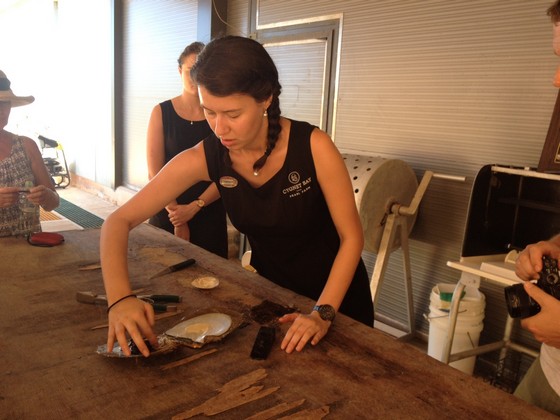 This shows our guide who has just opened an oyster shell.  She had to gently search through the meat with her fingers to discover the pearl: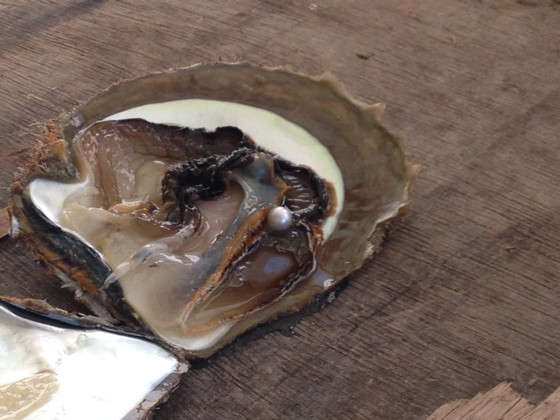 Nothing is wasted.  The meat is a delicacy in some Asian countries and every part of the inside of the oyster shell is used.
Cygnet Bay was one of the highlights of our trip.  We were really glad we'd chosen to stay there and go on the morning tour of the pearl farm.
We then drove back down Cape Leveque Road...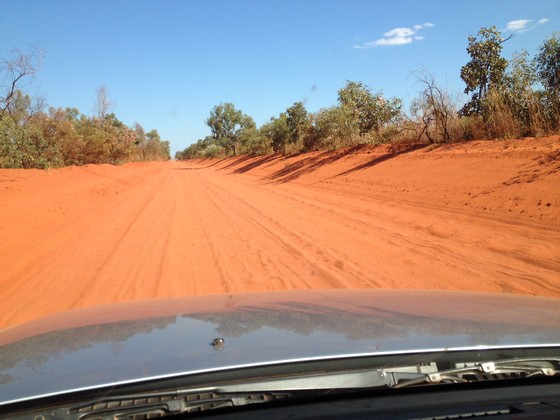 ...to get to
Derby
before dusk.
This is the 'petrol station' operated by the Djarindjin Aboriginal Community.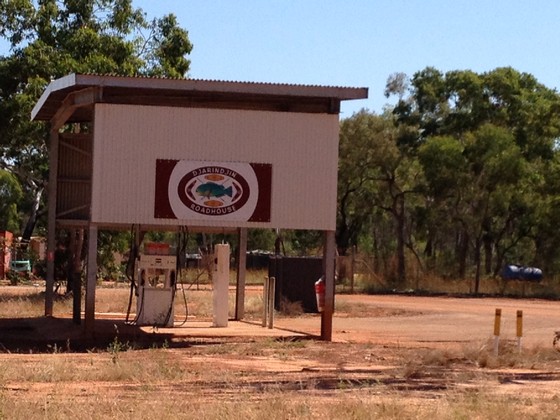 Because the nearby store isn't always open, you put your credit card in, select your amount, cross your fingers and hope to hear the petrol gushing into your car.  After a few nervous minutes (banging on the petrol pump and the credit card contraption didn't really help) the petrol began to flow.  Such relief.
Very good apartment style accommodation at the Spinifex Hotel in Derby that night.  We were excited by our well equipped kitchen so a trip to Woolworths became a highlight to buy fresh food for our dinner.       
Derby is a pleasant country town.  There's the historic boab prison tree...
...and the jetty which looks better at sunset.
Like all the smaller communities we'd visited, Derby has an Aussie Rules football ground.  No wonder so many great indigenous AFL players have come from Western Australia.  As with every other community we'd visited, there was also an air strip.  Small private planes and tour operators fly in and out of these communities regularly, particularly in winter or as they call it, in 'the dry', when the tourist season operates.   
DAY 4, Friday 26th May
This was to have been a big day with an early start.  Disappointingly, the side roads to
Windjana Gorge
/
Tunnel Creek
and
Bell Gorge
were still closed, so we then had plenty of time to reach
Mt Hart
for the night.  Big relief to see that the Mt Hart road was advertised as 'open'.  
After a visit to a couple of aboriginal galleries, we were on our way on the famous
Gibb River Road
, a graded road with lots of stones, occasional sand, plenty of corrugations and lots of dust when someone drove towards us.  No one ever overtook us unless we pulled over to take a photo but then we'd have to wait for the dust they raised to subside.  We probably saw a vehicle (all 4WDs, trucks or road trains) every 20 mins so didn't ever feel completely isolated.
Queen Victoria's head is a granite outcrop along the Gibb, in the Napier Ranges: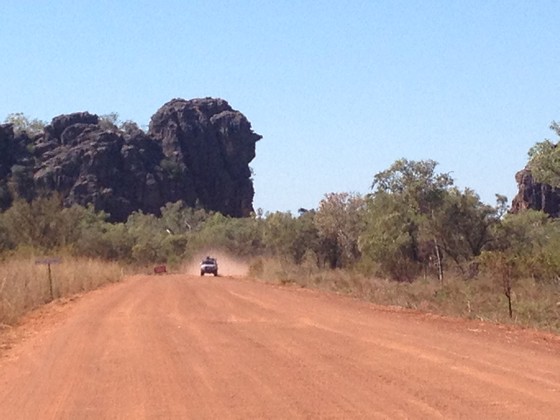 Then it was on to the turnoff to
Mt Hart
, a former cattle station, now part of a conservation area.  We knew that Mt Hart Station was 50kms after we turned off the Gibb.  We didn't know about the 21 floodways (water crossings) and the 1.5 hrs it would take because of the Big Wet in 2017.  Unfortunately I was too focussed on driving to think about taking photos of the deeper water crossings, particularly as three were wide and deep and very scary.  As a real city slicker, I usually drive a sedan, not a 4WD. 
However, as the road was declared 'open' and we had a high clearance 4WD, I kept going.  When the water came up over the bonnet at two of them, I had visions of being stuck until help arrived (from where???) but somehow managed to get through.  Other guests had the same experience and we were all so thankful to have made it through.  The good thing about the Mt Hart water crossings is that they have stony, not sandy, bottoms so the tyres have something to grip on I guess.
Our accommodation wasn't as flash as Cygnet Bay, as the tents were much smaller.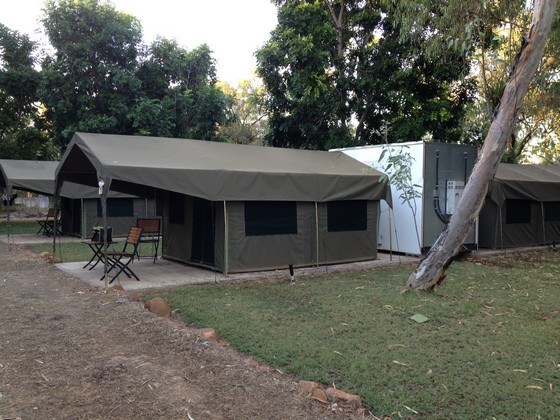 The tent was hot and airless during the day and cold during the night, but the beds were good.  Each en suite was in the double white unit beside each tent.  It had a toilet with soft closing lid (didn't expect that), basin and shower.  There was no electricity, hence no hair dryer for two days!!!  We could take our phones to the dining room to charge them, but hair dryers were banned – they use too much electricity. 
We met some lovely people as dinner and breakfast are communal gatherings as those meals are provided.   Guests could order lunch hampers but K and I – and a lot of other people – had our own tinned lunch.  Small tins of salmon/tuna on Cruskits or equivalent and fruit which seemed to keep OK, were most popular because unless you had a 'proper' fridge, it was too risky to keep meat or perishables in that heat. 
A drive up the hill before sunset was worthwhile and the enterprising friends we'd made took something to imbibe, as we celebrated the sunset.
DAY 5, Saturday 27th May
Sometime before 5am, the birds decided I needed to wake up.  I was about to get up to go to the toilet, however I waited as long as I could so as not to wake K – our beds were not far apart.  Leaving the tent was always noisy, no matter how quiet you tried to be.  You had to unzip the industrial strength and therefore noisy zipper, then rezipper it quickly to keep the bugs out.  K heard and told me that there was a frog in the toilet.  It was now daylight therefore no option to look for bushes as an alternative.
So I hastened through the zipper process, got into the ensuite, lifted the lid of the toilet and there was the most beautiful green frog.  Only instead of being the little frog I'd anticipated, it was the size of the palm of my hand.  Thinking it might be best if I didn't have to look at it, I put a piece of toilet paper on top of the frog, which got such a fright it jumped backwards towards the hole.  Following his cue, I flushed and down he went.  K was horrified that I'd flushed him, until I reminded her that's where he'd come from so I'd just sent him home.  How I wish I'd had my phone (camera) with me.  
We went for a walk to the gorge and then to a safe swimming hole, which means 'no crocodiles', where the others had a dip in the pristine water.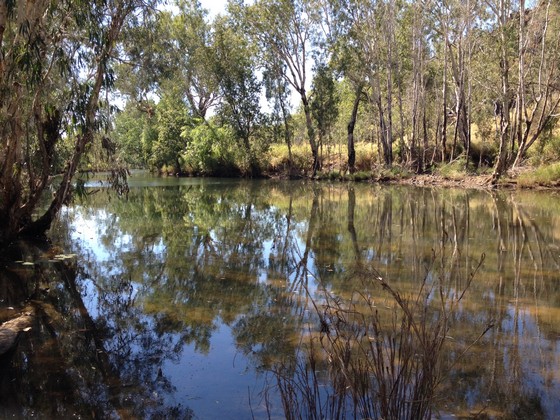 After the previous day's challenge of driving into Mt Hart, a rest day was just what was needed.  Each night a roaring fire was lit in the grounds and after dinner we all sat around it and shared stories of our experiences and picked up tips from other travellers. 
Aussie humour is alive and well in the bush...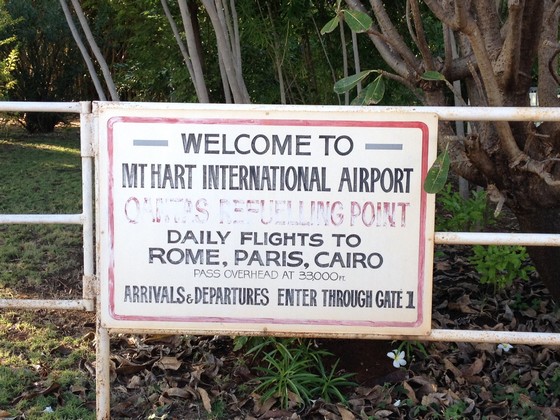 This notice on the fence beside the air strip at Mt Hart is so funny when you look at the country airstrip and remember where we were.  The words in red which are hard to read are
QANTAS REFUELLING POINT
DAY 6, Sunday 28th May
Mt Hart
had been an oasis with lots of trees, shade, birdlife and good meals, but now we were heading to
Mt Elizabeth
, a working cattle station for our next night's accommodation.  The anticipated horrendous journey out of Mt Hart wasn't so bad.  There were only 16 Floodways (5 had dried up in the two days since we drove in) and even the deeper ones had gone down considerably since our arrival.  As K drove out, I was able to take some photos...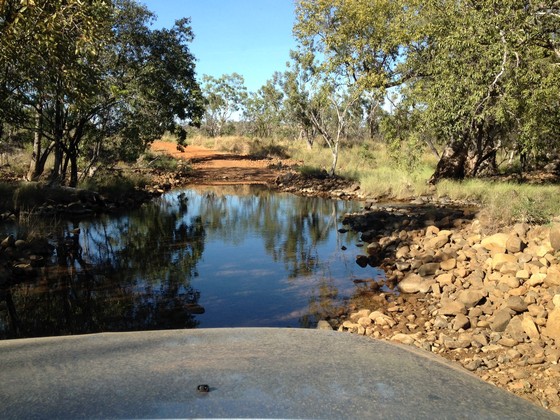 ...but they would have been much better on the way in with the water so much higher.  
Back on the
Gibb River Rd
, some general scenery: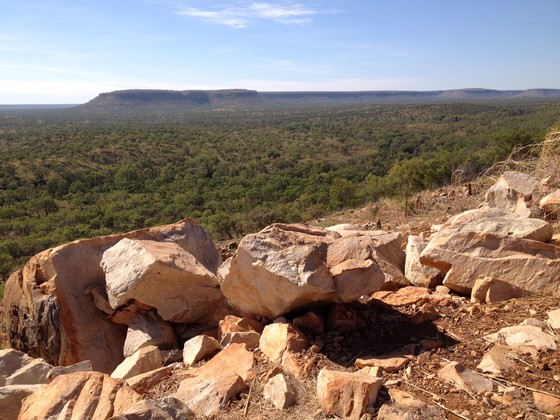 First stop was the Imintji Aboriginal Community store...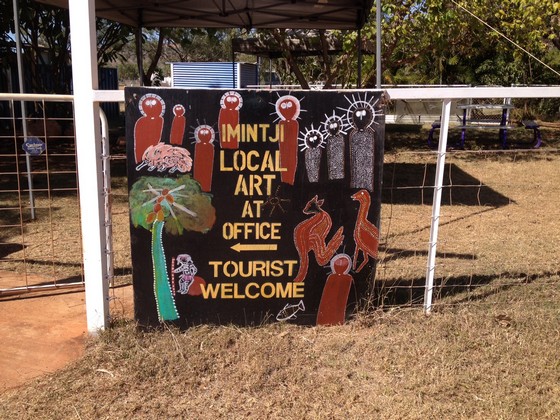 ...where we filled up with petrol – at $2 per litre!!   I even had some home-made carrot cake and a cuppa as the store was air conditioned.  Bliss.  Without the air-con no one would ever have a hot drink as it was 30°C+ outside.  The store was being managed by a couple from Victoria who each year leave those cold winters and find jobs somewhere warm in Australia.   
Next stop was
Adcock Gorge
, which turned out to be a very difficult walk, with rocks moving underfoot, so I waited while K walked on to get closer to the waterfall.  My photos were therefore taken from a long distance away and you can see some of the gorge.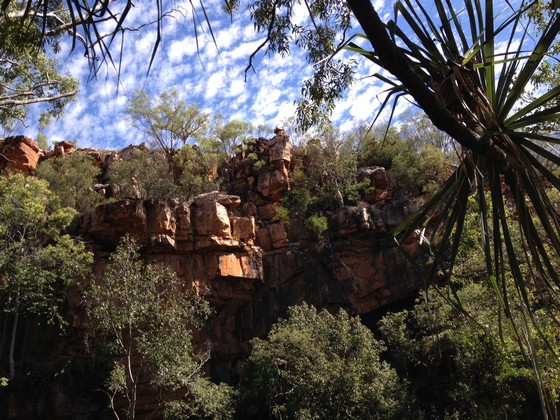 We should have kept going and not lost time visiting Adcock Gorge.  There are easier and prettier gorges and we should have set off earlier and allowed time to see
Manning Gorge
instead.
Next stop
Galvans Gorge
in the King Leopold Range, a comparatively easy and short walk from the car park located beside the road.  My sort of place – not far to walk, really beautiful and crocodile free.  As it was safe, it was a popular swimming hole.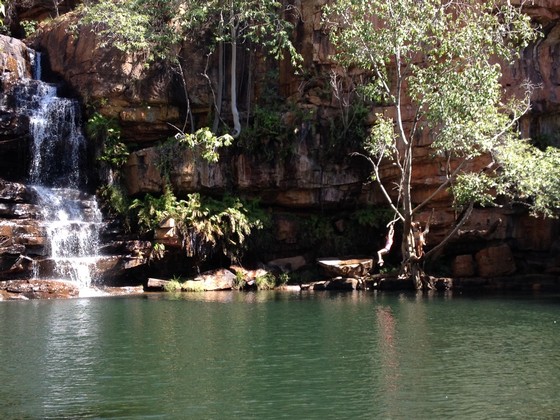 You might see the guy swinging from the tree to jump into the water.  Amazing to see trees of such height growing out of the rocky ledge, half way up.
Lunch at Mt Barnett roadhouse, then we arrived at Mt Elizabeth Station late afternoon.  Our host suggested there was a pleasant, flat, easy 3.5 km walk we could do before dinner, so off we set.  I didn't realise that 'flat and easy' meant crossing a creek where the rocks don't allow you to cross with dry feet and the path on the other side isn't evident. 
Thank goodness K always found the best place to cross.  Then we had to cross it again (more wet shoes) to return.
We didn't concentrate on the time, instead only thinking we needed to be back before dinner.  We should have concentrated on when it would be DARK.  As daylight faded, we ended up hurrying back while we could still see.  that was a 'wake-up call' as we would have been completely lost without daylight. We returned just before dusk.
This time we had a small room...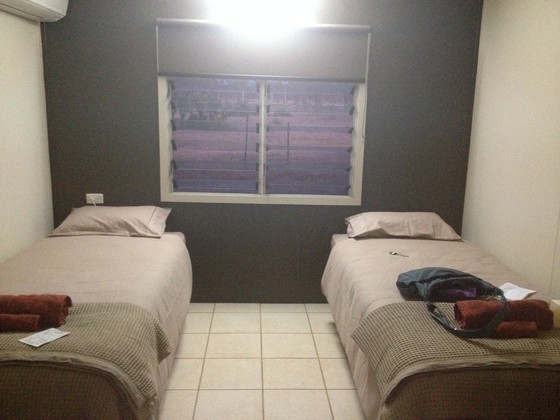 ...and not a tent... actually in a building.  I was thrilled.  No more zippers.
DAY 7, Monday 29th May
There was always something to wake me up; a braying donkey, a dingo, bush turkey, birds.  I'm not usually out of bed to see sunrises so today was a rarity.
This is the donkey which terrorised the overseas backpackers working at Mt Elizabeth...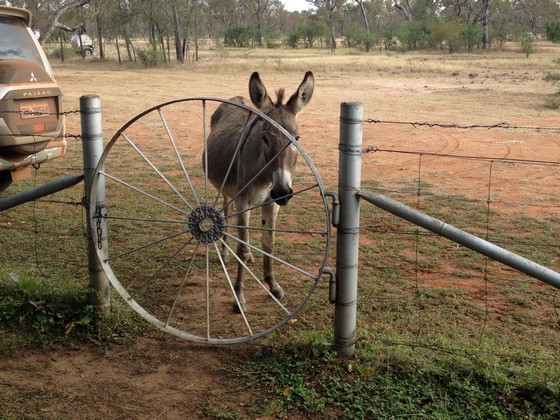 ...but the cook who was from Victoria (another one escaping the southern winter) was known as the donkey wrangler and she kept him under control.  The back of our vehicle, near donkey, was now covered in red dust.
First stop after leaving Mt Elizabeth was at Ellenbrae which advertised Devonshire tea, so of course I wanted to stop as it was only 5km off the Gibb, though on a super rough road we soon discovered.  The worst 5kms I have ever driven, dodging massive potholes, some water and plenty of corrugation as the road hadn't yet been graded.  As we completed each km, thinking about turning back, there was a sign to encourage you to keep going.   It was worth it – a true oasis with lush growth and a welcome morning tea, then those awful 5kms to get back to the Gibb.
The next challenge was driving across the Durack River.  When I got to the other side I just had to stop and take a photo as it was a long drive through a river.
We ate our picnic lunch at Home Valley Station run by an aboriginal community and this was the sign on all their toilet doors: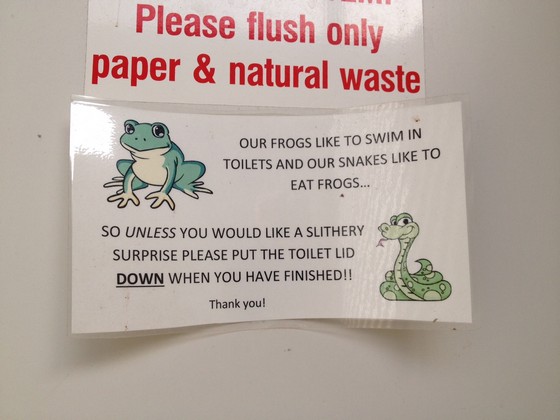 Glad I didn't know this fact when I met my green frog at Mt Hart, though by Day 7 we'd heard that message a lot and always put the toilet lid down.
Arriving at the Pentecost River, we waited for two vehicles before it was our turn to drive through the Pentecost.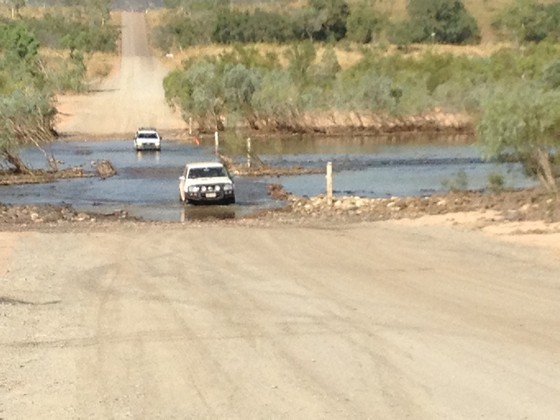 As I understand the Pentecost is tidal, you can be unlucky and not always able to cross when you reach it.  It's a good idea to find out before you get there – check at Home Valley Station – otherwise you'll spend time sitting in your car waiting for the river to recede.
Another view of the Pentecost River crossing and surrounding area: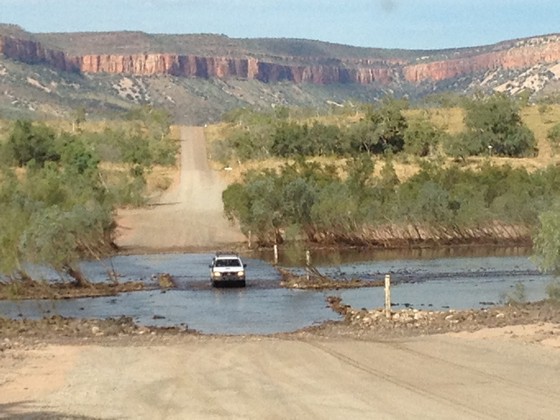 Next is the view from the passenger window when we were in the middle of the Pentecost.  A trifle scary but we were confident.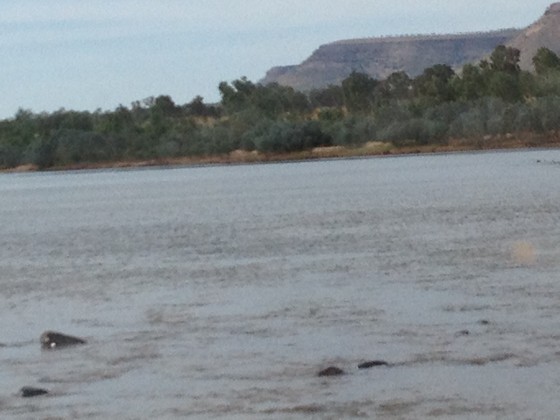 Then we encountered some of the wandering locals as we had done on many previous occasions.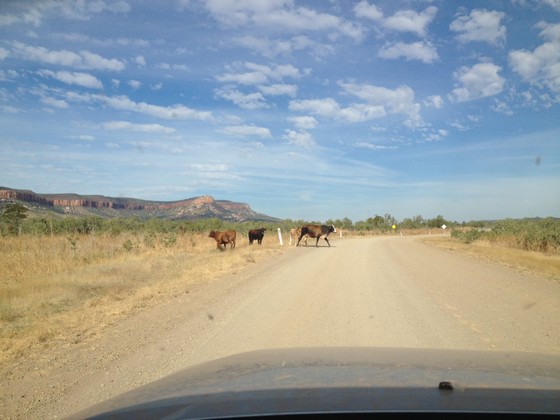 A view of the amazing Cockburn Range.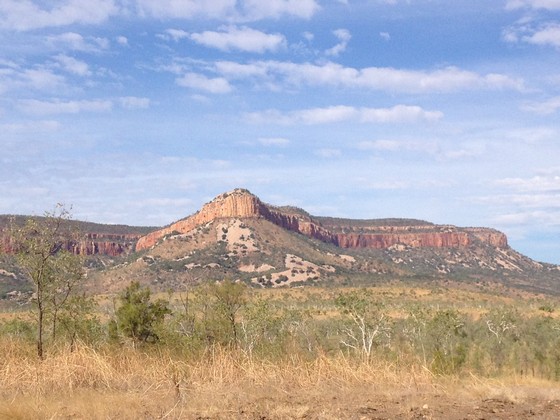 Then we drove into El Questro where we thought we were staying for three nights.  We were actually staying at Emma Gorge which is owned by El Questro and is another 11+kms down the road!!!  So back to the Gibb we drove, driving through another long branch of the Pentecost River...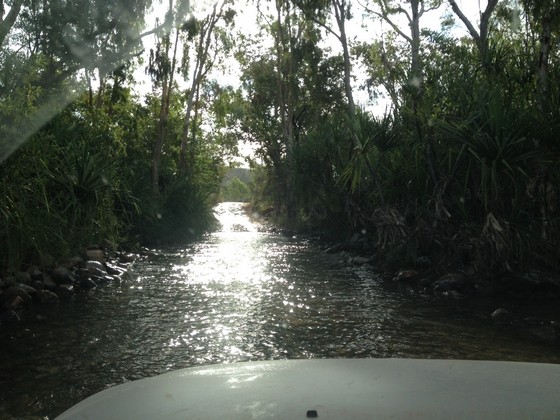 ...and then driving through Moonshine Creek: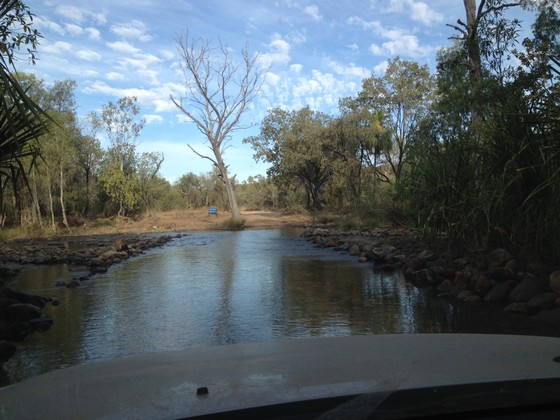 Water everywhere that day.  However after Mt Hart, the Durack and Pentecost Rivers, I wasn't so worried anymore and knew if we drove slowly we would be fine.
Eventually arrived at Emma Gorge and I was thrilled with our accommodation – a tented cabin, with a real door (not a zipper), up a few steps from the ground and with a little open veranda to sit outside. This view shows the back of the cabin, with the ensuite near the car.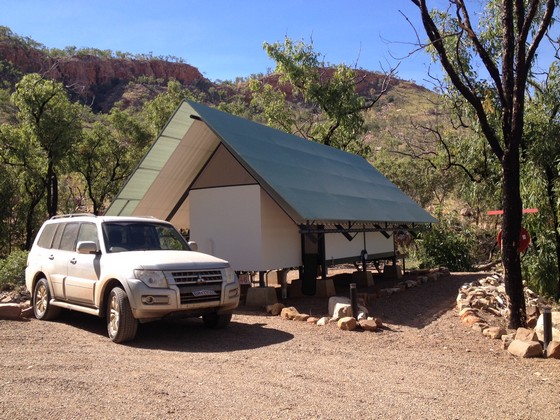 You might notice that the front number plate has been pushed up and no longer sits vertically as it should.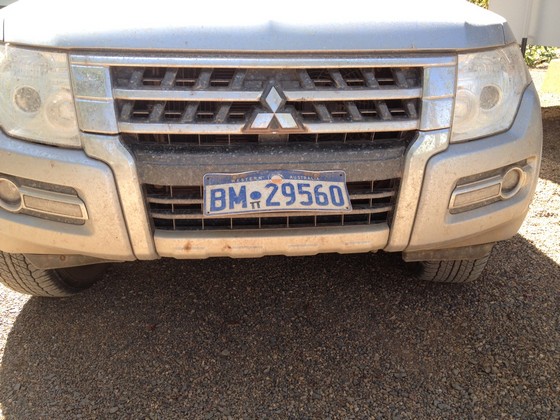 That occurred at Mt Hart in the deep water crossings but everyone told me not to worry about it.  Apparently a lot of cars lose their front number plates.  The force of the water either pushes them up as it did with ours, or pops them right off and people sometimes don't notice for days and don't know where they lost their number plate. 
There was a smaller frog in the toilet – I was now used to looking every time I lifted a lid – but he got a fright so immediately went back down the hole.
This photo is taken inside our front door, where I'm standing between two single beds, looking towards the queen size bed and ensuite and I already have the ceiling fan going at full speed.  Bliss.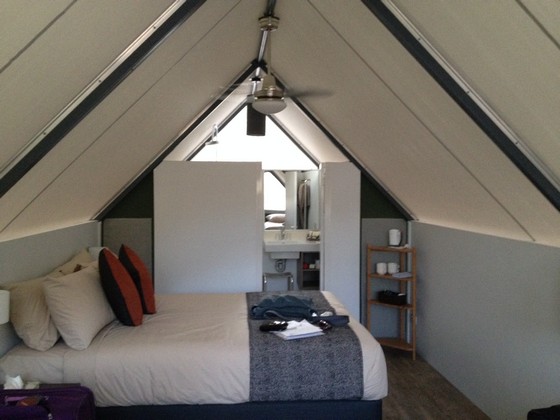 DAY 8, Tuesday 30th May
The day started well with our wonderful (included) buffet breakfast.  So many choices of hot and cold food.  We were then actually excited to use the communal laundry (our clothes were by now really grubby) and hang up our washing.  Not usually one of my favourite pastimes – I must have been heat affected!  Mid 30s every day is not my favourite temperature.
Then our El Questro guide arrived to take us to the Zebedee Springs.  What a special place, with the tall lush green growth and red rock as a contrast.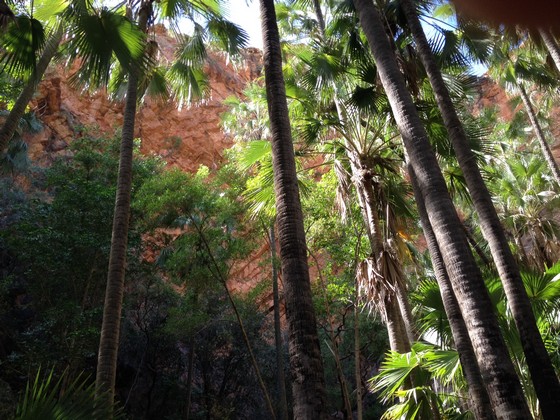 You can visit Zebedee Springs without a guide, however the Springs are closed to the public at noon and then they're reserved for El Questro guests.  So we were delighted we'd chosen that tour combined with Chamberlain Gorge, as at noon we were the only ones in the springs.  A good idea to take proper water shoes as the rocks are slippery, but once you're in the water it is pure bliss and respite from the heat.
After changing, we were driven to the restaurant at El Questro for our barramundi lunch.
We were then taken on a cruise of the Chamberlain Gorge.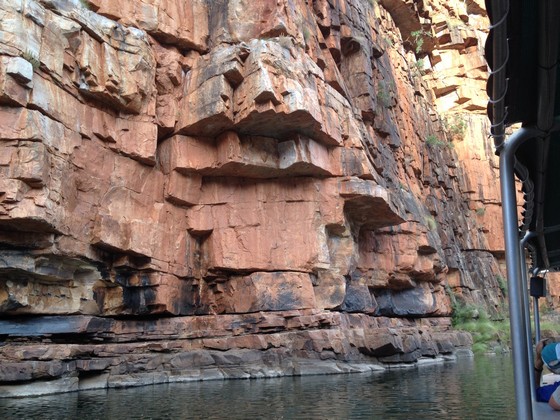 We stopped to feed the Archer fish also aptly known as the spitting fish and spit they did.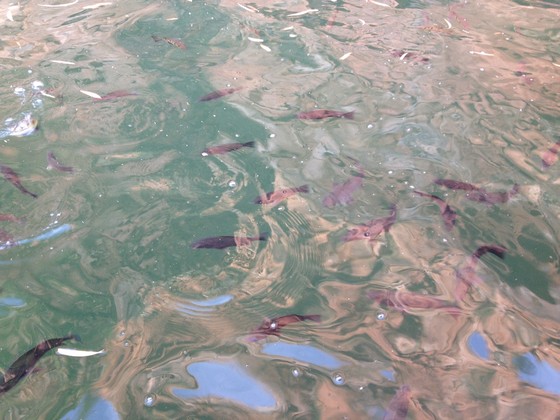 We were frequently showered by them as we threw special pellets into the water to feed them.  They have the ability to spit at an insect high up in a tree, knock it off a branch and eat it.  That is so believable now I've seen them in action.
After the cruise we were driven back into the El Questro centre, then six of us staying at Emma Gorge were driven another 11kms to our 'home'.
DAY 9, Wednesday 31st May
After breakfast K and I set out for Emma Gorge, covered in insect repellent.  You only have to see people who have been bitten and hear how awful it is afterwards, to make you put on insect repellent every day.  I was never bitten and usually mosquitoes love me.
This is as far as I went towards Emma Gorge having waved K off as she continued: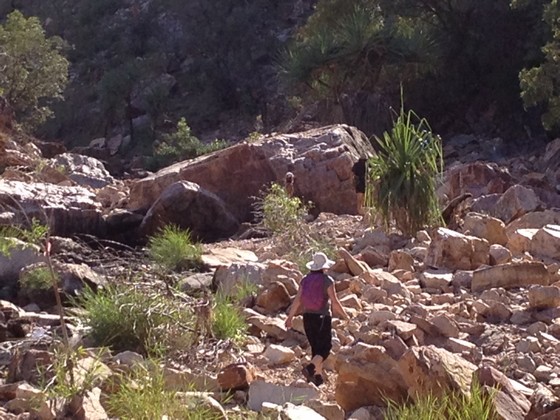 Didn't take me long to decide that I didn't need to walk over all those rocks, many of which moved beneath my feet, so I decided a day of rest was in order and turned back. 
I had a flash of inspiration as to how we could maybe get to see Windjana Gorge and Tunnel Creek on our way back to Derby, as rumour had it that the road which had been closed when we set out, was going to be opened very soon – and we still had several days before we reached that area.  So I rang
my wonderful travel agent
 and we worked out how to do it.
So, feeling very pleased with myself that I could make K very happy with this news, I decided to treat myself to a decaf/soy/mocha, my preferred coffee, though my friends call it a 'why bother'.  It was $6.50.  I almost fainted but I did enjoy it. 
I was on the veranda of no. 46 (our cabin) when the housekeeping staff arrived to clean. One of them was the housekeeping supervisor in her 8
th
season at Emma Gorge.  She told us that after the last season a fire had ripped through EG and destroyed many of the cabins and all the linen they store in the centre of each cabin at the close of every season.  So our cabin was brand new as it had been completely rebuilt.  No wonder I loved it, though they all looked the same.
The photo below shows only part of the EG accommodation.  It's a large area but you never feel too close to others which is perfect.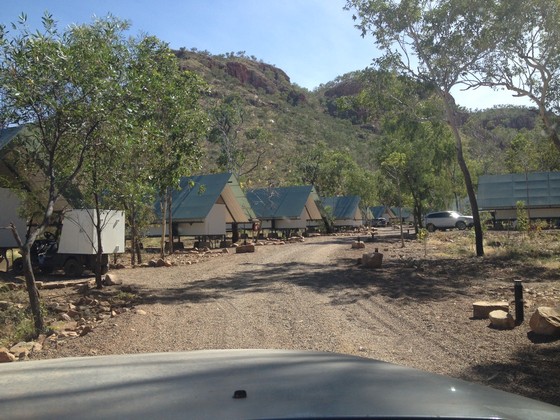 And this is the other end of our no. 46, showing the entrance and the little veranda.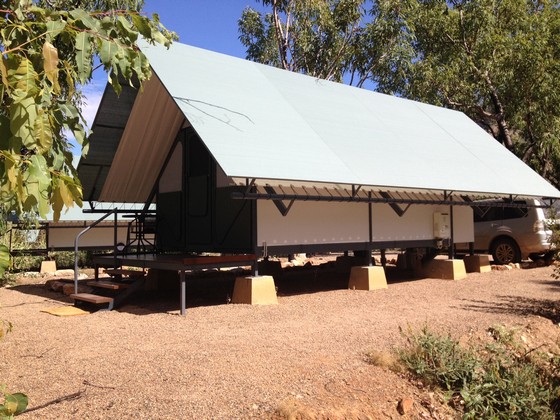 The trees blackened from the fire, just outside no. 46: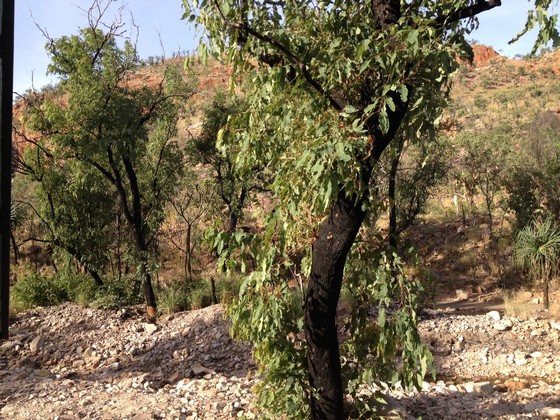 However the new growth has come back strongly following one of the wettest seasons on record.  You can just see the path to the gorge… on the right of the tree on the right… on the other side of the then dry creek.  The path is flat there – but not for long.
DAY 10, Thursday 1st June
I was sad to leave Emma Gorge and all its comforts however we drove to Amalia Gorge which K wanted to walk.  I started with her but decided it was too rough for me.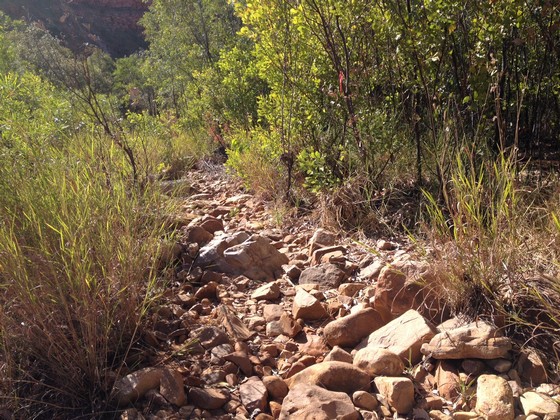 Instead I drove into El Questro to get petrol.  Came across Kim and Kanye again.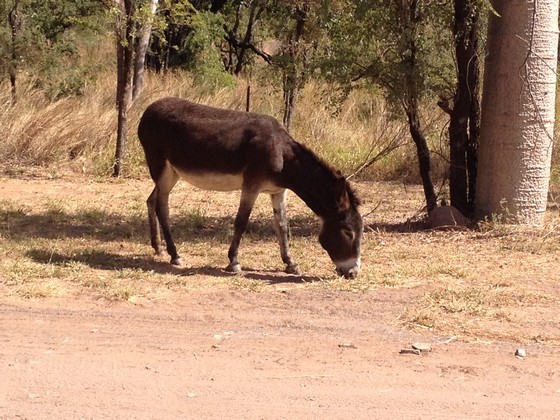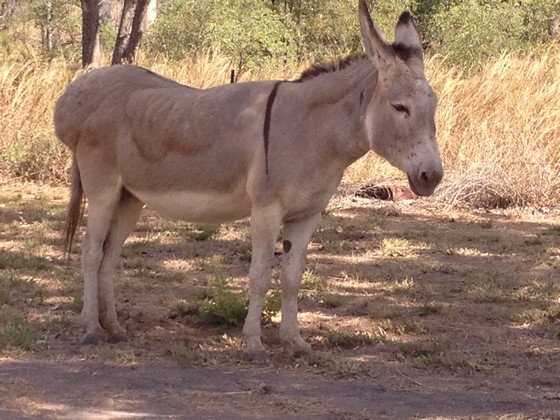 There are many feral donkeys in the Kimberley and every so often there is a massive cull.  These guys were only one day old when the last cull happened some years ago so they were spared.  They were called Lucky and Jill.  No one knows which is which but the staff say Kim is the one with the large bottom and Kanye is the other.
Of course I had to cross Moonshine Creek and the Pentecost River twice again to get into and out of El Questro to get the petrol and waited while two other vehicles drove in.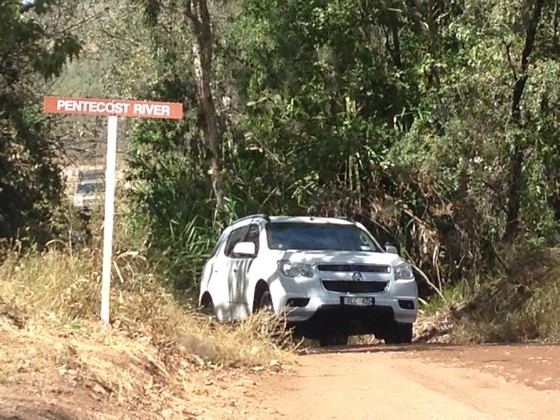 It's not just the water you contend with, but also driving up slippery and sometimes rutted banks. 
Amalia Gorge didn't score highly with K, so I'd give it a miss if you're going there.  She is now the connoisseur of gorges having walked so many.  Having refuelled the car at El Questro, I returned to pick her up and we drove up to
Wyndham
.  Just delightful to be back on a bitumen road.  We came across the Grotto on the left, driving north.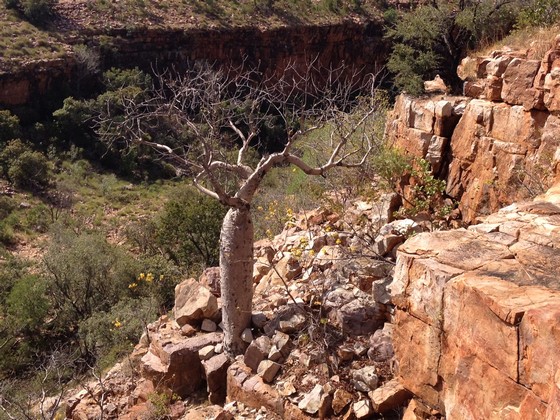 It is very steep and you can walk down into it, but why would you?  However my intrepid companion decided to see what was down there – water – while I just took a photo from the top.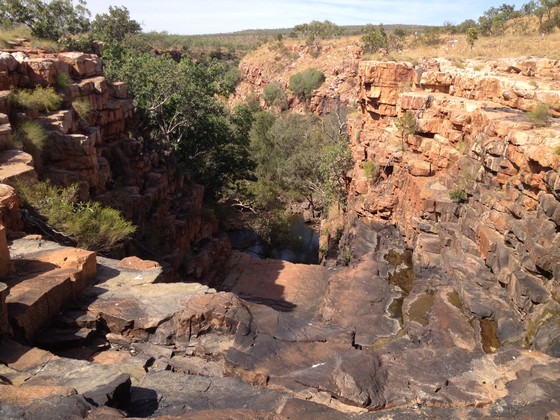 This was a very welcome sign: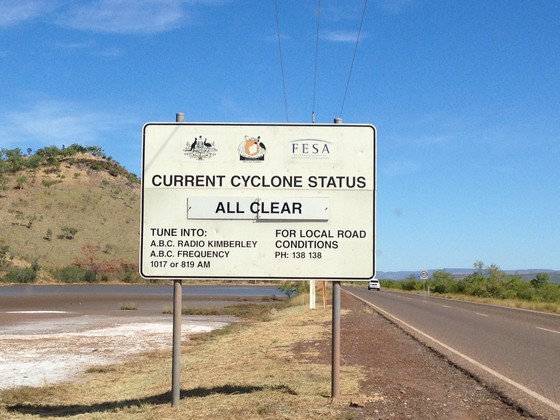 Not that we were expecting rain in 'the dry' but it has happened. 
Wyndham is the Kimberley's oldest town, WA's northernmost town and Australia's hottest town with the highest year round average temperature.  It sits on the Cambridge Gulf and is surrounded by tidal mudflats.  It was booming in the gold rush days at
Halls Creek
and later became famous for its meatworks however those days have gone.  It is still an active port although only a few hundred people now live there.  It has a very attractive picnic spot on top of Telegraph Hill with expansive views.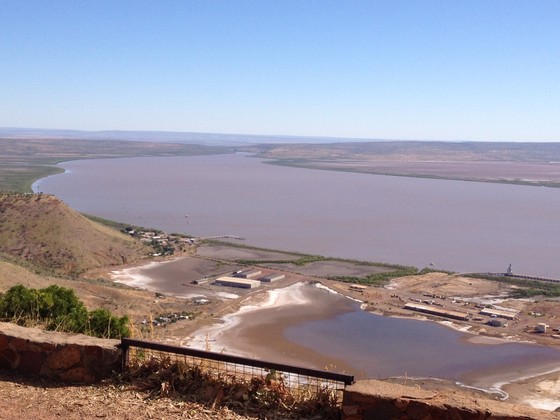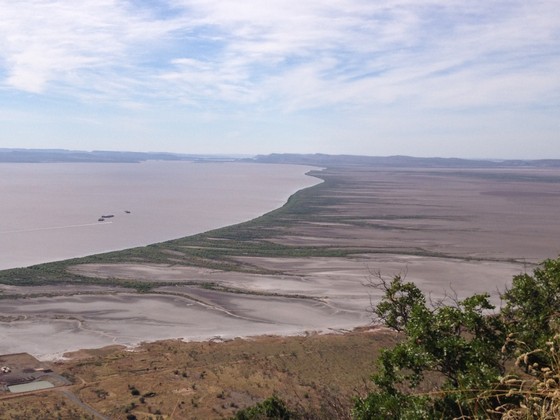 Leaving Wyndham we headed south to
Kununurra
and visited the Marglu Billabong and Bird Hide.  So peaceful and pretty.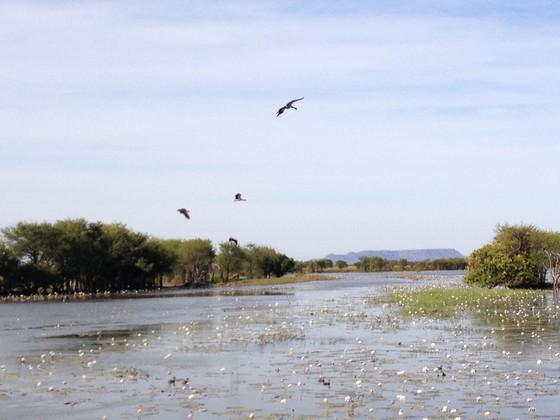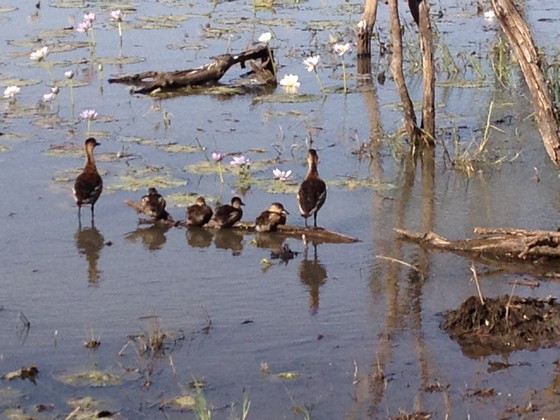 More excitement at our overnight stop in
Kununurra
.  First an apartment style motel with small kitchen (K was very impressed) so that was followed by a visit to a supermarket, the first supermarket since we'd left
Derby
.  Nice to have fresh salad and cooked salmon after our lunches and some dinners with tinned veges and tuna.
It's impossible to carry fresh ingredients/meat/bread without refrigeration and an Esky with frozen bricks (assuming you can even get the bricks frozen overnight) isn't good enough in the heat where every day is in the 30-37°C range.  We had a freezer bag/soft Esky and occasionally could freeze bricks overnight but you can't rely on being able to do that.
DAY 11, Friday 2nd June
I decided to take the car to a mechanic in Kununurra to see if they could fix the number plate.  Luckily they were in the road behind our Freshwater East Kimberley Apartments.  I thought I might snap it off if I attempted it, but he's had plenty of experience at this and although it wasn't perfect it was much straighter and when we returned the car in Broome, they didn't even mention it.  He said we were lucky we hadn't lost it completely as many people do in the river crossings.  A big thank you to Top End Motors as they were really busy and he did me a big favour interrupting his work to help.
We visited Ivanhoe Crossing, a concrete causeway over the Ord River, originally part of the main road from Wyndham to Kununurra.  Since the start of the Ord irrigation project the river now flows all year round, making the crossing impossible for much of the year: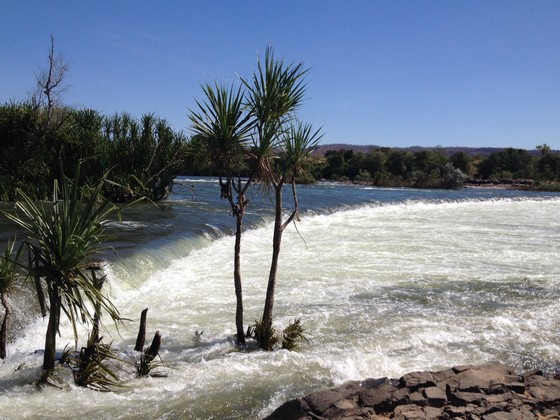 Then it was a drive from
Kununurra
down to
Lake Argyle
where we were booked on the sunset cruise.
The view from our villa onto just a small part of the lake: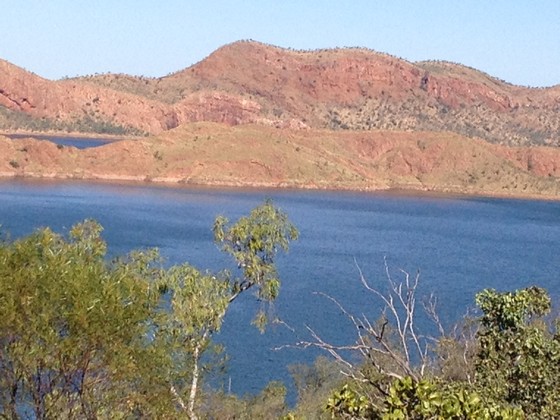 We hadn't appreciated the size of Lake Argyle which has a surface area of approx 1000 square kms (390 sq miles). 
Saw a few crocodiles sunning themselves.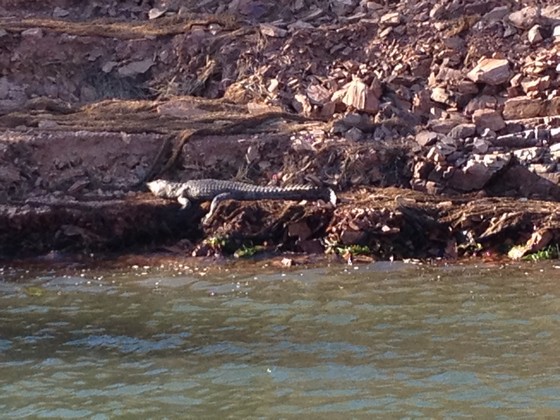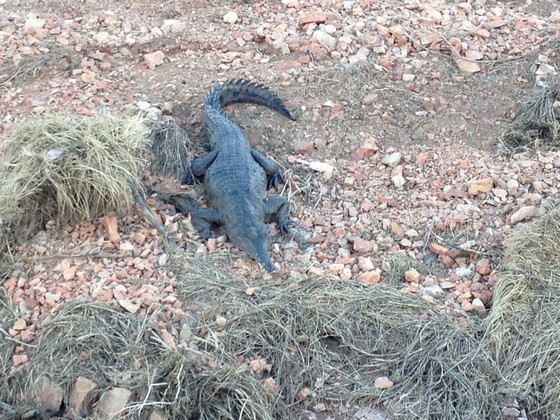 The Archer fish were here also.  The rock wallabies were so well camouflaged we nearly missed them.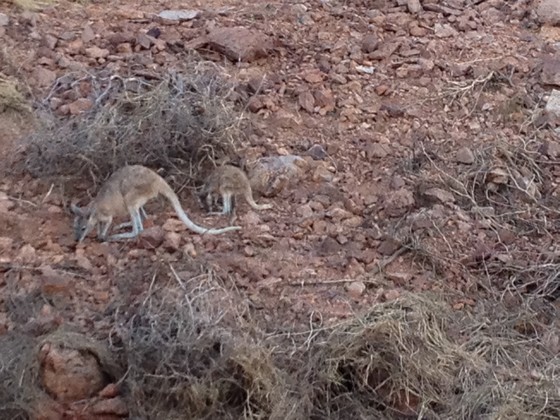 Sunset on Lake Argyle to finish a lovely day.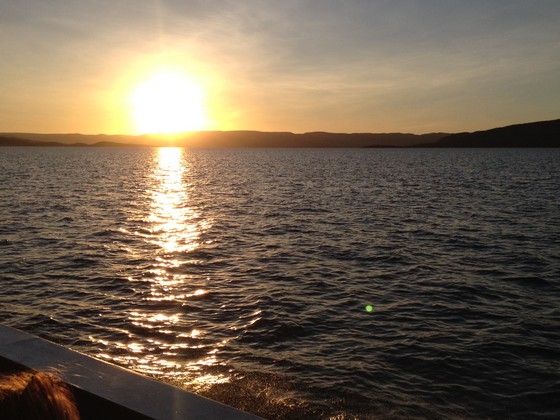 Our lovely villa at Lake Argyle Resort, overlooking the lake at the far end.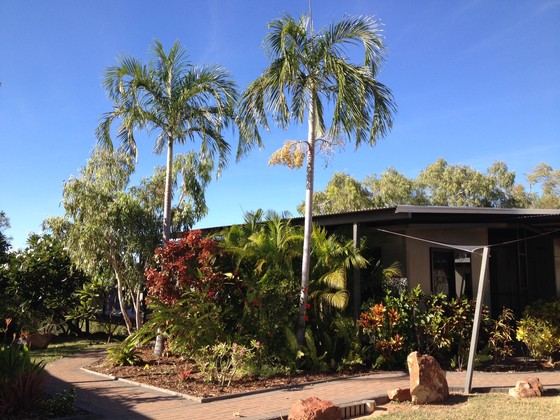 DAY 12,  Saturday 3rd June
We drove back from Lake Argyle to Kununurra to get petrol and pick up the paved road to the
Bungle Bungles
, now known by the Aboriginal name of Purnululu.  Thank goodness for a bitumen road.
En route we stopped at Turkey Creek to see a famous Aboriginal Gallery.  It was closed but a very friendly Aboriginal guy opened it for us, even though we said we weren't looking to buy anything and didn't want to put him to the trouble.  Some really nice things there, but pricey.  He had an interesting background, being descended from an Afghani cameleer who had married an Aboriginal woman. Horses and wagons weren't suitable for expeditions into the inhospitable heart of Australia with its enduring heat, so camels and cameleers came to Australia in the mid-1800s.   
I decided a visit to the outdoor loo was in order before we left, but there was a big ugly frog looking at me when I lifted the lid and I was sooooo over frogs in loos.  It was suggested that I check out the men's instead and luckily there was no frog, so all good.
We eventually arrived at the entrance to Purnululu...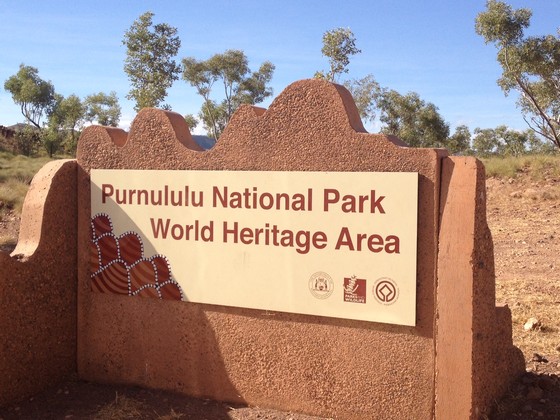 ...and drove the very worst road – from the turn off from the bitumen road until we reached the Visitors Centre.  It was 53kms and took us 1hr 40 mins as it did everyone else we later found.  It is a winding, hilly, very rough road in patches, with a few water crossings though by now they didn't worry us. Here is an early glimpse of these special rock formations.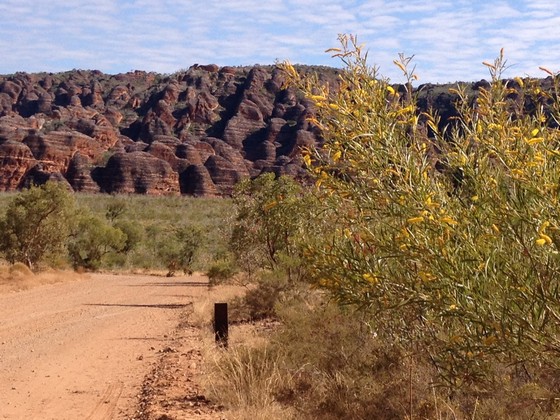 Finally reached Savannah Lodge, our accommodation, at 2pm.  The name sounded lovely to me and we were booked into a Superior cabin so my expectations were higher than they should have been.  From the outside it looked good.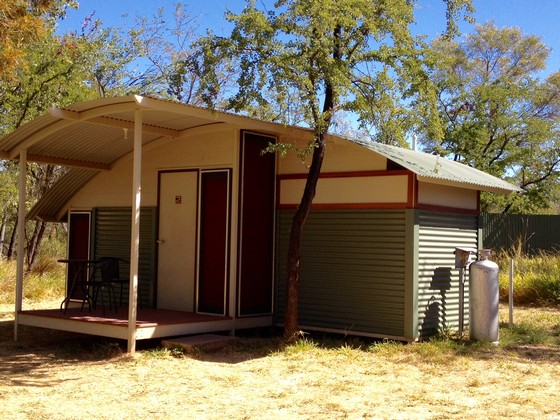 Inside it was very basic, but had an ensuite.  Some difficulty with basin taps as this is an eco-friendly heritage site and running taps aren't allowed so the basin taps shut off every few seconds.  It drove us all mad but we learned to cope.  Luckily the shower kept running. 
Around 4pm the staff brought us extra doonas as they said it was going to be a very cold night.  Dinner was at 6.30 and as this is a prime tourist spot, many of the tour companies stay there.  Meals are cooked on site and you queue up with plate in hand, then sit at basic long tables and make new friends.  There was a very nice large deck and bar attached to the dining area with a lovely log fire each night.
Accommodation is limited at Purnululu as they can only have so many people in the park at a time.  There are only two lodges with varying styles of cabin and I soon realised we'd done OK.  None of these cabins are insulated and we found out next day that it had dropped to 5 degrees overnight.  No wonder I thought I would get pneumonia when I got up during the night.  Every day was in the mid-30s, but nights reminded us that it was indeed winter.   
DAY 13, Sunday 4th June
Now into the routine, we queued up for breakfast but discovered that the tour groups eat early and leave early, so we independent travellers learned to go in a little later.
We'd booked four nights there, but it was two nights too many – for me it was almost four nights too many but you really must visit this special place.  In view of the heat and the distance to travel to the gorges within the park, you need to split your time into seeing gorges either in the morning or the afternoon.  My intrepid companion however didn't want to miss anything so we didn't come home for a rest, but had our tinned tuna with Ryvita/Cruskits and fruit for lunch each day somewhere under shade.  Thankfully there are shaded seats and tables near the entrance to many of the gorges. 
We set out for Cathedral Gorge as it seemed to be the easiest gorge for me to walk without loose stones and rocks underfoot.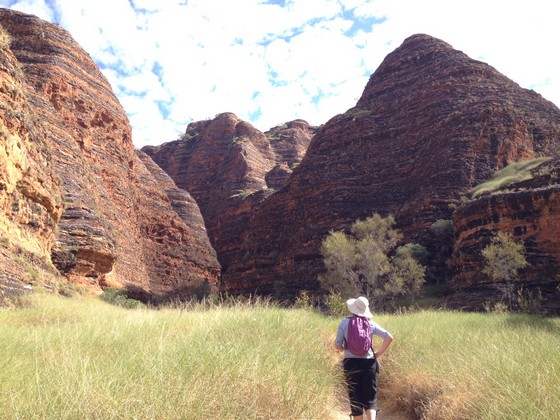 Here is the bottom of Cathedral Gorge with pure white sand in the foreground and a small amount of water behind it.
You have to look closely to realise it is sand in the foreground, not a blank space.
The following photos are all looking up to the top.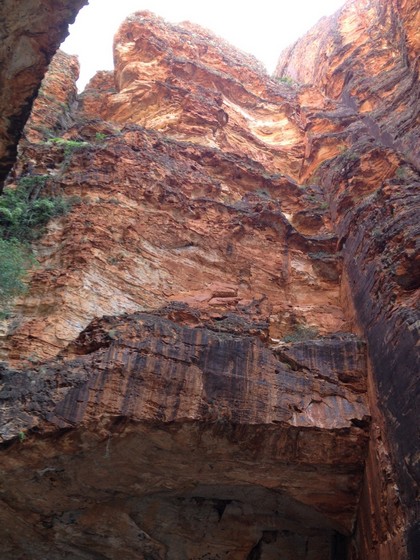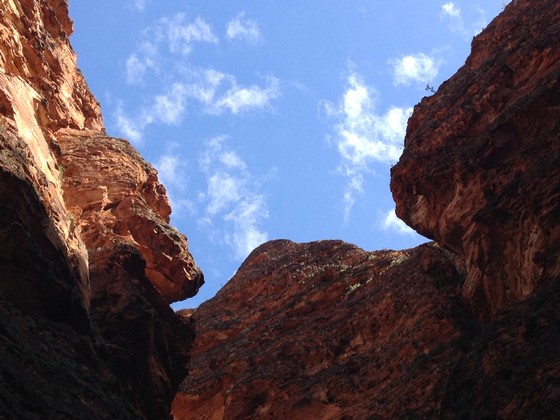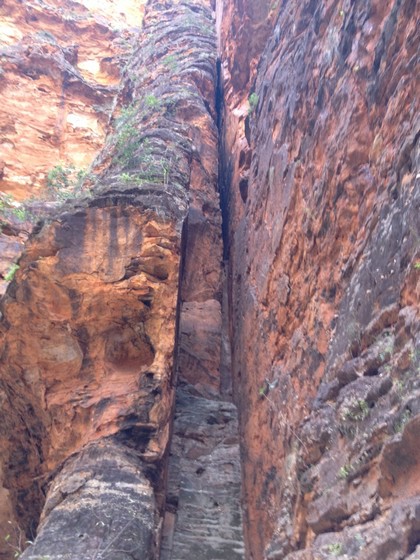 DAY 14, Monday 5th June
More interesting scenery including a gigantic termite mound.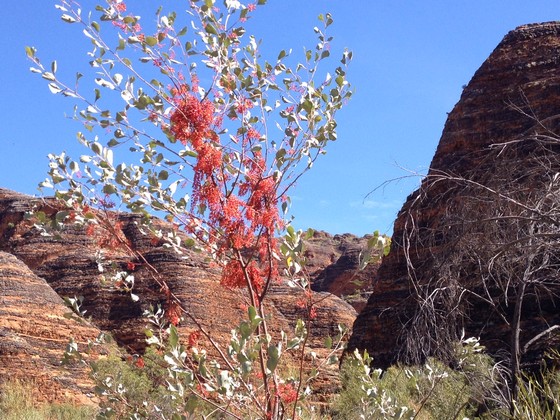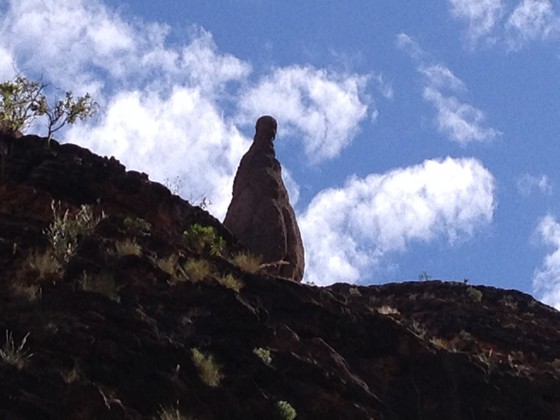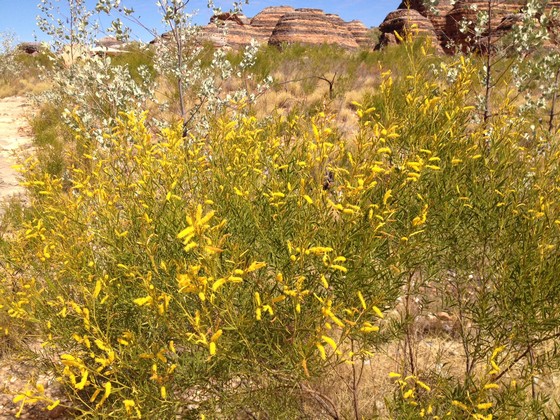 When we saw the view below we were always close to Savannah Lodge so that unusual configuration was always welcome on the way back.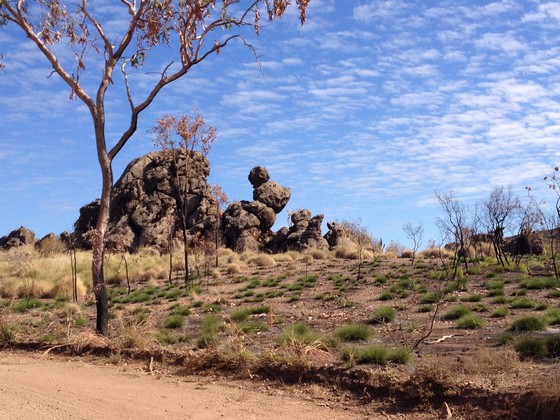 We'd booked a 9am helicopter flight over the Bungles.  The people who came off the chopper before us were people we'd met at Savannah.  They both looked really cold and were rubbing their arms to get warm and headed for a coffee.  Told me it was bitterly cold and windy as there are no doors on the chopper so if you sit in the back seat as the husband had, you get blown to smithereens.  The front seat is protected by the wraparound screen so I volunteered to sit in the back if the pilot could find me a spare jacket as K had a really good camera and would get better photos in the front.  Thankfully he produced another pilot's jacket for me.  Way too big but a windbreaker and it saved me from being frozen.   
This is the chopper beside us taking off, then we were next.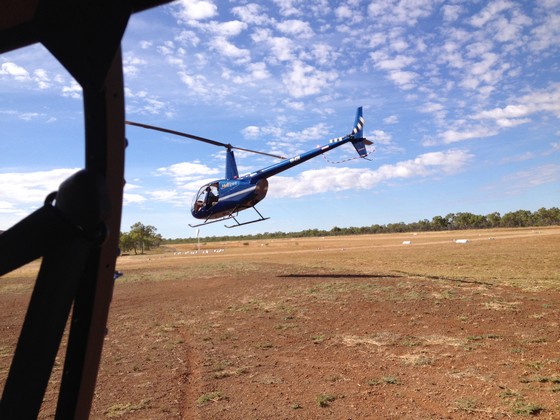 I cannot describe how cold and windy it was in the back seat.  It was winter after all and at that time of day the air hadn't heated up.  I was amazed my hair was still attached to my head on landing.  Thank goodness I was securely strapped in.  After a while my iPhone wouldn't take any more photos.  When we landed I found that K had the same problem with her camera.  We were later told it was probably due to the cold.  The tip apparently is to completely shut down your camera or iPhone and restart it.  Wish we'd known that previously.  However these show some views from above, though I see my finger has crept in a little.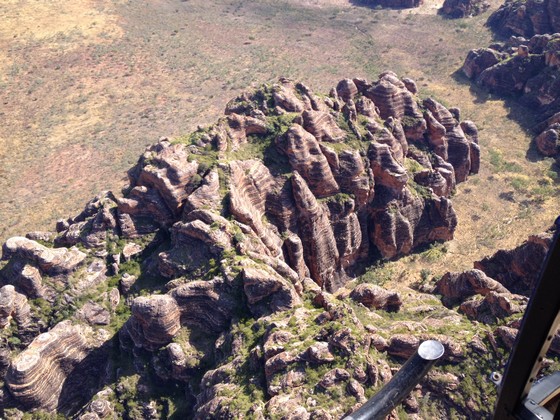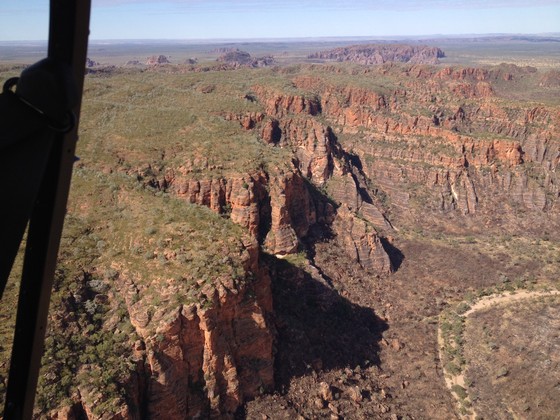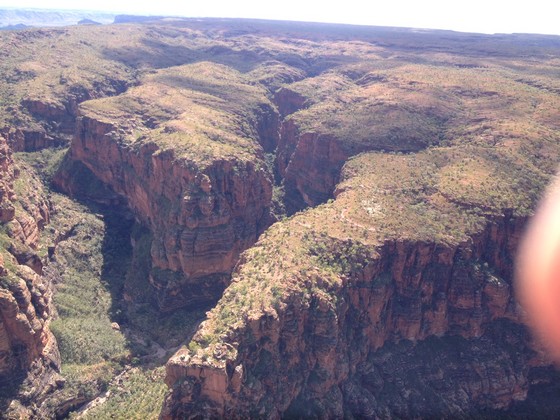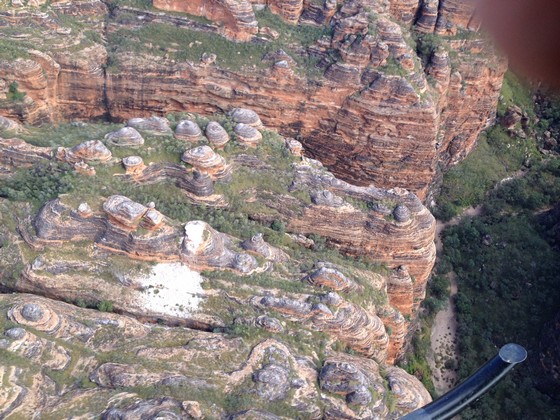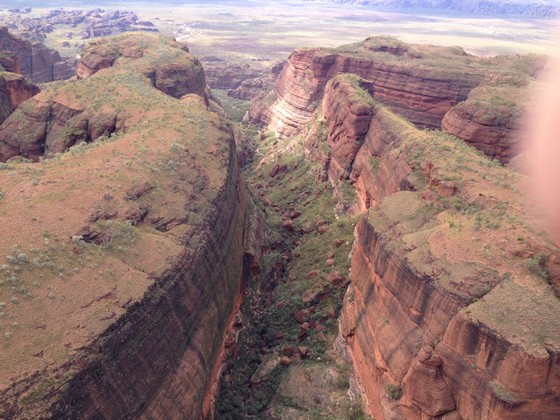 I was holding onto the phone so tightly as it would have been easy to drop it.  I'd thoroughly recommend a helicopter flight though.  The 30 min flight was enough though you can take longer flights.  It was good to get a different perspective from the air.
For those who are interested, here's some info on
Purnululu National Park
. 
It's been around for 350 million years but was only 'discovered' in 1983.  the Park covers just under 240,000 hectares of remote area, managed as wilderness.  the deeply dissected Bungle Bungle Range composed of Devonian-age quartz sandstone has been eroded over 20 million years into a series of beehive shaped towers or cones.  the steeply sloping surfaces are distinctly marked by regular horizontal bands of dark-grey cyanobacterial crust.   these outstanding examples of cone karst owe their existence and uniqueness to several interacting geological, biological, erosional and climatic phenomena.  In the past, grazing by cattle and feral donkeys has been problematic and more recently feral cats and cane toads have caused problems.  However there is now greater vegetation cover as the land recovers from over-grazing.
The rest of the day was an opportunity to visit more gorges.   I only did the short walks then sat under the thoughtfully constructed, open sided, shaded areas with tables and seats and read – or spoke to lots of friendly people – while K continued to explore every rock.
DAY 15, Tuesday 6th June
Oh happy day, more gorges to look forward to.  I did the easier and shorter walks in the morning but still saw plenty...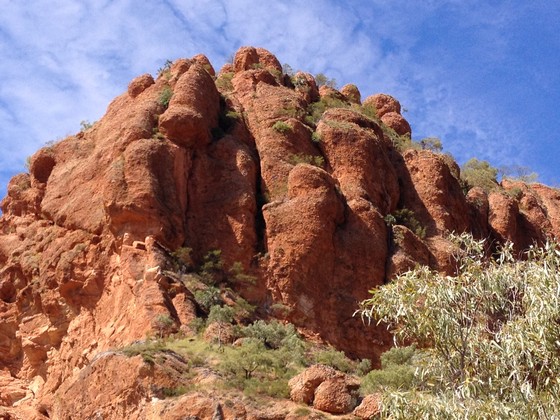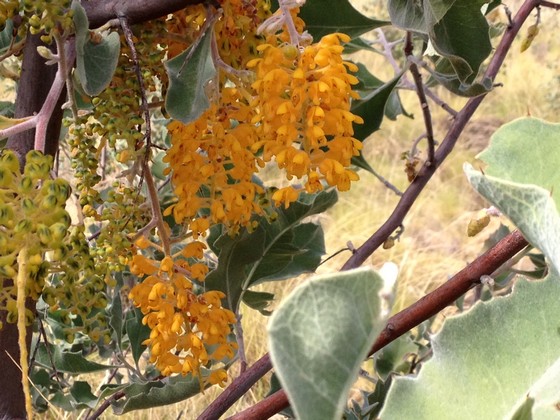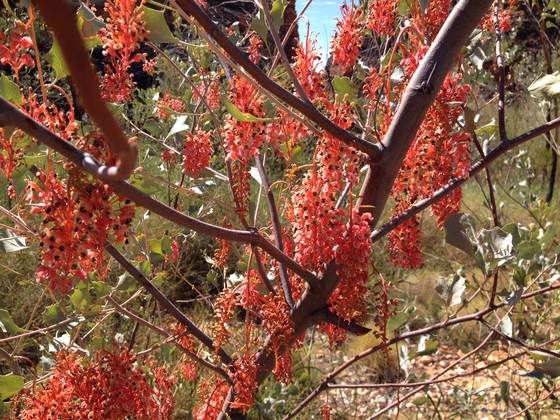 ...while K went on the longer, more challenging walks.
Here is a close-up of the rocky areas which are made up of pebbles, boulders and fine sand which have been cemented together by the elements over many years.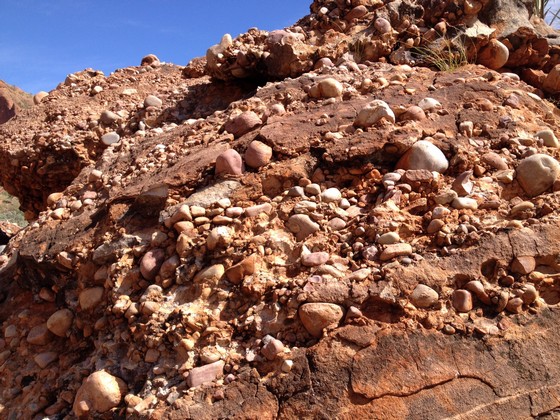 And this photo illustrates the return of the savannah since over-grazing has ceased.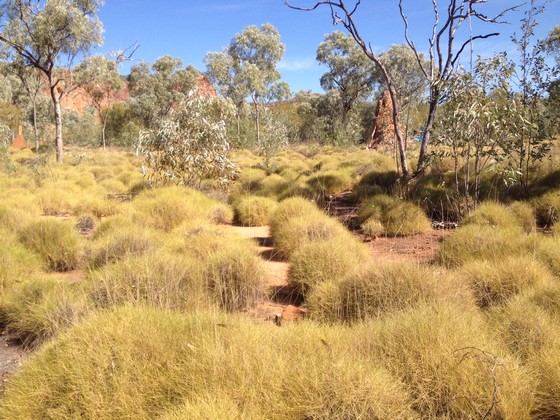 I took the afternoon off and stayed 'home' while K set off for some gorges close by.  We ended the afternoon with our customary gin and tonic, playing cards on the deck, a lovely way to finish our last day there.  As there were a few bugs around that night, we lit the citronella candles in their glass jars.  When I finished reading I blew the citronella candles out, put the lights out and jumped back into bed. 
I was unaware that the smoke detector was immediately above one of them and after a while we were deafened by the piercing smoke alarm while I tried to blow the few wisps of smoke away from it.  It didn't wake anyone apart from K, even though it took me what seemed like several minutes to make it stop.
If you're going to the Kimberley you definitely need to visit
Purnululu
as it's one of the highlights.  However I suggest you arrange your time so you are there 2-3 days but stay only 2 nights.  People who have visited later in the year (August/September) towards the end of winter have said the heat during the day
and
night was unbearable.  June was a good time for us to be there, though the nights were very cold, but ok when you got into bed.
DAY 16,  Wednesday 7th June
This was to be a big driving day, so we set out for our next adventure, heading for
Fitzroy Crossing
.  Had no idea as we started to drive out of Purnululu, what form that adventure was about to take.  As we tried to share each driving experience on the trip and I'd driven in, K was driving us out.
Not sure what happened but next minute we were completely stuck in deep black mud, in ruts caused by the huge wheels on the tour vehicles, on the left of a water crossing.  As the passenger, I couldn't open my door as I was almost in the bushes.  As nothing dreadful had happened to us yet, I figured this was it and we'd just have to wait for the next car to come along and hope they had snatch straps to drag us out… and didn't mind walking into the water to attach them to our car as we were surrounded by water.
However when K asked me what to do, I felt compelled to come up with an answer.  So I decided we should try 4WD
low
gear which we'd been told we would
never
need… and try turning the steering wheel to the right… and just keep on accelerating slowly but not stop!  All the while I'm giving this advice I'm crossing my fingers for a solution to get us out of this fix as apart from the embarrassment, we're going to lose a lot of time.  K did as I suggested and miraculously we crawled out, with black mud flying up from the passenger side of the car and into the bushes for quite a while.  Such a relief for both of us.   
So nice to get back to the sealed road and head for
Halls Creek
and petrol.  We were so close to empty that I was getting worried.  We filled up at Halls Creek, along with everyone else (such a queue of cars/trailers/caravans).  Moral of the story… NEVER pass a petrol station without filling up, regardless of the price and regardless of whether you think you'll make it to the next one with petrol to spare. 
We stopped off at the IGA supermarket for some fresh food.  Have never seen an IGA so uniquely decorated.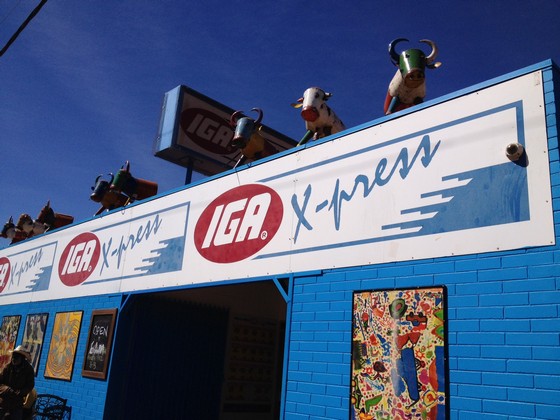 Then it was time for lunch so we drove into the campground at Mary River, seeking some shade and made friends with the locals.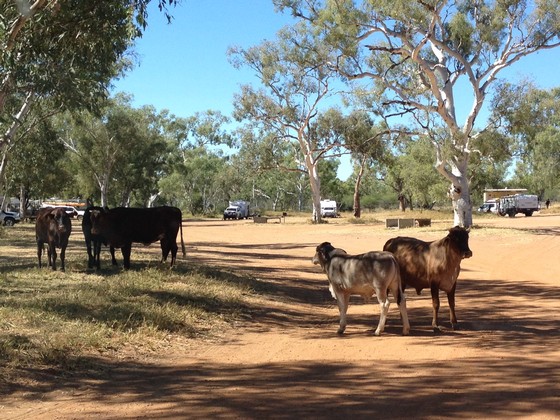 We arrived at the Fitzroy River Lodge in
Fitzroy Crossing
and although it's a bit old and tired, I was excited to be back in a proper building… with an ensuite with running water… with a TV… with air con… with staff who clean your room and make up your bed… with breakfast included in the dining room!!   Bliss.  There was also a laundry in the campground section, so more excitement that we could wash our very grubby clothes.  That became a very entertaining experience as we met campers and tradies who shared their stories while we waited for the washing machine and drier to give us (somewhat) clean clothes.
We visited the Fitzroy Crossing IGA which was large and quite impressive.  They even had flowers for sale at the front as you'd see in a Coles or Woolworths – but naturally they were all artificial.  Fresh flowers wouldn't last in that heat.  the local Aboriginal art gallery was also worth a visit.
DAY 17,  Thursday 8th June
We drove out to
Geikie Gorge
for our Darngku Heritage cruise.  The guy who runs it is a real character and we were the only two booked at that time which was a bonus.  Plenty of crocodiles on the banks...
...and really unusual rock formations...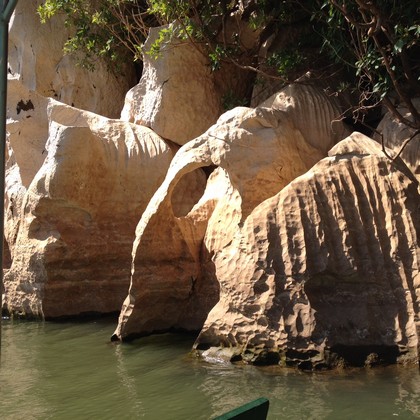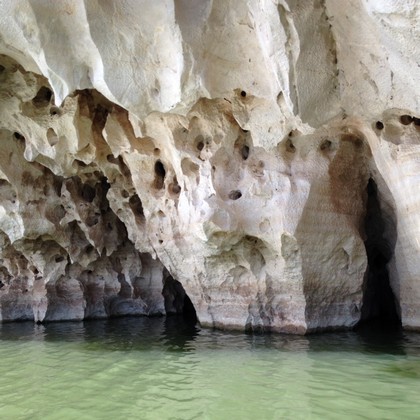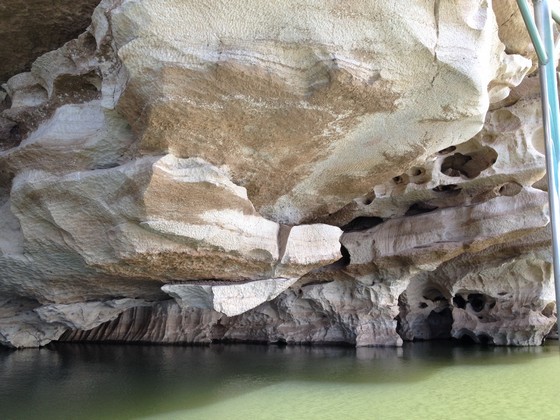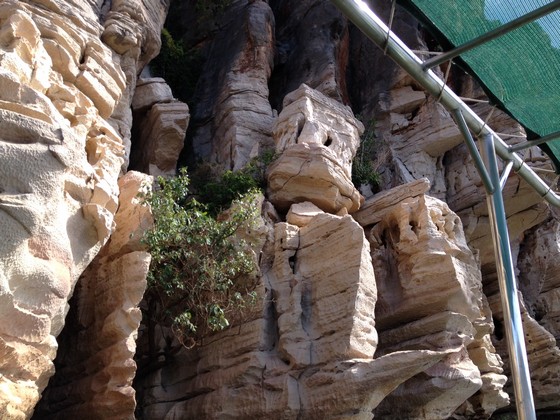 More photos of
Geikie Gorge
…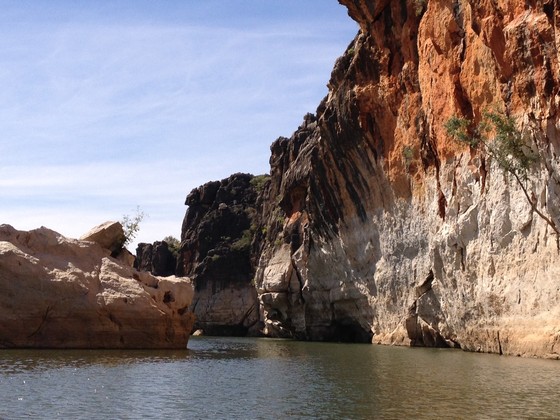 DAY 18,  Friday 9th June
Leaving the comfort of our room at
Fitzroy Crossing
...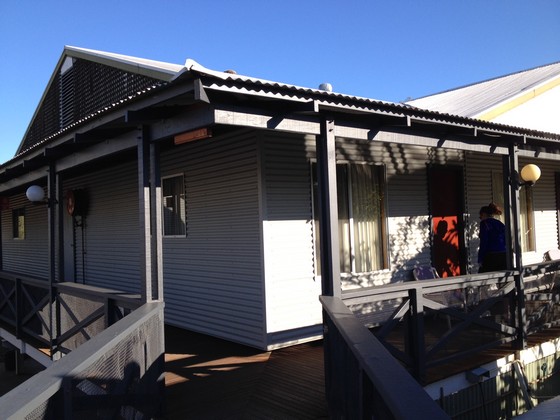 ...with its little oasis outside our room.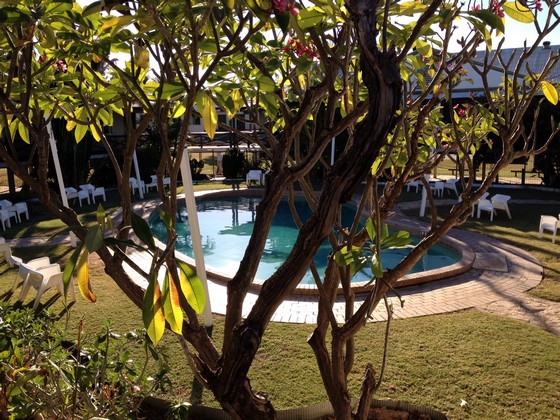 This was to have been a leisurely day, driving on the sealed Great Northern Highway from Fitzroy Crossing to Derby.  However as I'd discovered back at Emma Gorge, the Fairfields Leopold Downs road which was closed at the start of our trip, had been graded and was now open, so we could get to
Tunnel Creek
and
Windjana Gorge
after all.  The road is named after the 2 cattle stations it passes through on the way up to the
Gibb River Rd
.  So we left the bitumen and headed for this 125km unsealed road to the Tunnel Creek National Park.
We arrived at the Tunnel Creek parking lot.  We'd seen people carry lots of equipment but never this much, including a boat on top of their vehicle!!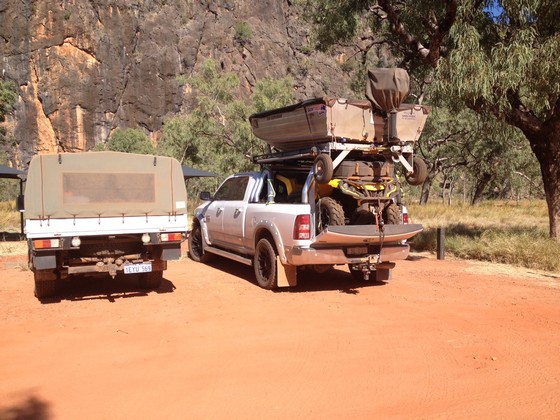 Leaving the parking lot I walked with considerable trepidation towards the tunnel.  Two people were coming out and I asked if it was difficult.  I knew we had to walk through water and it would be dark, which is why we had our head lights.  They looked me up and down and said it wasn't too bad… that I'd be able to climb over the rocks and squeeze between the big boulders to get to the cave.  When I asked if I'd have to wade through water they said, "oh yes but it's not too high – it will just come up over your knees!!!!!"   I think K saw I was wavering, but she encouraged me on and I was a bit reluctant to leave her alone in there, though I don't think I would have been of any use if she got into strife.
We were there relatively early in the morning so there was no one we could follow and no path to guide us.  K the Fearless forged ahead and I followed meekly, apart from probably complaining about the total blackness, the water over my knees, the rocks in the water I couldn't see, my fear of falling and being completely soaked – you get the drift.  Apart from being in total darkness for a while without any idea where to go, arriving early turned out to be the best time to be there, before too many people arrived.   
We left the daylight and walked into the 750 metre tunnel which a creek has worn through the Napier Range.  It wasn't hard to understand why Aboriginal leader and 'outlaw' Jandamarra used this "Cave of Bats" as his hideout.  Thank goodness I'd forgotten about the bats – there was enough to contend with.  We at least had our head torches but by now I was thinking I should have bought a larger, stronger version. 
At last, some daylight in Tunnel Creek so I could see the water I was walking in.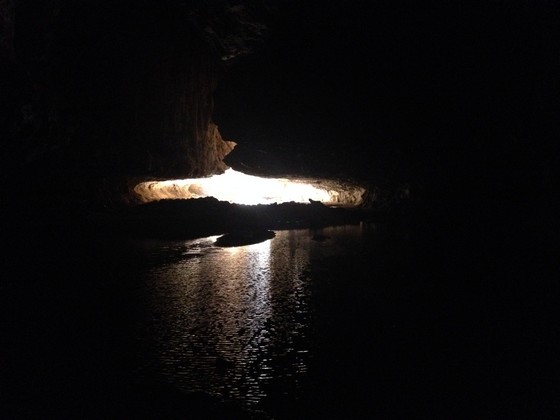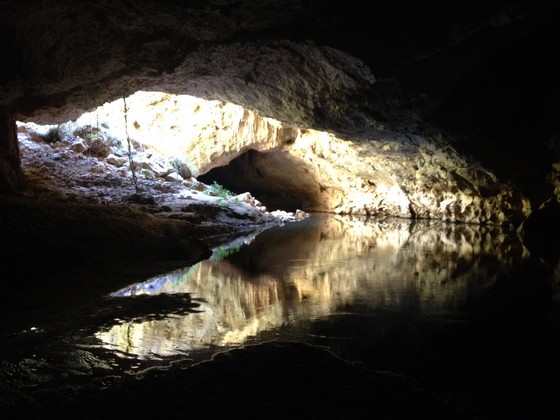 We then managed to walk out of the water and onto dry land on the left to get to the next part of the tunnel… with more water.  Not really my scene doing this as you can tell in the photo where I'm standing in shallow water and looking even daggier than ever.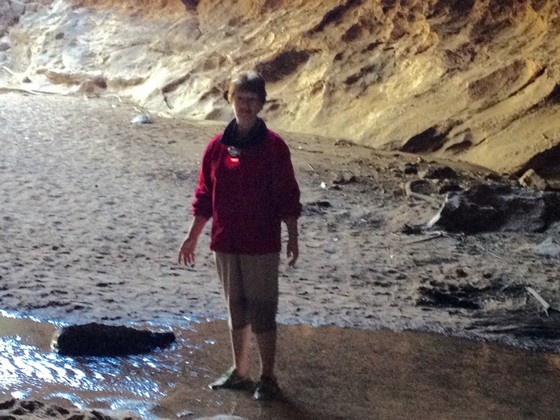 Thankfully that photo turned out grainy and blurred - much kinder. 
At last we were through the tunnel and the creek and came out onto large rocks and a very peaceful area with an amazing rocky overhang.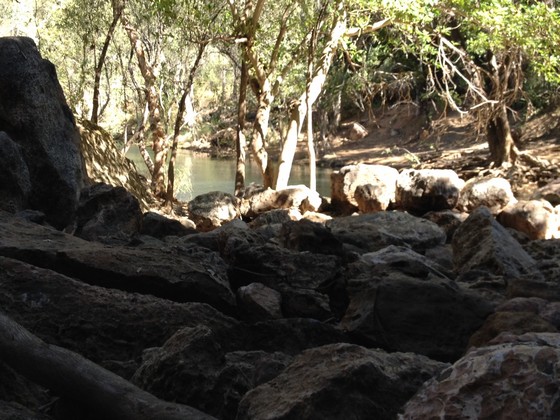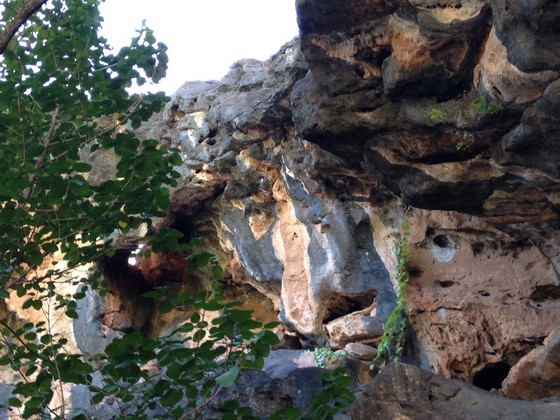 We then had to retrace our steps through the tunnel, water and darkness, to return to the car.   K inspected the stalactites as we re-entered the tunnel.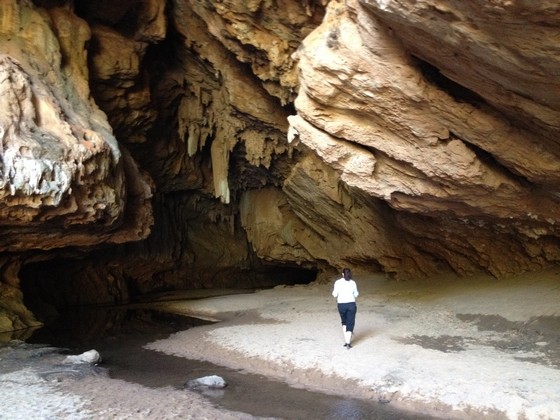 There's only one way in and out.  More people had entered the tunnel by the time we were leaving, so their headlights literally shed some light on where we should walk.
If you're going into Tunnel Creek, wear a good quality headlight (you'll want to have your hands free just in case, so a hand held torch isn't recommended) and wear rubber water shoes.  I didn't buy any as I'll never need them again, but they would have been handy as it took my runners quite a while to dry out, after I managed to get all the grit, sand and pebbles out of them.  Despite my qualms while I was in there, I have to admit that
Tunnel Creek
was one of the highlights of the trip.
Back in the car we headed for Windjana Gorge.  En route we came to a sizeable water crossing but after what we'd been through I wasn't too concerned as I drove into it.  We noticed a van on the other side of the water and saw how keenly its occupants observed our progress, so I pulled up to talk to them.  They were completely inexperienced and the guy had planned to walk into the water to see how deep it was – good idea if you don't know the depth.  However I was able to give them some tips now that I was such an old hand at this – drive slowly, stay in the centre of the water, keep accelerating and DO NOT STOP.  
Not far up the road we came to
Windjana Gorge
.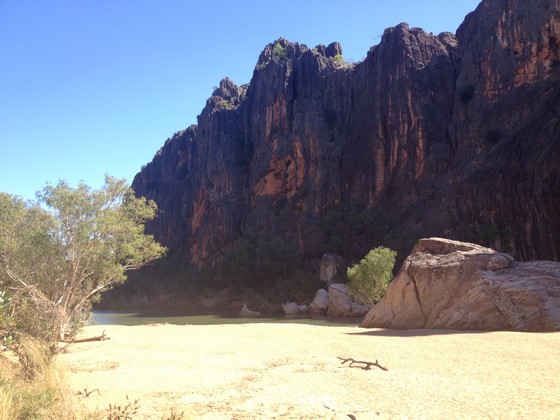 It's a wide gorge and there was water only on one side at that time of year.  Lots of crocodiles were sunning themselves as we walked along the bank opposite the water...
...while others lurked in the water.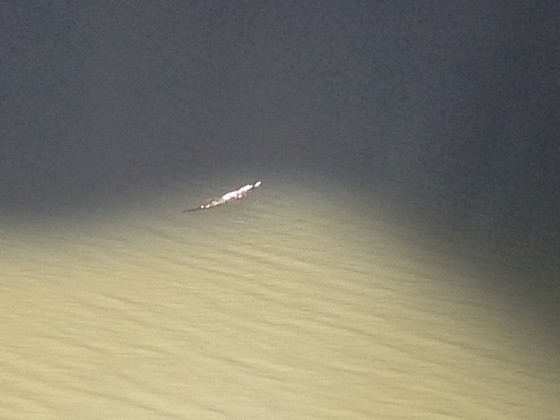 At one stage on this track we came to a difficult obstacle as a tree had fallen across the path and to continue we had to climb over the horizontal tree trunk then jump down to the next level.   I suggested to K, who had already jumped down, that I would turn back and wait for her.  She suggested I hold on to her hand and jump, but I could see myself falling awkwardly if I did that.  A guy walking with his wife decided I needed to get down there so offered to hold onto me on the other side, so I reluctantly agreed.  With both of them egging me on I held on tight and jumped as I could see it was soft sand below.   It occurred to me in the split second I was falling through the air, that it was one thing to jump down, but another to get back up there.   On the way back, K found a steep side track at one end of the fallen tree and helped me up while I tried desperately not to slide back down again.
We couldn't see why
Windjana Gorge
is such a big attraction but maybe if we'd seen it at the beginning and not the end of the trip, we'd have had a different opinion.  It's a very popular place and it is pretty.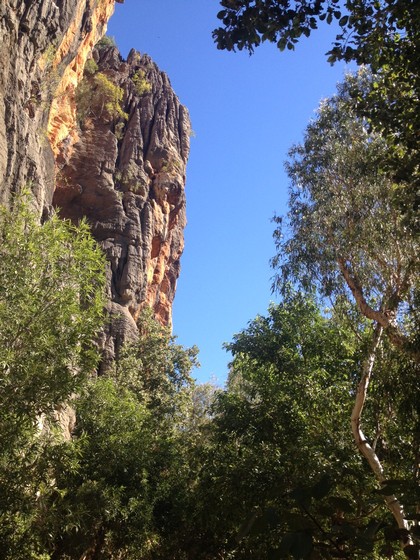 If you go to
Tunnel Creek
it's worth calling in as they're quite close.
We then drove up to the
Gibb River Road
and headed for
Derby
.
DAY 19,  SATURDAY 10th June
Once again we'd stayed at the comfortable Spinifex Hotel in Derby – large room with mini kitchen plus washing machine and dryer in the bathroom.  At 8.15am (that's early when you have to be out of the room and have the car packed) we were collected for our trip to the Horizontal Falls and driven to Derby Airport.  Five identical planes were lined up and each took 12 passengers.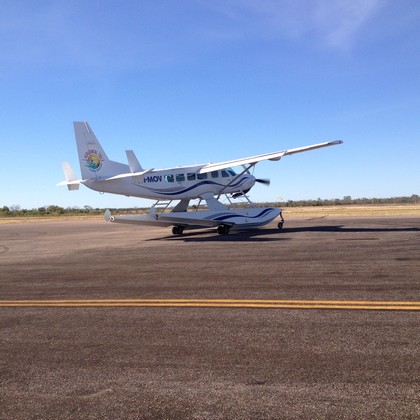 We were soon looking down on a remote Correctional Centre (aka Prison)...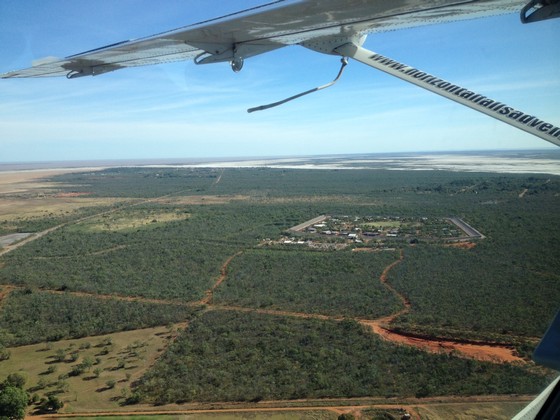 ...and then flying over the salt flats.
Our first glimpse of the Horizontal Falls and the land formation reminded me of two prehistoric creatures, almost toe to toe.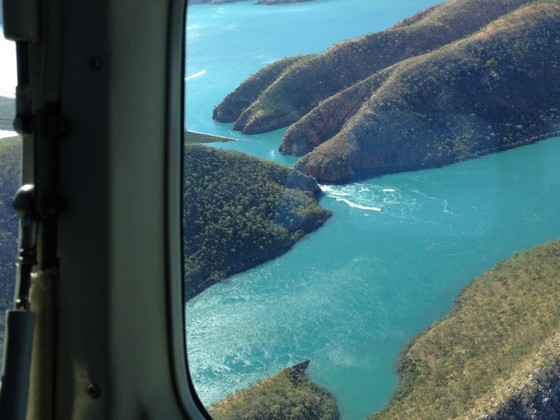 Just above the wing tip you can see the Horizontal Falls 'hotel' beside which we were about to land.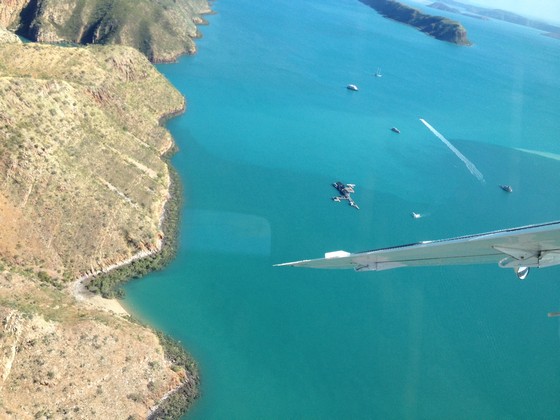 Then we circled around for another look at the Falls.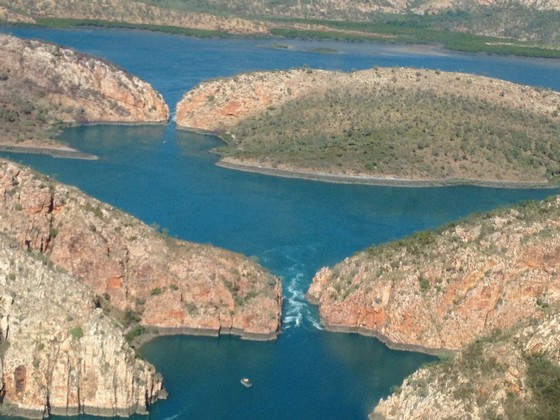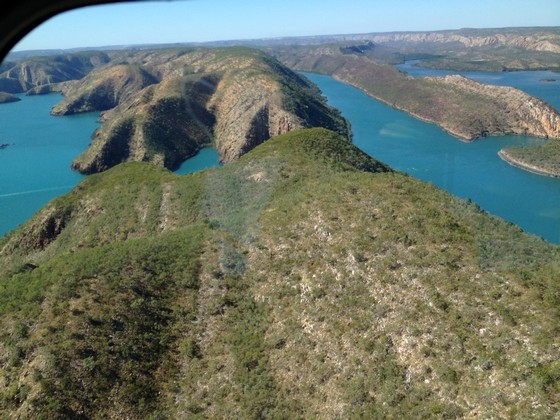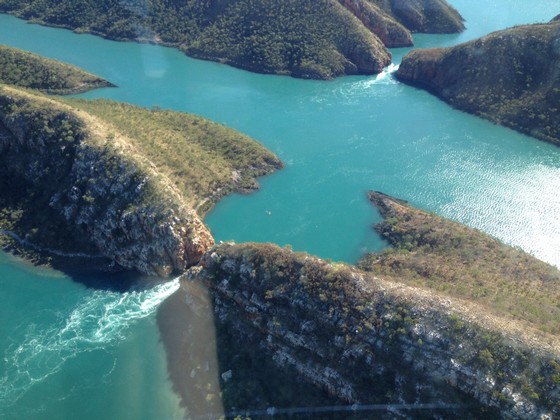 We landed on the water beside the 'hotel' and it was this young woman's role to secure the plane at her end while her friend secured it at the front.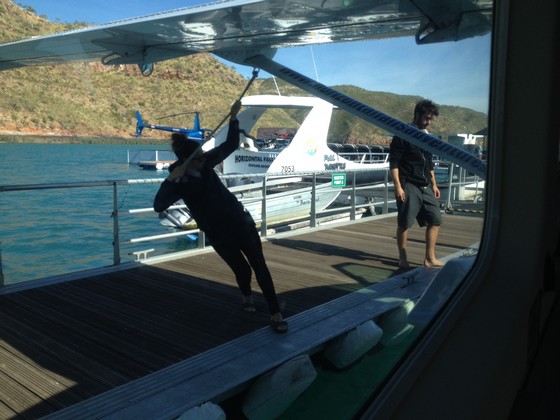 After morning tea it was time to feed the sharks.  They are not man-eaters but will certainly bite.  The staff member feeding them had only been there three days and had already been nipped a few times because he thought he was quite safe in the protective container while feeding them.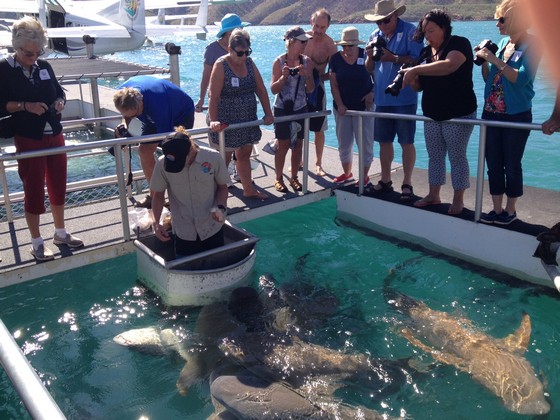 He learned to be more careful.  There's always one show off in every species and this is him, rolling onto his back frequently.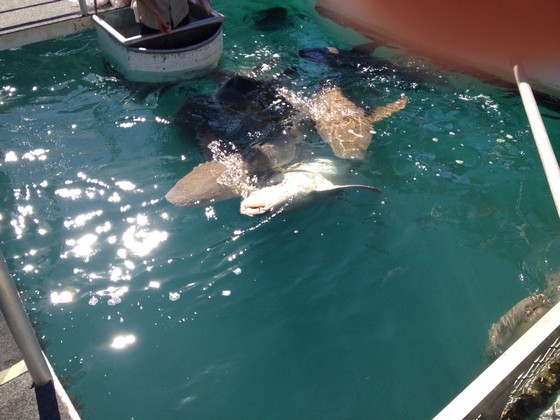 They advertise that you can 'swim with the sharks in a protected cage'.  Naturally that never entered my mind and even K who was planning on it, decided that we had a good view standing comfortably on the deck, though some people went into the water.  The sharks are swimming in their natural habitat and the people are in the cage. You can see their hands: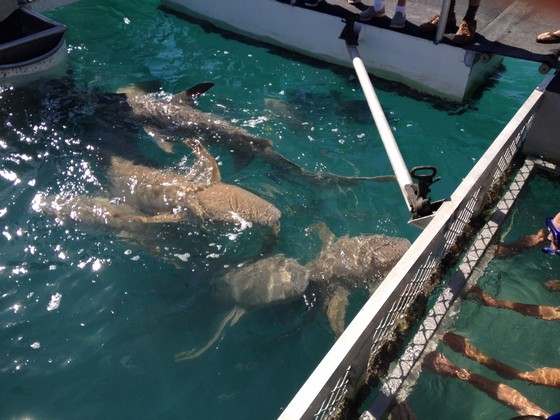 Then we boarded a powerful boat and headed out to the Falls.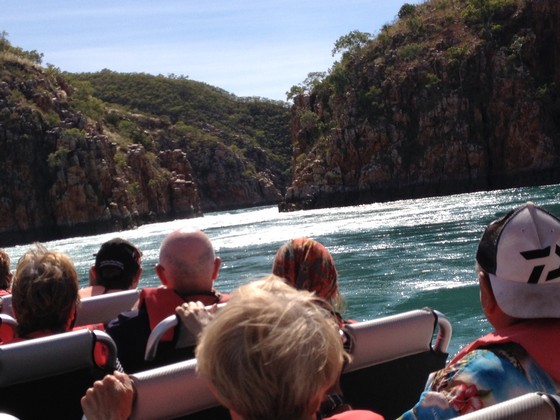 As we approached the Falls he revved the engine – he obviously thought we were all thrill seekers!! – and we hurtled at full speed through the Falls bouncing up and down.   I was hanging on as hard as I could and can still feel the power of that water as it swirled and churned around us.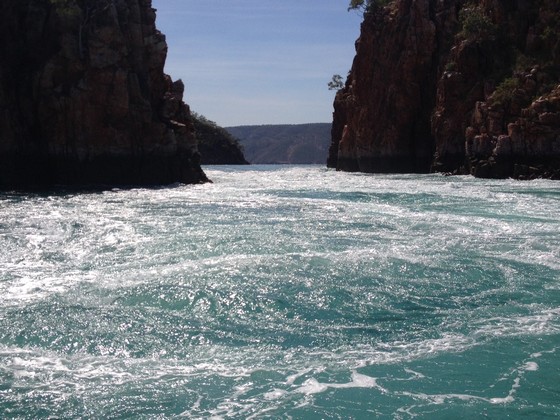 K loved every second of it.   When we came out on the other side this was what peace and tranquillity looked like.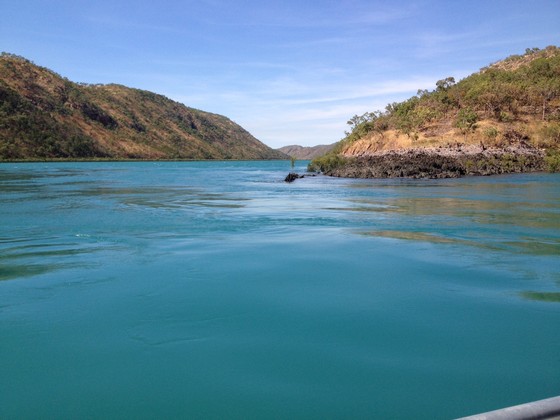 He went back and forth a few times, always at high speed through the rough and tumble of the Falls and then took us back to the 'hotel' for a great lunch.  Beautifully cooked barramundi and fresh salad.
After lunch they took us out again on the boat.  Here we're racing towards the Falls at speed again.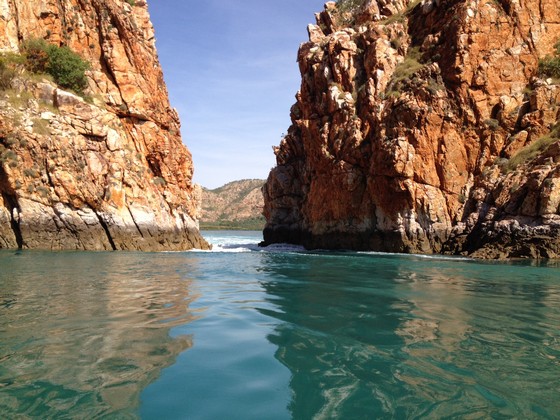 I don't have any photos of the front of the boat rising up and crashing down into the turbulent water because – you guessed it – I was too busy holding on tightly.
Some of the rock formations here were very interesting.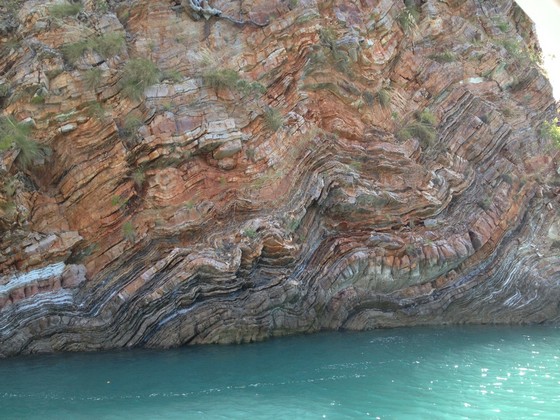 Then we returned to the 'hotel'.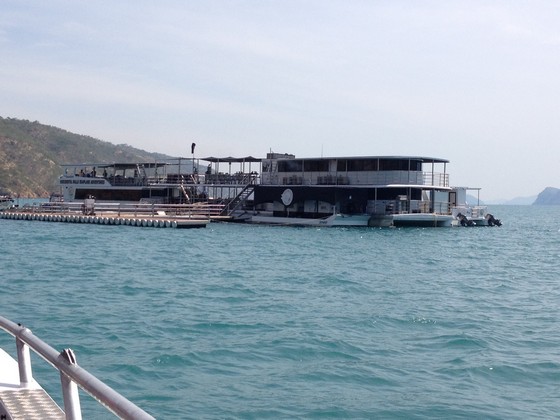 We could have stayed overnight but the idea of shared bathroom facilities and bobbing up and down on the water during the night didn't appeal to me at all. 
We returned to the 'hotel' just in time as the helicopter was ready and waiting for those who wanted a different experience.  You can do lots in that one visit if you're so inclined. 
One last journey out to the Falls for another exciting ride – we all loved it after knowing what to expect each time – with some even standing up now just before the front of the boat slammed into the water, to get the best pictures.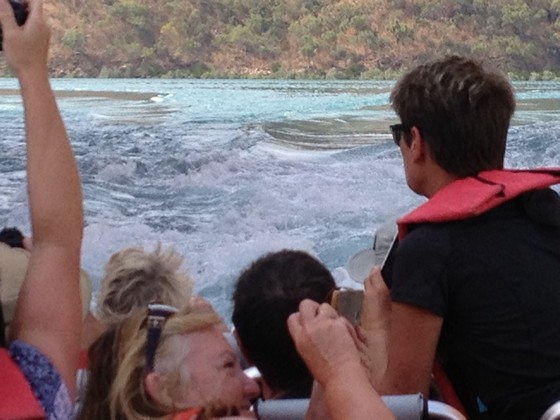 Eventually it was time to return and we waited while other planes departed.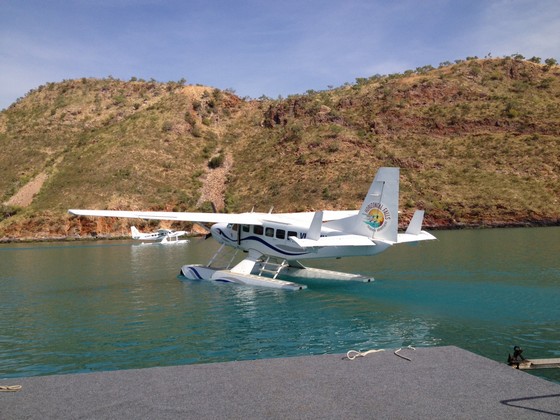 The Horizontal Falls is definitely a highlight and not to be missed.  It is all about the tides, so you need to enquire about the best time to go and book well ahead.
Arriving back at Derby Airport we were taken back to our car and drove to
Broome
for our final three nights, staying at Moonlight Bay suites overlooking Roebuck Bay.  This is one of the many great vantage points to see the 'Stairway to the Moon' as the moon rises over Roebuck Bay.  Dates to see the Stairway are published so you can plan ahead.
We arrived in time for K to make us some dinner and then we just walked out onto the grass and watched the moon come up over the horizon.  My poor little iPhone 4 doesn't do well with zoomed shots and this grainy image is the best.  You can see a couple of 'stairs' on the water.
After that we drove down to visit the night markets and that was fun.  Lots of lovely pearls for sale.
DAY 20  Sunday 11th June
This is the daylight view over Roebuck Bay...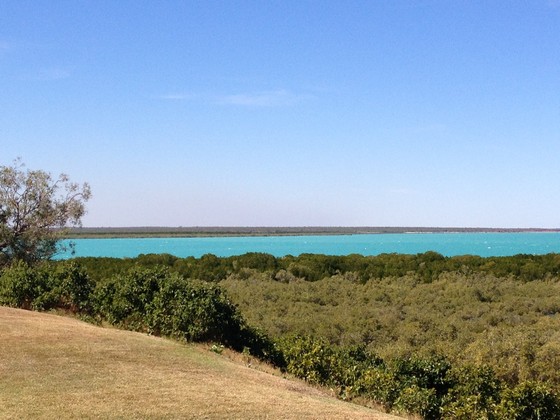 ...and here you are looking back to our very comfortable, modern accommodation at Moonlight Bay Suites.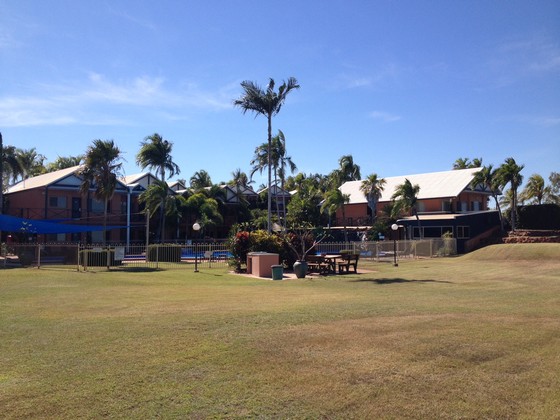 In the afternoon we drove out to Gantheaume Point where you can see dinosaurs' footprints down below when the tide is out.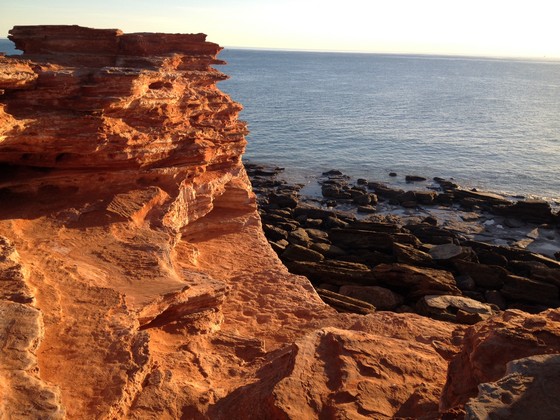 Not today as the tide was in too far on the rocks below.
Sunset over the Indian Ocean from the Point: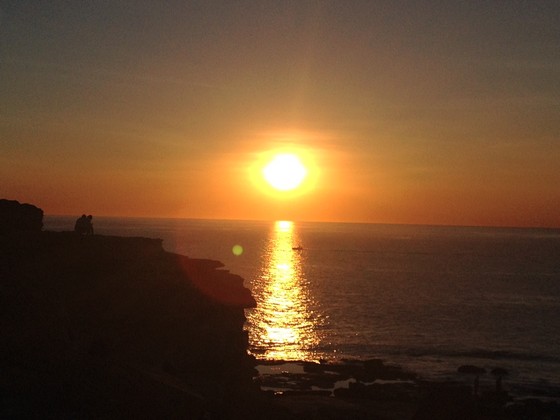 DAY 21  Monday 12th June
– our last full day
There is such a lot of history associated with Broome.  So many people died in the pearling industry in the early days and there are Japanese and Chinese cemeteries as so many of them came to work on the pearling luggers.  This shows the Japanese cemetery which is beautifully kept: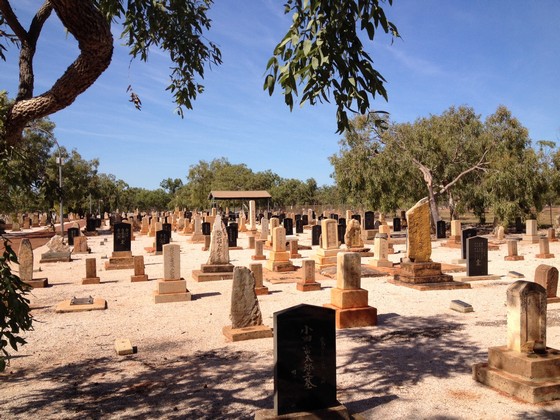 A visit to the Broome Museum is worthwhile and admission is only a few dollars.  Suggest you watch the film about the telephone exchange which runs continuously.  It will bring back lots of memories of an earlier Australia, in our lifetime, so we can all relate to it. Here is an example of a shell display in the museum: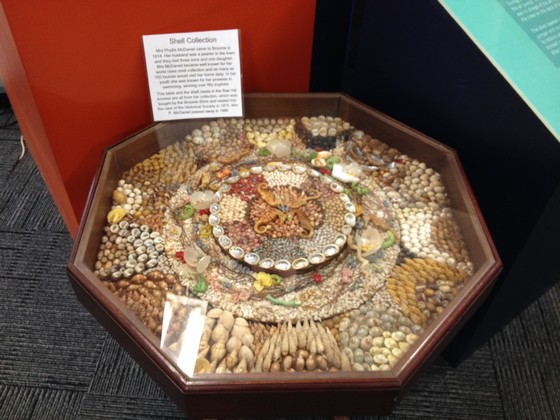 In the afternoon we drove out to Cable Beach again to take a look at the camel rides.  When we returned to Broome we'd swapped the 4WD in which we had done 4000 kms and picked up a small sedan just to get around Broome.  We couldn't drive it on the sand so climbed to a vantage point to see the camel riders – and all the 4WDs which people drove out there...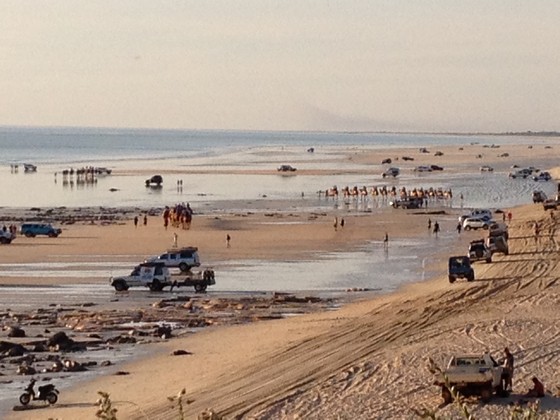 If you stand at Cable Beach looking to the water, the camel rides are way off to the right and the swimming and the uninterrupted beach area are to the left, so the camels are a long way from the pristine beach area.
This shows lots of people gathering to see the sunset in front of the restaurants, overlooking the pristine beach area: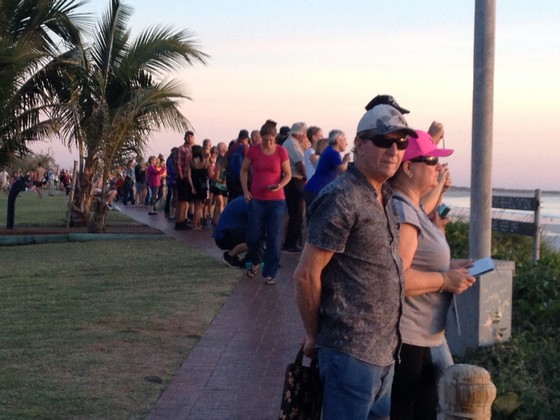 Here is the beginning of our final sunset: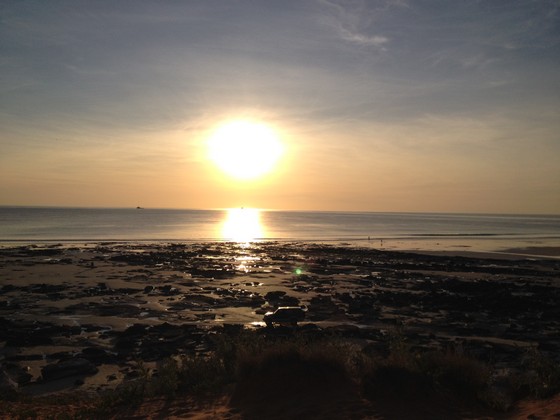 It turned out to be a spectacular, colourful sunset going through the yellows and oranges to the pinks and reds.  The colours were outstanding and we treated ourselves to our final gin and tonic and some delicious seafood in one of the restaurants for our last night.
DAY 22   Tuesday 13th June
At the beginning of this adventure we bought lots of tinned food, water etc as we had to be prepared for anything.  We were so lucky that nothing went wrong, the weather behaved, we got through the rivers at the right time, we even got out of being stuck in the black mud without help.  So at the end we still had some tinned food, water and other things and I found a women's refugee online and rang to see if they would like them.  They were delighted so we drove there on our way to the airport.  They were so grateful.
Then we dropped the little car at the airport, caught the direct flight home to Sydney and returned to normal life.  It truly was a wonderful trip. I've really enjoyed writing this report as it's made me re-live the trip.  At the outset I would recommend you record what happened each day and you will enjoy it long after you leave the Kimberley.
A few final tips for those who may plan to do this trip.
A high clearance 4WD is essential.  Don't listen to anyone suggesting that a low clearance 4WD will be OK.  It won't.
If you're not familiar with a 4WD (we weren't) ask the rental company to show you the features when you collect it.  It is worth that extra time to become familiar with the vehicle, even though most of the time you will drive it like a normal car. 
Preparation is the key.  Plan for something to go wrong.  You could be stuck in your vehicle overnight if a river had risen.  It will be extremely cold and pitch black.  There is no service station just down the road, so have food which you can access.
Do not speed on the unsealed roads.  You don't know when you will hit sand and you can skid and end up where you didn't anticipate.
NEVER pass a petrol station.  Always fill up, even if you think you'll make it to the next place.
Always be aware of what time it will become dark and plan to be in your accommodation well before dusk – either driving or walking.
Before you decide to walk a gorge, ask others about what you will see and the degree of difficulty.  Some involve walking through a lot of water.  At one of them, K said people had to wade through water and hold their mobile phones over their heads to keep them dry, so you can imagine how deep it was and they hadn't expected that. 
Insect repellent is essential, especially in Broome around Roebuck Bay where the mangroves offer a safe haven for mozzies to bring up each new generation waiting to bite you.
We took fly veils but never had to use them.  Friends who wore fly veils all the time visited later in the year.
Light coloured clothing is recommended and plenty of sunscreen.  Don't take good clothes.  Everything comes home really grubby from the red dust, even if you wash along the way.
Get good walking boots or shoes. 
Be prepared for anything and above all, HAVE FUN.
It's the experience of a lifetime.
Valerie
Read other Kimberley Trip Reports

Travelling to the Kimberley?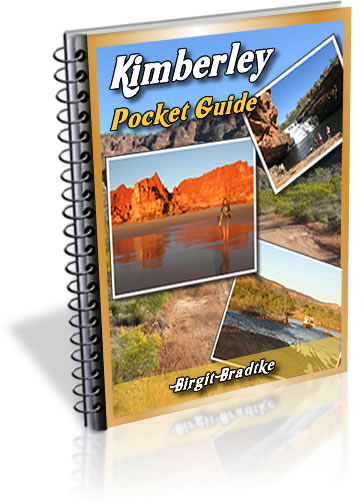 The FREE Kimberley Pocket Guide
A great introduction to travel in the Kimberley region and along the Gibb. This free resource will answer all the questions you might have in the early stages of planning a trip.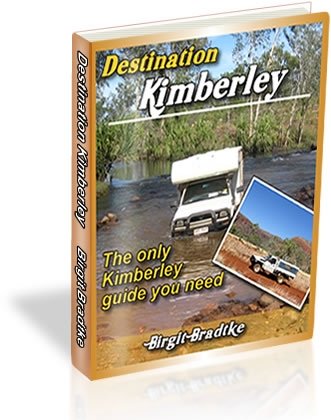 Destination Kimberley
The full Kimberley travel guide shows you how to make the most of your adventure at Australia's last frontier. Destination Kimberley includes the most detailed and most current guide to the Gibb River Road available anywhere. Also called "The Bible" by its readers.

Travelling to the Northern Territory?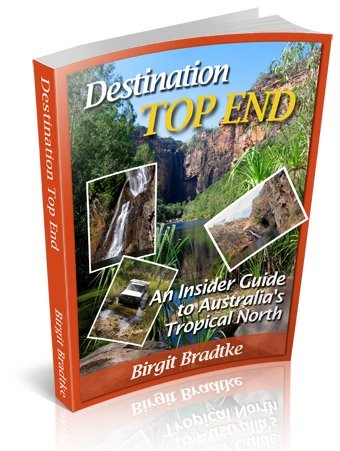 Destination Top End offers the same comprehensive, detailed insider information for the tropical regions of the Northern Territory. Be the best informed traveller in the Kakadu, Litchfield and Katherine Gorge national parks and beyond!

A must have if you travel to or from Darwin.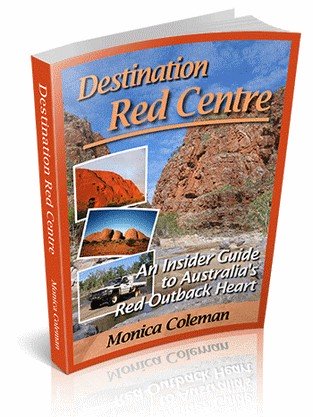 NEW! Destination Red Centre is the latest addition in this popular series. Monica Coleman takes you through Australia's red Outback heart, offering all the detail and insider tips that you have come to know and love about our guides. With special emphasis on Aboriginal communities and culture.

A must have if you travel to or from Alice Springs/Uluru.
Read other Kimberley Trip Reports