Gibb River Road Adventure with Jayco Outback Swan
by Joe
(Melbourne)
Crossing the Pentecost
We completed our Kimberley Adventure in mid August this year as part of our long service leave trip (with 3 children) around Australia. When I mentioned to several friends that we were going to do the Gibb River Road, the usual response was that you would end up shredding your tyres, breaking your car and definitely destroy your Jayco. I was nervous and reconsidering, but after buying your Kimberley guide, decided to give it a go.

Well nothing could be further from the truth. We had the most wonderful time and would highly recommend it to anyone who was doubting doing it. We spent 2 nights in the Bungle Bungles without the trailer as opinion was the road in was too rough. It was rough but lots of fun! There were others camped in the park with camper trailers and even a couple of Jayco's. They just had to go a bit slower and they were fine. We took just under 2 hours to get in and those towing reported it took an extra hour.

The Bungle Bungles were the most spectacular place I have been (until we hit the Gibb River Road) and had a wonderful time. It was extremely hot (the ranger reckoned mid 40's), but early morning walks and cooling the kids off in a makeshift pool were the way to go.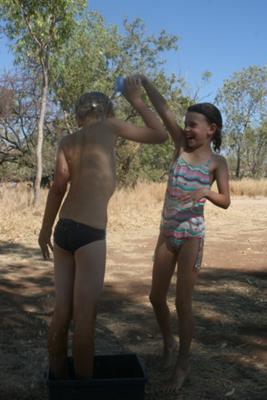 Cooling off in the Bungle Bungles
Onto the
Gibb River Rd
and our first stop was El Questro. Some told us not to go as it was too touristy. But we had a lovely private bush camp and spent days exploring the gorges and waterfalls. Could have stayed longer. Then onto Home Valley and an impressive setup here, though most activities seemed to be user pays, whereas El Questro had lots more to explore on your own.
We were going to camp up at
Mitchell Falls
, but after 1 child sick on the Bungle Bungle Rd, we decided not to subject them to more rough roads and headed to
Manning Gorge
. More swimming and exploring of gorges.
Next stop was
Mornington
, which was a late addition recommended by some fellow travellers. This was wonderful and we spent a day canoeing and swimming in
Diamond Gorge
. Just wonderful.
Bell Gorge
was next and yet again more swimming. Kids could not get enough of jumping of the waterfall.
We finished our trip with a Camp at
Windjana Gorge
and
Tunnel Creek
.
After 9 days on the Gibb River Road we were covered in dust and thoroughly enjoyed all the places we went to. Towing the van on the Gibb River Road was not a problem at all. In fact the road after the Kalumburu Rd turn off was just like a highway. Let's hope they don't seal the entire road as it would be nice to keep the remoteness of the adventure. The children had a ball and were sad to leave the GRR. The only problem we had was carrying enough food to feed us all as the children got so hungry with all the exploring and swimming we did.
Thanks again for
your guide
.
Travelling to the Kimberley?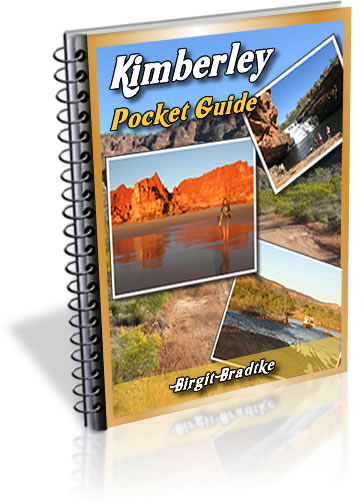 The FREE Kimberley Pocket Guide
A great introduction to travel in the Kimberley region and along the Gibb. This free resource will answer all the questions you might have in the early stages of planning a trip.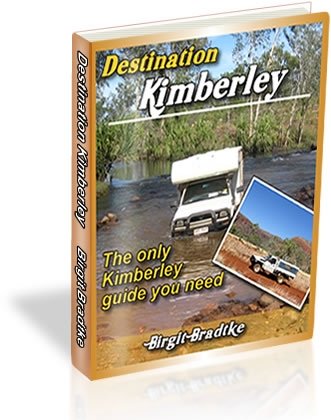 Destination Kimberley
The full Kimberley travel guide shows you how to make the most of your adventure at Australia's last frontier. Destination Kimberley includes the most detailed and most current guide to the Gibb River Road available anywhere. Also called "The Bible" by its readers.

Travelling to the Northern Territory?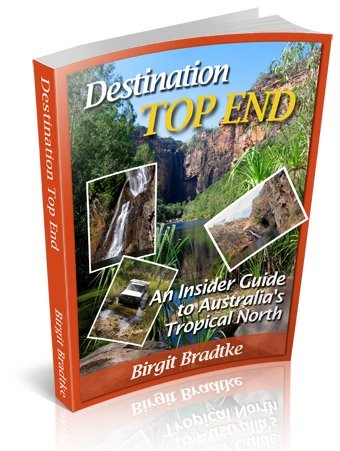 Destination Top End offers the same comprehensive, detailed insider information for the tropical regions of the Northern Territory. Be the best informed traveller in the Kakadu, Litchfield and Katherine Gorge national parks and beyond!

A must have if you travel to or from Darwin.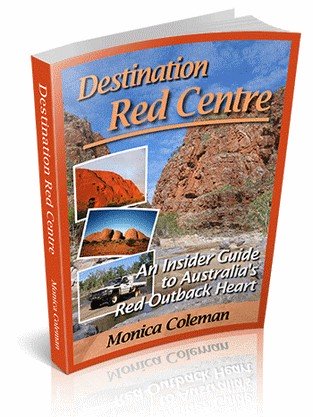 NEW! Destination Red Centre is the latest addition in this popular series. Monica Coleman takes you through Australia's red Outback heart, offering all the detail and insider tips that you have come to know and love about our guides. With special emphasis on Aboriginal communities and culture.

A must have if you travel to or from Alice Springs/Uluru.