Dimond Gorge

Mornington Wildlife Sanctuary, Gibb River Road
Dimond Gorge (pronounced "Diamond Gorge") is located near the Mornington Wilderness Camp, which as a whole rates as one of my top picks along the Gibb River Road.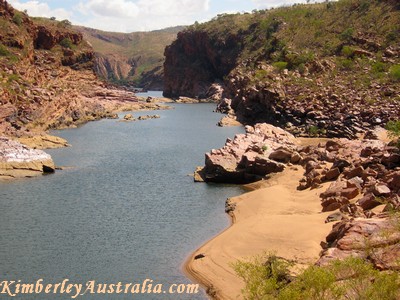 This is one of the most impressive gorges in the Kimberley, and the drive to get there is an attraction in its own right. Allow plenty of time for it because you will want to stop and take photos and admire the views on the way!
The real attraction though is a canoe trip up the gorge itself. You can take your own canoe or hire one. (Unlike at Sir John Gorge, where access is restricted to two people a day, there are plenty of canoes to go around at Dimond Gorge.)
As you canoe through the narrow gap near the start of the gorge, picture what would have happened to this wonderful area if the plans to dam the Fitzroy River to pipe all the water down to Perth would have gone ahead. This is the site where the proposed dam was to be built!
More photos of Dimond Gorge
View on the way to/from Dimond Gorge.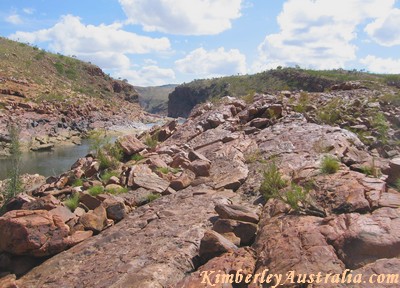 From the parking area you first have to walk up and over some rocks. You can't see the canoes until you stand right on top of them.
(There are still a few more photos coming...)
Explore Sir John Gorge
Read more about Mornington Wilderness Camp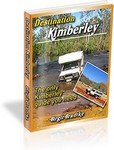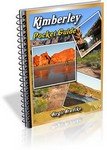 Travelling to the Kimberley?

The free Kimberley Pocket Guide
is a great introduction to travel in the region.
The full Kimberley Travel Guide


shows you how to make the most of your adventure at Australia's last frontier.
Travelling to the Northern Territory?
Destination Top End offers the same comprehensive, detailed insider information for the tropical regions of the Northern Territory.

A must have if you travel to or from Darwin.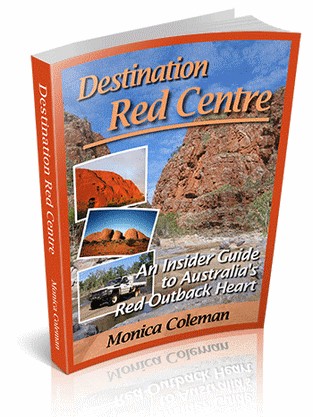 NEW! Destination Red Centre is the latest addition in this popular series. Monica Coleman takes you through Australia's red Outback heart, offering all the detail and insider tips that you have come to know and love about our guides. With special emphasis on Aboriginal communities and culture.

A must have if you travel to or from Alice Springs/Uluru.
---
Return to Kimberley Australia Travel Guide home page