Manning Gorge

Mt. Barnett Roadhouse and Mt. Barnett Station
Manning Gorge is located on Mount Barnett Station, about half way along the Gibb River Road. Access is via the Mt. Barnett Roadhouse.
The roadhouse is really well equipped, well set up and offers good service. This is also where you pay your entrance and camping fee for Manning Gorge.
(You pay that first, and then you drive on for a few more kilometres to the camping area and gorge.)
On my very first Gibb River Road trip, Manning Gorge was one of the most memorable gorges, for several reasons:
We were there early in the season and the falls were still flowing strongly, cascading over the full width of the rocks.
It was late in the afternoon. And while that had a disastrous effect on the photos I took (directly into the sun was the only option)...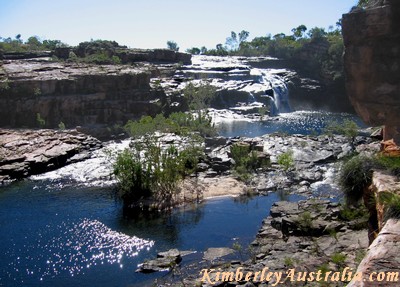 ...it meant we had the whole, big gorge to ourselves.
I also thought the walk to get to the gorge was great, but I've heard others complain about the long, hot walk.
The walk to Manning Gorge and the Manning Gorge Falls starts from the campground.
The beginning certainly is not hot, because first you have to swim across the Manning River. (A nice touch: you can float all your stuff across in the provided styrofoam boxes.)
Or you walk around and wade across further upstream, criss-crossing the deep creek several times, of course on slippery rocks, treacherous logs, mud etc. It's good fun to watch others do it.
After that the walk is open and sunny, but the scenery is beautiful. You can't get lost, because the track is so well marked with hundreds of rock cairns and red disks and arrows and beer cans and all sorts of other markers strung into the trees.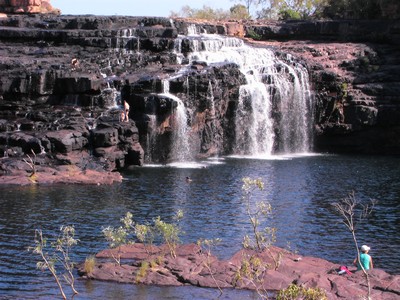 © Photo by Ian Luxon
The gorge itself is huge and you can easily spend hours exploring it. It has several pools to swim through and rocks to climb up and over. You can also climb to the top of the waterfall.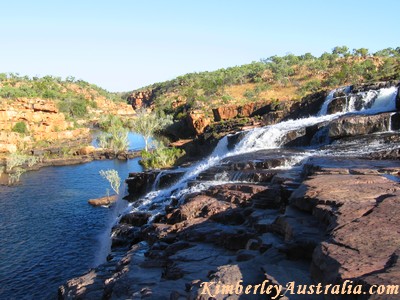 If you want to see the waterfall cascading over the full width of the rocks, as it's shown in most pictures of Manning Gorge, then you need to be there early in the season. It dries up fast. But the pools are deep and you can swim all year round...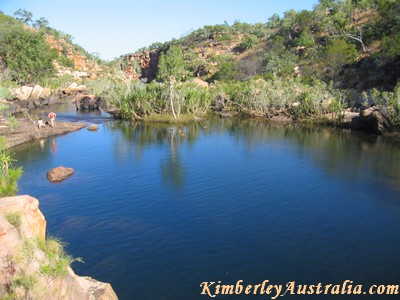 Read about the other Kimberley Gorges along the Gibb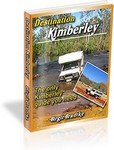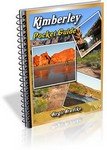 Travelling to the Kimberley?

The free Kimberley Pocket Guide
is a great introduction to travel in the region.
The full Kimberley Travel Guide


shows you how to make the most of your adventure at Australia's last frontier.
Travelling to the Northern Territory?
NEW! Destination Top End offers the same comprehensive, detailed insider information for the tropical regions of the Northern Territory.

A must have if you travel to or from Darwin.
---
Return from Manning Gorge to Kimberley Australia Travel Guide home page