12 Days Darwin to Broome, revised (without Mitchell Falls)
Here is an updated draft of my planned 12 day itinerary from Darwin to Broome. I took your advice and excluded Mitchell Falls from the list of things to see. (Obviously this and Cape Leveque will have to be done another time.)

This seems to leave me with a day or two to spare. This is a good thing as it means we shouldn't have to rush the bare minimum of things we would like to see. Especially as I think the start of the trip could be a taken a bit slower and it also might allow some extra time at the Bungle Bungles, which I consider to be one of the main reasons for doing this trip.

I have listed Geikie Gorge on the itinerary. However, after your advice, I have only left it on just in case we do still have some time.

I hope you can cast your eye over the updated itinerary. At this stage I only have two questions:

1) Will Bell Gorge, Windjana Gorge and Tunnel Creek be too much to do in one day? Though with the extra day or so I have up my sleeve, I thought an option could be to do Tunnel Creek the following morning. However, is it better to do Tunnel Creek in the morning or afternoon? (All right, so that is two questions already.)

2) I have done very little research on Wyndham and Derby. Is it worth a stop at either of these two towns?

Day 1: Tuesday, 10 June 2008: Pick up Vehicle and drive to Litchfield NP. 1/2 day at Litchfield. Late afternoon drive to Katherine.
Day 2: Full day Explorer Katherine Gorge Tour or Hire Canoes. Night at Katherine Gorge.
Day 3: Katherine to Kununurra via Gregory and Keep River National Parks. Night at Kununurra
Day 4: Joy Flight over Lake Argyle and Bungle Bungles. Drive to Bungle Bungles. Camp at Bungle Bungles.
Day 5: Various walks within the Bungle Bungles. Night at Bungles.
Day 6: Bungle Bungles to El Questro, Emma Gorge on the way to El Questro. Night at El Questro or Emma Gorge.
Day 7: Zebedee Springs and El Questro Gorge. Head towards Manning Gorge. Camping at Manning Gorge.
Day 8: Manning Gorge, Galvans Gorge. Camping at Silent Grove or Bell Gorge
Day 9: Bell Gorge,Windjana Gorge and Tunnel Creek.Camping at Windjana Gorge.
Day 10: Geikie Gorge, ???
Day 11: ??? Night in Broome.
Day 12: Full day in Broome.
I took your advice regarding booking
accommodation at Broome
asap. I don't know how it quite works, but in the short time it took me to confirm my booking with Flight Centre, apparently there is now nothing available in Cable Beach. Therefore, we will be staying in
Broome
itself.
At the end of the day, I am feeling quite comfortable with what we can see and do, and we will only really know when we actually get on the road and see how much energy we have after driving, walking, swimming and camping each day.
12 Days Darwin to Broome w/o Mitchell Falls: Feedback
Yep, getting
accommodation in Broome
during the season is a challenge.
That looks very good to me. You'll be grateful to have those days to spare. I would consider adding an extra day at the very beginning and spending a night in Litchfield, for example at Sandy Creek on the southern access road (away from the bitumen and the masses).
Then you can take your time setting up camp in the afternoon, have a leisurely morning before you need to pack up again, stop in Katherine on the way to get the bits and pieces you now realised you forgot to get in Darwin, before you head out to the campground at the gorge.
You get the idea. Rather than starting the trip with a mega rushing and driving day and an unfamiliar vehicle and camping set up, give yourself and your partner time to ease into life on the road.
The good thing about this itinerary is that you will be reasonably flexible. If you are having a good time, swimming and lazing at one of the gorges or waterfalls, then you don't have to leave again in a hurry to make sure you get to the next stop in time.
Will
Bell Gorge
,
Windjana Gorge
and
Tunnel Creek
be too much to do in one day? You will see when you get to Windjana. As you suggested yourself, if it is getting late, leave Tunnel Creek for next morning. It's a tunnel, so it doesn't matter AT ALL what time of the day it is. It's always dark...
And
Derby
and
Wyndham
, well... I really like both towns, but from a visitor's point of view, if your time is limited, those would be the first things I'd drop.
I think you have a very workable outline there. The rest will fall into place on the way. Just take it as it comes, with this itinerary you can.
Travelling to the Northern Territory?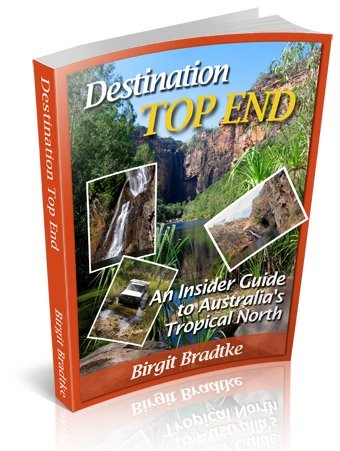 Destination Top End offers the same comprehensive, detailed insider information for the tropical regions of the Northern Territory. Be the best informed traveller in the Kakadu, Litchfield and Katherine Gorge national parks and beyond!

A must have if you travel to or from Darwin.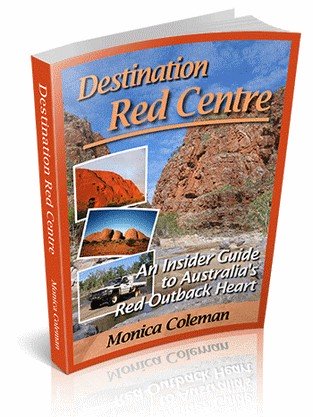 NEW! Destination Red Centre is the latest addition in this popular series. Monica Coleman takes you through Australia's red Outback heart, offering all the detail and insider tips that you have come to know and love about our guides. With special emphasis on Aboriginal communities and culture.

A must have if you travel to or from Alice Springs/Uluru.