A muddy Gibb River Road adventure - May 2010
by Alan
(Sydney)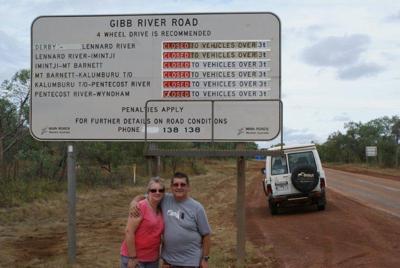 Start of Gibb River Road
We had planned our trip since last November (2009) and had been anxiously watching the weather for the month prior to going to Broome. It looked great late April, early May. However, the week prior to our arrival 15 May, unseasonal rain hit the Kimberley, and sites began to close rapidly.

Reports on our arrival in Broome were Gibb River Road "closed", Tunnel Creek "closed", Bungle Bungle "closed", and all gorges "closed".

We decided to head up to Derby and see for ourselves. We had hired 2 Britz 4wd Bushcampers for 2 couples.
Our original plan was to spend 2 days in Broome, travel the Gibb River road via Tunnel Creek to El Questro, spend 2 days there, then head to Kununurra for 3 days, do a flight down to the Bungle Bungle, helicopter over them before flying back to Kununurra via a tour of the Argyle Diamond Mine.

We then intended to drive back to Broome via Halls Creek and Fitzroy Crossing. After a few more days in Broome, we would fly up to the Horizontal Falls, ride Camels on Cable Beach and see the Stairway to the Moon.

Our holiday was for 2 weeks, so we had packed in as much as possible.
We would determine whether to go via the highway to Fitzroy Crossing and Halls Creek, or attempt the Gibb. When we passed the turnoff to the Gibb, the signs showed "Closed to all traffic over 3tonne". We called in at the tourist bureau at Derby, and they told us everything was closed, and it was not worthwhile travelling on the Gibb, or purchasing a National Parks pass. They suggested we travel to Kununurra via the highway and return the same way.

We were, as you would expect upset that our plans had come to an end, and there was little to do than drive along the highway to Kununurra, and fly over the Bungle Bungle range and return to Broome the same route.

We decided to look at our options over a coffee, so took out "Destination Kimberley" and saw that Birgit recommended the Wharf Restaurant, so 5mins later we were sitting down to a very nice plate of fish and chips and cold drinks.

Talking to the staff there picked up our spirits. They told us that we should attempt the Gibb, and we would regret it if we didn't. Afterall, we had travelled from Sydney, so when would we be back?
A quick discussion amongst ourselves, and we agreed to go for broke. The Gibb River road was facing us some 15mins later, where we took the photo above.

The first 90klms was sealed road, so that was consumed easily, and was a breeze to drive. However, just before the turnoff to Windjana Gorge, found us on a muddy corregated gravel road. It was better than expected, and we didn't even need to engage 4wd.

At the Windjana turnoff, we were confronted (as expected) with the "Road Closed" sign, so continued onwards towards Mt Barnett.
As it was getting late, we decided to find somewhere to camp for the night. We decided on the Lennard River, so pulled into a clearing in front of the now closed Snack Stop for the night.

We spoke to the owner, who told us that if it rained during the night, to get out as quickly as possible, or else we may be floating down the river. Naturally, we slept very lightly, and the rain we did have was light, and not enough to raise the river levels significantly.

Next morning saw us heading out for Mt Barnett Roadhouse. We would see how far we could go before evening. The Gibb River road got worse the more we headed east. By the time we reached Queen Victoria's Head, we were in 4WD mode, and in deep soft mud, with the occasional corregated ruts underneath.

Basically, we were having a ball. The weather was hot and humid, about 80%, with occasional light showers. All the gorges were closed.
We reached Imintji Store mid morning, so decided to refuel and grab coffee. Must say that the coffee was better than expected, so headed East once more.

About lunchtime, we came across the Galvans Gorge sign. It was so close to the road, there was no need for a "Closed" sign, and 15mins later we came across this really great pool. So lush and so fresh. A quick 5min swim in the wonderful waters found us refreshed, so we heaed off again towards Mt Barnett.

A very short time later, we pulled into the very muddy Mt Barnett roadhouse for lunch. A very liberal plate of potato wedges saw our internal tanks full. As it was only about 1pm, we thought we could make much progress if we continued onwards. We looked at making El Questro if all was well and if the roads improved.

However, that pipedream soon was washed away when the road got even worse. We were travelling as slow as 5klms in sections, fighting deep mud. Definitely 4wd country. By 4pm we had only progressed as far as the Mitchell Plateau turnoff, so we began to seek out alternatives for the night stop.

Ellenbrae Station looked possible, so with a quick call on the Satphone, we confirmed it was open, accessible, and had made a booking for our 2 vans. We thought we were only about 15mins away, however, the road got worse, with wet mud and water upto our axles, making any progress both slow and slippery.

We arrived just on dusk, so after our all day slog in the mud, we decided to opt for their eco-bungalow's instead of camping. I would not say this was a mistake, however, I think we would have enjoyed the campsite a lot better, as we were secluded from other company, and these cabins are very basic for the price asked.

Following morning, and after some heavy overnight rain, we headed off again, to face the mud and rivers.
The Durack River crossing appeared daunting when we saw it, but in 4wd, and a steady slow speed, we crossed easlily without a hint of alarm. Most river crossings were flooded, but produced no drama during crossing. In fact, we looked forward to them. It gave us a chance to wash mud from the wheels while at the same time washed the roof with the splashings. Not to say the boy's revelled in showing off the water driving skills.

By luchtime we made it to Home Valley Station. A true oasis afer the 100's of kilometres we had travelled. We refreshed with coffee, before heading over to El Questro where we spent 2 nights. A tour of the Chamberlain Gorge, with their local guide "Chilli" had as not only rolling in laughter, but seeing spectacular scenery, and knowledgable insight into the workings of the area.

We also got to visit Zebedee Springs, best thing since a home spa, and Amalia Gorge, which although challenging to get to, is rewarding in the final waterfall and swimming hole. We were later told that someone saw a freshwater crock, basking in the sunshine near where we were swimming.

The campground at El Questro is great, and the shower facilities very good. Great restaurant and waterhole swimming pool.

From El Questro, we headed off to Emma Gorge. Only a short dive, but a little tricky on the muddy roads at the time. On arrival, we headed off to the gorge, which is a very challenging walk. Rocks and more rocks to climb over and negotiate around. After close to 45mins later, we came across this magnificent waterfall and lagoon. At the time it was very humid, so within seconds, we were in the lagoon swimming in the cool water. While there it began to rain, first lightly, then consistently heavy. By the time we had returned to the carpark, we were saturated, however, it was no longer uncomfortably humid, so we no longer needed a swim to cool off.

After a clothing change, we had a cappucchino, and headed off to Kununurra, via the anticipated Pentecost river. This crossing was great. Close to 100mtrs across, and about 500mm deep on river pebbles. It is wide, and lined with rocks on both sides to presumably help keep the saltwater crocks out.

Mid afternoon found us reaching the Victoria highway, which took us to Kununurra, where we stayed at the really nice Ivanhoe Village Caravan Resort.

All in all, we managed to do nearly all we had planned on our tight schedule. We missed Tunnel Creek and a walk around the Bungle Bungle range, as well as a few gorges. We also missed a tour of the Argyle Diamond mine as weather stopped flying the day we were scheduled.

Was the Gibb River road worth it?
Yessssssssssssssssss! Absolutely.