Broome to Darwin, family of 5, June/July 2016
by Rebecca
(Canberra )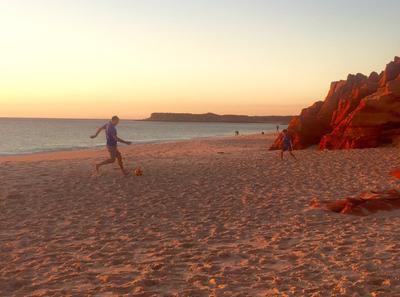 Western Beach at Kooljaman

Hi everyone, we have just finished our wonderful trip from Broome to Darwin. I found this site and Birgit's guides really useful, so I'm posting my itinerary in case it helps anyone. We are a family of 5, expats living in Canberra. Our three sons are 14, 11 and 10. We hired an 'Overlander' from Apollo. The best-looking rentals we saw on the road were the 'Drive Beyond' vehicles. We had no mechanical problems and no flat tyres.

We had 21 days and ended up skipping lots of things we would have liked to do as there wasn't time. The days are pretty short (it's dark around 5.30), and setting up and packing up is time consuming for a family, even with older children. For a couple I'm sure it would be faster. We are not at all experienced as campers, however.

I would recommend thinking about power - bring 2 double car socket chargers, a 4-way adapter for when you are at a powered site. I'd recommend lights with batteries and spare batteries, so you don't have to worry about charging everything. Or rent a solar panel. We had solar panel envy! It's good to have plenty of lights: a decent head torch each; couple of tent lights; table lantern.

We had hardly any spare time at all. The kids had e-readers for entertainment and a pack of cards. That was perfect! iPad-free bliss for a few weeks! There was little time to be bored between packing up, hiking, swimming, super-scenic driving etc.

Our favourite bit of equipment was our hammock, just for fun.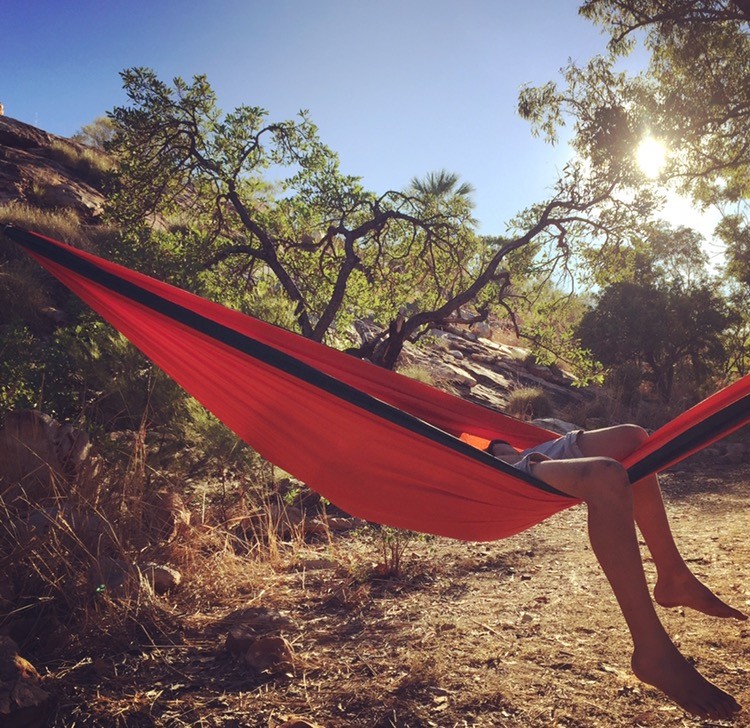 Chilling at Silent Grove
It's hard to say what the best thing we saw was. Every new place we went to seemed like the most beautiful place we had ever ever seen. El Questro is a good place to spend a few days because there's masses to do there without decamping every day. In general I preferred the Kimberley to the Top End as it was more wild and undeveloped. But we saw some wonderful things in the Top End, too, so I don't want to knock it. In a way it's not worth agonising too much about the itinerary as whatever you do you'll see beautiful places, have lovely swims in idyllic settings and gaze in wonder at spectacular starry skies :)
We were there in peak season but 'crowded' is a relative concept. We had many places to ourselves completely at least for a while, including Bell Gorge...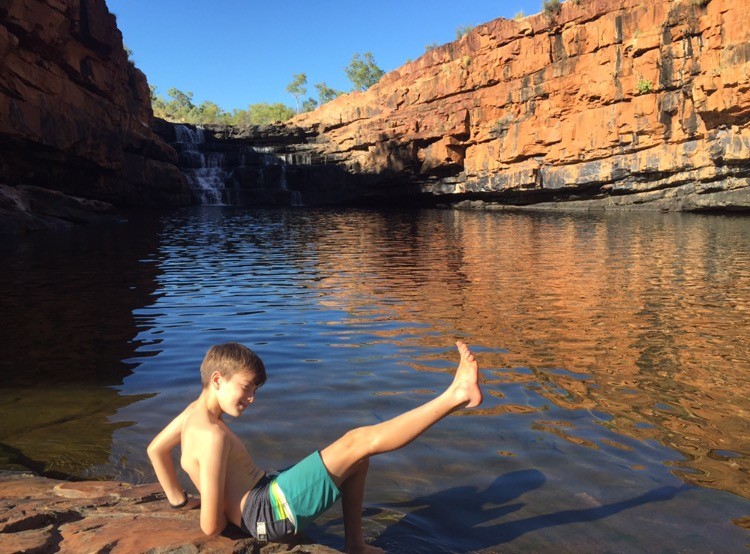 Bell Gorge
Galvans Gorge...


Galvans Gorge
everywhere at El Questro except Zebedee Springs and Emma Gorge...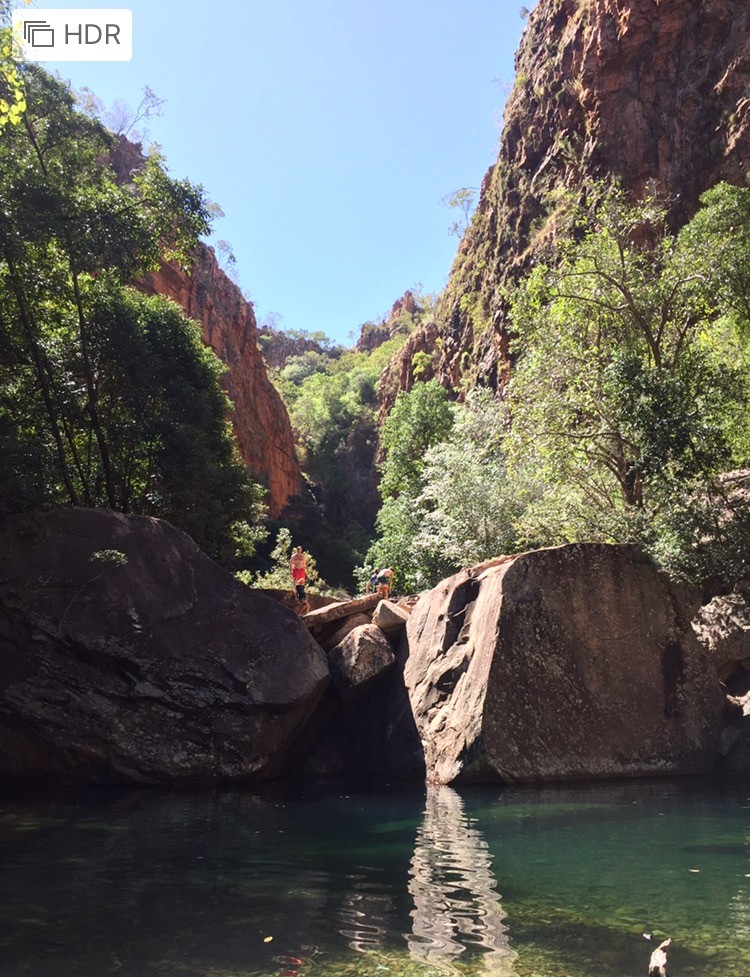 Emerald Pool at Emma Gorge

El Questro Gorge
Gunlom Falls...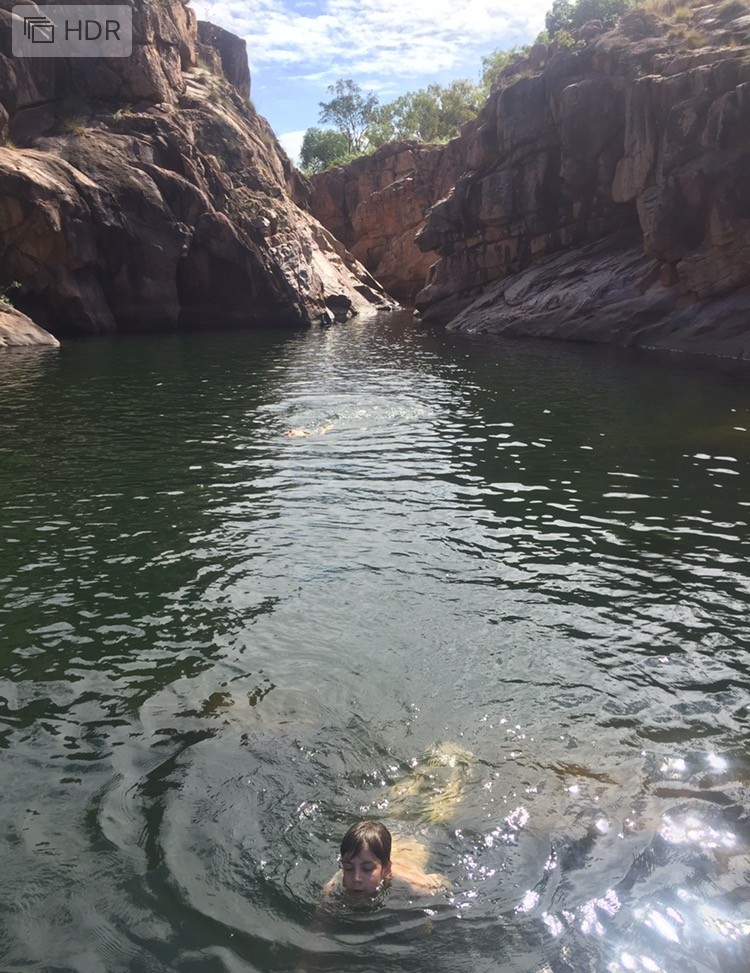 Swimming at Gunlom Falls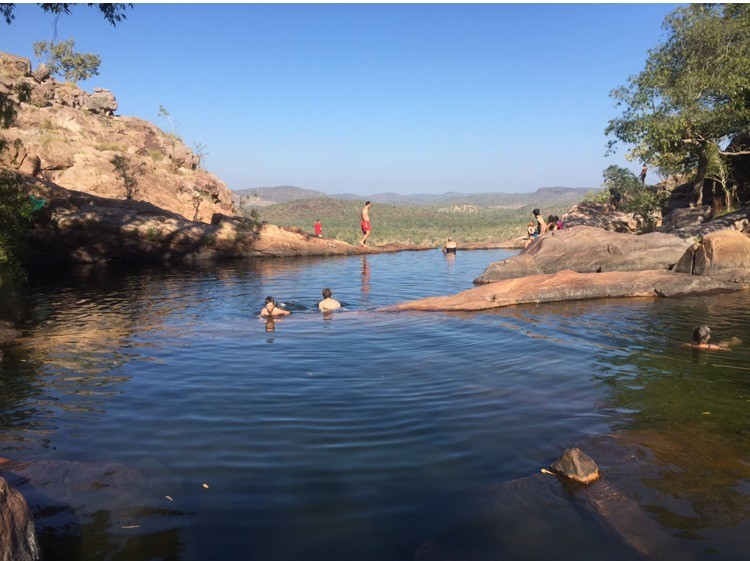 At the top of Gunlom Falls
...Florence Falls and Buley Rock Holes. But even when there were other people it was never enough to spoil it.
The best campsite we went to was Tumbling Waters. The worst was El Questro in that the sites were tiny, and not flat, and it was the world's dustiest place! Still had fun though. Nearly all the campsites have flush toilets and hot showers - we were quite surprised.
The roads were better than we had expected. The side roads are much worse than the GRR. The roughest roads were in El Questro. My favourite drive was the Spring Creek Track to Purnululu, which is a bit like driving a tame roller coaster. Great fun! We didn't need to carry extra fuel.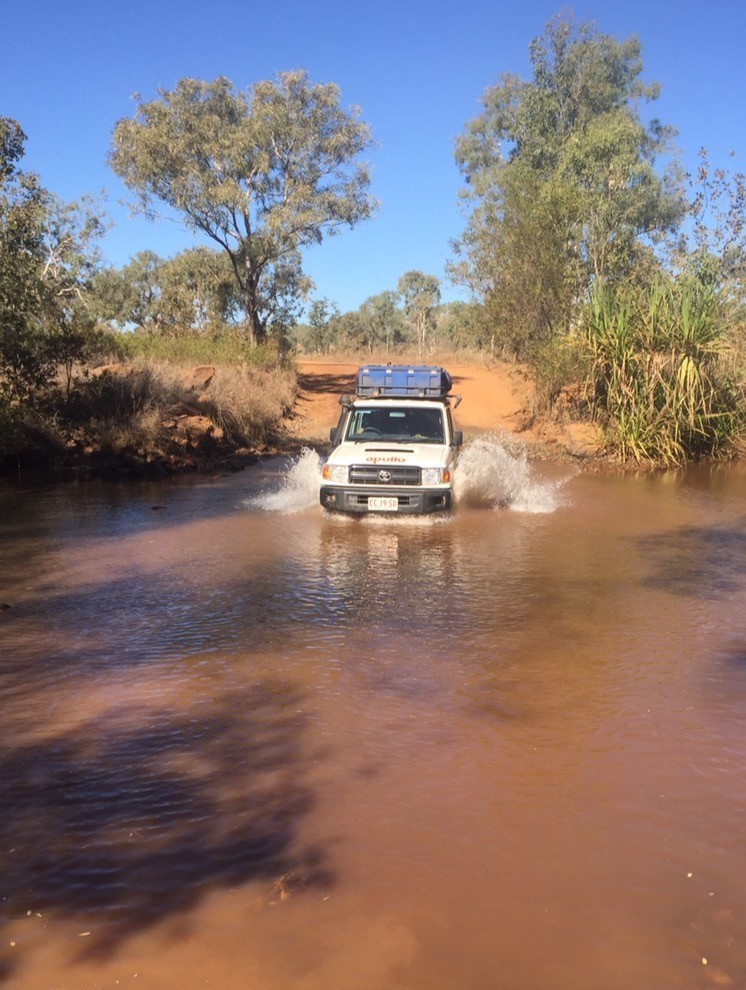 Creek Crossing on the way to Bell Gorge
Enjoy!
Our trip:


Arrive Broome late evening. Bali Hai hotel


Pick up Apollo Overlander. Shop. Water volleyball at Cable Beach until dark! Stay at Palm Grove resort, Broome


Drive to Cape Leveque, stopping at Beagle Bay for lunch and to see the church. Sunset at Kooljaman west beach. Kooljaman Resort powered site


Swimming beach. 4WD tag tour Djardinja and Lombadina beach. Kooljaman powered site


Drive to Broome. Cable Beach. Palm Grove resort.


Drive to Windjana, visit gorge, camp at Windjana.


Tunnel Creek. Drive to Silent Grove. Set up camp. Relax


Bell Gorge. Galvans Gorge. Overnight Drysdale River Station


Scenic flight to coast and Mitchell Falls. Drive to Ellenbrae. Cream tea and swim at waterhole. Camp at Ellenbrae.


To El Questro. Walk and swim at El Questro Gorge. Powered site at El Questro.


Zebedee springs. Picnic breakfast at Jackaroo's waterhole. Afternoon walk to Moonshine Gorge. Powered site at El Questro.


Walk to Champagne Springs all day. Powered site at El Questro.


Breakfast at Pigeon Hole lookout. Day out at Emma Gorge. Powered site at El Questro.


To Purnululu. Set up camp at Walardi. Relax (one car sick child!!).


Echidna Chasm, Mini Palms Gorge, Domes Walk, Cathedral Gorge. Too hot for Piccaninny Gorge! Sunset lookout. Camp at Walardi.


Drive to Kununurra. Shop. To Zebra Rock Mine. Set up camp. Fish & Chip dinner.


Morning wetlands cruise with Max (brilliant!). Drive all the way to Katherine. Long but very scenic drive. Camp at Nitmiluk. Time for a swim in the pool on arrival.


Katherine Gorge bush walk to Pat's Lookout and Jedda Rock. On reflection would have taken a cruise. The canoeing looked wonderful but kids were afraid of crocs so we didn't do it. Drive to Gunlom Falls Kakadu. Set up camp and go for evening swim in bottom pool at Gunlom. Worst night in camp because of awful, noisy drunken group next to us. Only time we encountered such a nuisance.


Whole morning up at top of Gunlom then bottom. Wonderful swimming and views - go to all the higher pools. Drive to Litchfield. Set up camp at Florence Falls 4WD camp. Horrible night: Storm, poured with rain, appalling mosquitos!! Lovely neighbours in a van brought us a coffee in the morning :). Drive around to see Litchfield main attractions with a long and lovely swim at Wangi Falls. Drive to Berry Springs. Camp at Tumbling Waters. Dry everything out! Go to Berry Springs for a swim. Deckchair cinema at Tumbling Waters.


Morning tidying up and cleaning out car. Drive to Howard Springs. Visit Window on the Wetlands. Croc jumping cruise with Adelaide River Cruises (spectacular). Drive to Darwin. Check into Doubletree Hotel Esplanade. Dinner at 'Crustaceans' (mediocre). Overnight at hotel.


Darwin military experience. Historic Qantas hangar. 4 hour Harbour fishing trip with Fish Darwin. Visit aviation heritage centre. Deckchair cinema. Overnight at hotel.


Pack, check out, return vehicle (painless). Fly home.


Travelling to the Kimberley?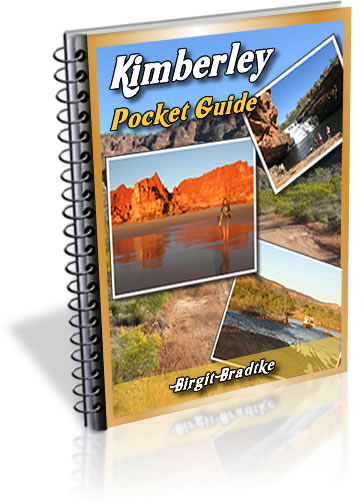 The FREE Kimberley Pocket Guide
A great introduction to travel in the Kimberley region and along the Gibb. This free resource will answer all the questions you might have in the early stages of planning a trip.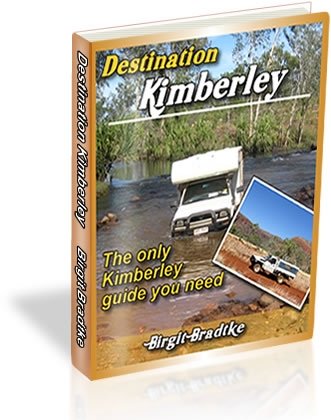 Destination Kimberley
The full Kimberley travel guide shows you how to make the most of your adventure at Australia's last frontier. Destination Kimberley includes the most detailed and most current guide to the Gibb River Road available anywhere. Also called "The Bible" by its readers.

Travelling to the Northern Territory?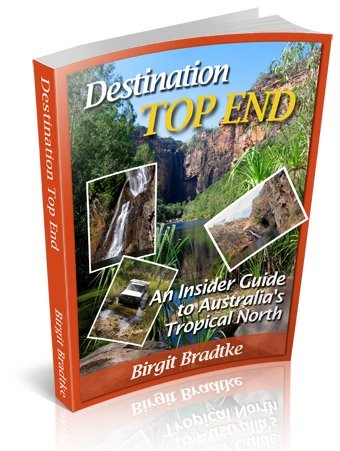 Destination Top End offers the same comprehensive, detailed insider information for the tropical regions of the Northern Territory. Be the best informed traveller in the Kakadu, Litchfield and Katherine Gorge national parks and beyond!

A must have if you travel to or from Darwin.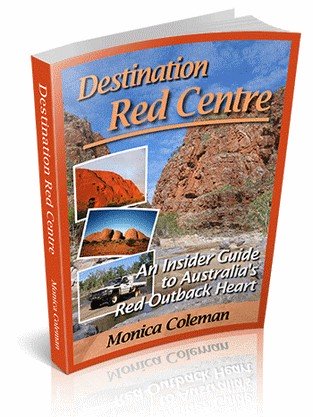 NEW! Destination Red Centre is the latest addition in this popular series. Monica Coleman takes you through Australia's red Outback heart, offering all the detail and insider tips that you have come to know and love about our guides. With special emphasis on Aboriginal communities and culture.

A must have if you travel to or from Alice Springs/Uluru.