Gibb River Road is a must do!!
by Karla Alexander
(Ballarat AUS)
We left Darwin on 29th July and had to be in Cable Beach on 12th August. We travelled to the Bungle Bungle then to Wyndham and via the back road across Ivanhoe Crossing and back into Kununurra for 2 nights to stock up for the Gibb.

As this was our first time we really had no idea what to expect. We were travelling in a Patrol with a tinnie on the roof and towing a $5000 camper trailer that we bought 3 years ago 2nd hand. It is basic but I love it!!
We had laughed before we set off that if it fell apart we would just buy tents etc.

First stop was two nights at El Questro which we enjoyed, then we headed up the Kalumburu Road to Drysdale River Station. The road was in bad shape and the corrugations weren't pretty. We camped at the Miners Pool for the night before heading to the Mitchell Plateau for two nights.

This is an amazing place and the road was being graded in sections but it was pretty rough with many people turning back only after a few kms. As we were driving out of Mitchell Plateau we saw the sign to Port Warrender and decided to give it a go!!!

Well what a track it proved to be, we took it slow and steady and the last 9km took us 1 hour. We ended up staying here two nights and apart from the sand flies this place is truely amazing. My partner went fishing and caught four sharks, had one in the boat with him somehow and lots of fish!! This place is very remote but suprisingly there was a drop toilet there!!! Well worth the side trip, although this meant we didn't have enough time to go to Kalumburu which was disappointing.

We headed back to Drysdale for lunch (had to have one of those burgers) and onto Mt Barnett Station for the night and Manning Gorge which was sensational. There was a little boat that was set up across the river and we swam back.

Next was Silent Grove which is an awesome camping site, then Bell Gorge the next morning.
Onto Windjana Gorge and Tunnel Creek, which was my kids favourite. I was about 2-3 metres away from the crocs taking photos and they don't seem to mind.

Off to Derby for a night and then Cable Beach. After Broome we headed to Middle Lagoon for three nights where we fished amongst the whales!!! At one stage they came to within 25-30 metres of our boat, great photo opportunity.

We headed to Cape Leveque to have a look, then back to Bully's camp for two nights. (Ablution block needs replacing desperatley!!) The fishing was amazing and you never know what you are going to pull up!!!

The Gibb River Road was so much better than we thought, like a gravel highway??? After 22,000km we didn't even have a flat tyre although they did suffer a bit at Port Warrender.

We travelled all up for 14 weeks doing a half lap and it was amazing. After we left Broome we were totally lost going down the West Coast without Birgit's guides...
Travelling to the Kimberley?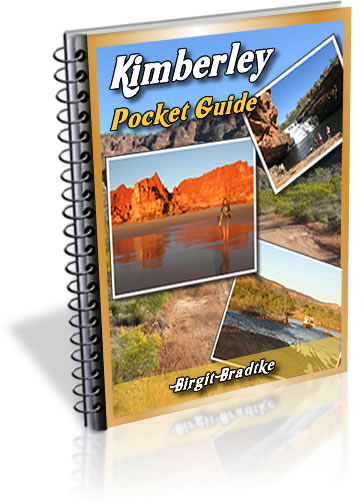 The FREE Kimberley Pocket Guide
A great introduction to travel in the Kimberley region and along the Gibb. This free resource will answer all the questions you might have in the early stages of planning a trip.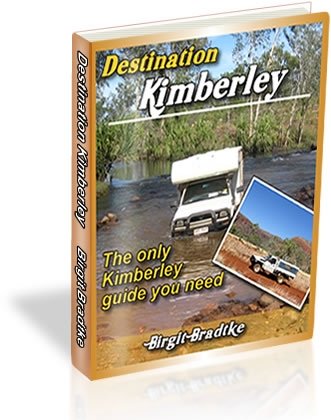 Destination Kimberley
The full Kimberley travel guide shows you how to make the most of your adventure at Australia's last frontier. Destination Kimberley includes the most detailed and most current guide to the Gibb River Road available anywhere. Also called "The Bible" by its readers.

Travelling to the Northern Territory?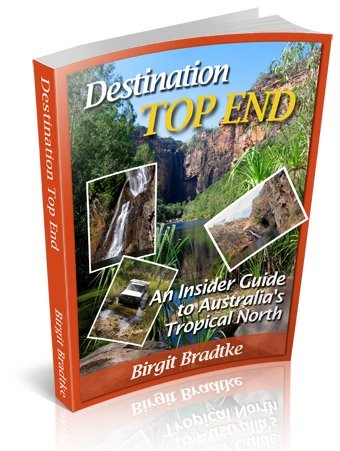 Destination Top End offers the same comprehensive, detailed insider information for the tropical regions of the Northern Territory. Be the best informed traveller in the Kakadu, Litchfield and Katherine Gorge national parks and beyond!

A must have if you travel to or from Darwin.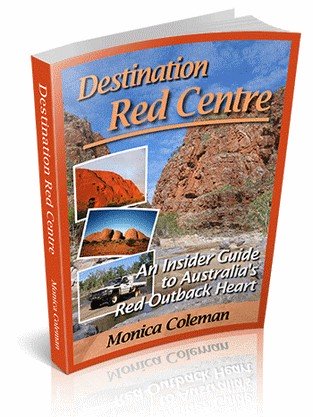 NEW! Destination Red Centre is the latest addition in this popular series. Monica Coleman takes you through Australia's red Outback heart, offering all the detail and insider tips that you have come to know and love about our guides. With special emphasis on Aboriginal communities and culture.

A must have if you travel to or from Alice Springs/Uluru.