Crocodiles In The Kimberley

How To Be Crocodile Safe In The Kimberleys
The Western Australia Kimberley is crocodile country, you probably know that already.
I don't want you to get eaten by a crocodile on your Kimberley holidays, so please don't do anything stupid while you're here.
(I'll tell you in a minute what that would be...)
By the way, not all Kimberley crocodiles are dangerous. We have two different species of crocodiles in the Kimberley, freshwater crocodiles and saltwater crocodiles. All the warnings below concern saltwater crocodiles.
Saltwater crocodiles are the largest reptiles in the world (in terms of weight). They can grow to over 6 metres and their jaws can exert a pressure of several tons. They are huge, territorial and aggressive, and they are plentiful across the Kimberley.
Some important facts:
The name saltwater crocodiles is misleading. Salties live just as happily in freshwater many hundred kilometres inland...
Saltwater crocodiles have been a protected species since the 1970s. Since then their numbers have been growing and growing.
Salties are very territorial creatures. Every grown male crocodile needs its own territory.
Can you see what I'm getting at? Put all the above facts together, add that the number of Kimberley tourists and residents is growing as well, and you can see how the potential for conflict is increasing. So please, be Kimberley crocodile safe and observe the following rules.
Be Crocodile Safe In The Kimberley
First of all: always, always observe crocodile warning signs!

Don't assume it's safe to swim if there is no sign! Crocodiles attack out of deep, still or muddy waters, where they can't be seen. Always stay well away from those.

Small creeks, waterfalls, rock pools etc. are usually fine. All the well known gorges and waterfalls along the Gibb River Road are safe.

But if you venture off the beaten track, especially if it's near the coast or the big tidal rivers, stay out of the water unless you know for sure it's safe. Ask first! Either the locals or the next Kimberley tourist information centre.
Having said that, there are plenty of places in the Kimberley that are crocodile free and safe for swimming. (Just have a look at all the gorges and waterfalls...)
I don't want you to get the impression that the crocodiles own all the water up here. But if you don't know an area it is very important to find out first where swimming is safe and where it isn't.
What to do if you know or suspect that
there are saltwater crocodiles
You don't need to avoid areas just because crocodiles live there. You just need to act sensibly around crocodile infested waters.
Stay away from the water's edge. Never stand on logs or similar overhanging the water. Saltwater crocodiles can jump. Also, never turn your back, always face the water.
If you see a crocodile sliding mark (a crocodile sliding into the water from a river bank will leave a characteristic mark), stay well clear of that area.
Don't return to exactly the same place at the water every day, or on a regular basis. Or one day a croc will be waiting there for you...
Don't go near the water at night time.
Don't feed crocodiles. Also, don't harass or provoke them, don't interfere with them. Even the small ones, leave them alone!
Avoid places where native animals or cattle drink. That's exactly where a crocodile would be waiting for an opportunity to attack. (Saltwater crocodiles are very conservative with their energy, and therefore opportunists when it comes to hunting. They stalk their prey, hide under water and wait. A crocodile you can see is less dangerous than one you can't see...)
Saltwater crocodiles are most aggressive during the breeding season, September to May. The warmer weather also makes the cold-blooded animals even faster.

That doesn't mean you can swim with them during the dry season, but it is one more reason why tourists really are very safe. (The other reason is that, as explained above, the places that tourists visit are usually not crocodile habitat in the first place.)
---
Fishing is very popular in the Kimberley, and any great barramundi fishing spot is guaranteed to be popular with saltwater crocodiles as well!
Don't clean fish near the water, or discard fish scraps in the water.
Be careful when launching boats. Avoid going in the water if at all possible.
Don't dangle your arms or legs over the side of the boat.
I know of two different saltwater crocodiles, one in the lower Ord River, and one in the ocean out of Wyndham, that have become a nuisance because people kept throwing them fish scraps. They are used to being fed...
One of them has attacked a boat and taken a chunk out of the prop.
In another attack in the same area a man was grabbed on the shoulder while leaning over the side of the boat to clean fish. No further comment...
(The other crocodile, the one in the Ord River, features in one of the incidents below...)
---
Camping near the Kimberley coast or tidal rivers can get you into trouble too...
Always camp well away from the water. 50 metres is the absolute minimum.
Don't leave food scraps at your camp site.
Naturally, be particularly careful at night time...
Here are two more Kimberley crocodile incidents:
The first one happened at the Pentecost River. In 2005 a couple spent one hell of a night when a crocodile marched up to their tent and grabbed and shook it. Terrified they clawed their way out of the back of the tent and spent the rest of the night on the roof of their car, with the spotlights on. With the result that the battery was flat in the morning and they couldn't leave. (They were rescued later.)
A friend of mine, camping at the lower Ord River near Kununurra, thought he was doing the right thing by keeping all the fish scraps in a bucket. He woke up the next morning to find a crocodile had marched through the camp and helped itself to the scraps anyway...
I want to repeat again that this is NOT at all a natural behaviour for crocodiles. These crocodiles had both been trained to connect human camps with food, by all the fishermen who over the course of many years camped there and discarded fish scraps into the water.
Please, when you visit us, and especially when camping or fishing, be Kimberley crocodile safe!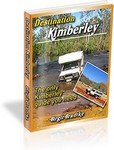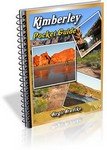 Travelling to the Kimberley?

The free Kimberley Pocket Guide
is a great introduction to travel in the region.
The full Kimberley Travel Guide


shows you how to make the most of your adventure at Australia's last frontier.
Travelling to the Northern Territory?
Destination Top End offers the same comprehensive, detailed insider information for the tropical regions of the Northern Territory.

A must have if you travel to or from Darwin.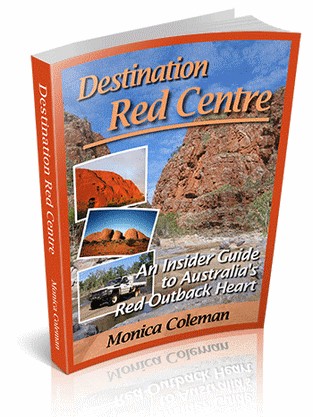 NEW! Destination Red Centre is the latest addition in this popular series. Monica Coleman takes you through Australia's red Outback heart, offering all the detail and insider tips that you have come to know and love about our guides. With special emphasis on Aboriginal communities and culture.

A must have if you travel to or from Alice Springs/Uluru.
More about freshwater crocodiles and saltwater crocodiles.
---
Return from Kimberley crocodiles to Kimberley Australia Travel Guide home page