Map of Kununurra

Printable map of Kununurra, Kimberleys, Western Australia
An overview map of where Kununurra is, for those who need to orientate themselves: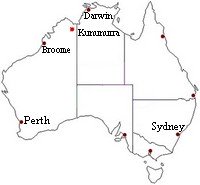 As you can see, Kununurra is a bit closer to Darwin than to Broome. (It's just over 800 km to Darwin, and just over 1000 km to Broome.)
Printable map of Kununurra
Here is a great printable map of Kununurra, produced by the Department of Land Administration. The writing is big enough to read, it fits neatly on a normal page (print in landscape format) and it shows absolutely everything. This Kununurra road map has all the streets, all the attractions of Kununurra and even descriptions of the sights. What more can you ask for?
Best Kununurra map you'll find. Print it, laminate it, take it with you.
The Kununurra map is a .pdf document and you need Adobe Acrobat reader to view and print it. If it's not installed on your computer get it here for free.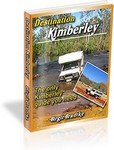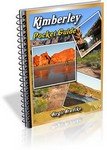 Travelling to the Kimberley?

The free Kimberley Pocket Guide
is a great introduction to travel in the region.
The full Kimberley Travel Guide


shows you how to make the most of your adventure at Australia's last frontier.
Travelling to the Northern Territory?
NEW! Destination Top End offers the same comprehensive, detailed insider information for the tropical regions of the Northern Territory.

A must have if you travel to or from Darwin.
---
Return to Kimberley Australia Travel Guide home page