Fitzroy Crossing

The Gateway to Geikie Gorge
Fitzroy Crossing is one of only two "towns" along the over 1000 km stretch of highway between Broome and Kununurra.
(You can also get to Fitzroy from Derby, via the unsealed Gibb River Road and Leopold Downs Road, past the Tunnel Creek and Windjana Gorge national parks.)
The town owes its existence to the Fitzroy River.
Every wet season the river swells into a formidable torrent. It can rise up to 13 metres above the old crossing and flow at 30.000 cubic metres per second.
The Fitzroy in full flood is one of the largest rivers in the world and an awesome sight to behold. (Not that many travellers ever get the chance.)
In the past the river was often difficult or impossible to cross. Travellers had no choice but to pull up at the infamous Crossing Inn and to wait for the waters to recede. (and drink lots of beer while waiting.)
Even at other times fording the Fitzroy could be quite an adventure, and the Crossing Inn became an infamous watering hole for the adventurers brave enough to have a go.
These days there is a highway and a bridge further south, and the whole town has shifted south as a result. Today Fitzroy Crossing is a welcoming, pleasant little township with a mostly Aboriginal population.
Things to see and do
The main reason for tourists to stop in Fitzroy Crossing is of course the Geikie Gorge National Park, located only 20 kilometres out of town and accessible on an all bitumen road.
But a few more places here are worth looking at. The old Crossing Inn was built in 1897 as a shanty inn and trade store for long distance travellers about to tackle the crossing of the mighty Fitzroy.
It's still standing and still serving beer, so having a beer here is a must. If you like it you can get a room here, too.
The Pioneer Cemetery is in the same corner, on the banks of the river.
On the way to Geikie Gorge you pass the turn off to the Old Townsite where the historical post office building is located. Today it houses a backpacker hostel. The old police station is also still standing.
A bit further on is the low level concrete bridge that was built in 1935. Go ahead, you can drive back and forth. But there's not much on the other side, just an unsealed road back towards the highway.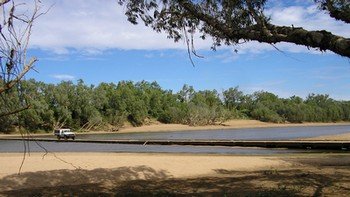 Where to stay
The national park is a day use area only, so campers need to stay at the caravan park in town. If you are looking for a real bed you can choose from the Fitzroy River Lodge on the highway, the Crossing Inn, or the Darlngunaya Backpackers in the historical post office.
---
Return from Fitzroy Crossing to Kimberley Australia Travel Guide home page