Kununurra Attractions and Sights

Things To See And Do In And Around Kununurra
Kununurra has a lot to offer, no matter what you are interested in.
Fishing, swimming, nature, Aboriginal art, boat cruises, canoeing, caving and abseiling, four wheel driving, hiking...
A range of industries is situated in the valley and nearby. Several of the businesses offer tours and insights into their operations. Or jobs, if you want to stay...
I'll start off with things to see and do in the town itself, then I'll cover what's nearby, and on the next pages I'll tell you where to go for a swim, and about all the day trips you can do from Kununurra.
Kununurra Town Area | Nearby Attractions
Waterfalls And Rock Pools | Day Tours From Kununurra
Kununurra Attractions - Town Area
Probably the best starting point is Kununurra's Visitor Centre at 75 Coolibah Drive (+61 8 9168 1177). The friendly staff have answers to all your questions, and a huge range of maps, brochures and detailed information on absolutely everything that might interest tourists.
(You can also find a printable map of Kununurra here which shows most of the attractions.)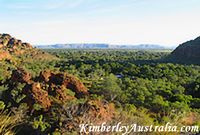 To get a good overview of the area climb up Kelly's Knob. Actually, you can drive most of the way. Only the last bit is a rocky path with steps and handrails, all the way up to the lookout at 191 metres height. From up here you have great views of the town, the irrigation areas and farmlands, the Diversion Dam, Kununurra airport, the nearby ranges and the lake.
Coming to think of it, Kelly's Knob is probably the best place to finish a day's sight seeing... Grab some cheese and wine before you go to enjoy the sunset. (In case you didn't know, Kununurra has the best sunsets in Australia.)
Kununurra has several art galleries. The Lovell Diversion Gallery is located in the town centre and has a range of works of local artists. For Aboriginal art try Our Land Gallery, also not far from the centre, Red Rock Art, and Waringarri Aboriginal Arts near Kelly's Knob.
Two more galleries worth visiting are Birdland Functional Art and Kimberley Boab Creations (both in Poincettia Way)
If you'd rather look at diamonds then Kununurra, being so close to the Argyle Diamond Mine, is of course the best place to be. Kimberley Fine Diamonds near the shopping centre (yes, we have a shopping centre) has one of Australia's biggest selections of coloured diamonds, including pink diamonds. Those are so rare that most people will probably never see one. The Argyle mine is the only mine in the world that produces them.
Another place to browse and shop for diamonds is Nina's Jewellery inside the shopping centre.
The best place for Kimberley rock art, including the rare zebra rock, is Mick Long's Rockalong (Bandicoot Drive). Longy, as we call him, has by far the biggest and bestest range of absolutely stunning pieces made from several types of local rock that he mines himself.
You can also find his creations, and loads of other stuff, including fresh, locally grown fruit and vegetables, at Paddy's Markets. The markets are held 8am - 1pm every Saturday during the dry season in Whitegum Park. (Which is, like everything else in Kununurra, near the town centre...)
Kununurra - Attractions Near Town
South-West Of Kununurra
The Ord River Diversion Dam is located on the main highway, six kilometres west of Kununurra.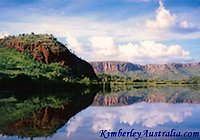 Above the dam you find Lake Kununurra which is popular for swimming, boating and water skiing.
You can join a boat tour to cruise up the river to the main dam at Lake Argyle, take a sunset cruise, or you can paddle a canoe form the main dam back to Kununurra (but that's an overnight trip).
If you want to launch your own boat use the boat ramp near Kimberleyland Caravan Park entrance (on the highway, at the edge of town).
Below the dam is the Lions Park boat ramp where you can launch your dinghy. And if you are a fisherman you will. Bandicoot Bar, the rocks just below the dam, are a top spot for barramundi fishing. So is the mouth of the Dunham River, which joins the Ord River just a little bit below the boat ramp.
(Don't even think about swimming anywhere below the dam! You'll end up as croc dinner for sure.)
If you cross the dam and take the next road to your left you find yourself on the Packsaddle Plains, one of the main farming areas. As you drive along you will notice a sandalwood plantation, mango orchards, citrus, melons and more.
Another reason to drive out that way is the Sleeping Buddha or Elephant Rock, a big rock formation on Lake Kununurra. (The official name is Carlton Ridge.) It looks most like a sleeping buddha if viewed from town, but if you want to see the elephant you have to cruise up the river or drive along Packsaddle Road.
North-West Of Kununurra
Ivanhoe Road crosses more farmland. A turn off to the left takes you to River Farm Road, a picturesque area on the lower Ord River. If you are rich you can buy yourself a million dollar mansion with river frontage here...
Everybody else go and visit Barra Barra Bananas. Despite their name they grow pretty much everything but bananas. However, the main reason for visiting them is not the tour of a tropical fruit farm, but the lovely cafe on the shady lawn near the water: Smoothies, ice cream, shakes and fruit salads, chocolate coated fruit, all made with their own fresh produce... yum. (Meh, and they closed down in 2007 :-( . I'll leave this here for now, in case they open again. Things change here all the time...)
Next door is another little gallery, Top Rocks, which sells rocks and jewellery crafted from local materials.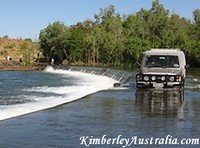 Ivanhoe Crossing is the place where Ivanhoe Road crosses the Ord River. This used to be the main and only road to Wyndham in the old days...
The crossing is another great place to try for barramundi. (It's also a great place to collect free lures that the tourists lost on all the snags there, hehe.)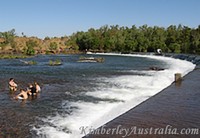 The crossing will be impassable during the wet season and for a while after. Once you can drive across again it also becomes a popular spot for locals to sit in the natural spas below the crossing with a cold beer on a hot afternoon. You're welcome to join us.
North-East Of Kununurra
Weaber Plains is the third main irrigation and farming area of Kununurra. (At this stage, that is. The Ord River Irrigation project is expanding). About 12 kilometres out of town you find what's left of the Kununurra sugar mill. The mill closed down in November 2007 and is mothballed for now.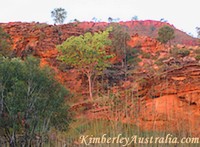 The City Of Ruins is just four kilometres out of town on Weaber Plains road. It's an area of intriguing sandstone formations which are supposed to resemble the remains of an ancient city. I can't see a city but it's a beautiful area nevertheless, great for bushwalking, especially in the afternoons when the rocks glow in their most intense colours.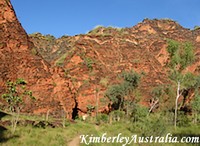 And then, last but certainly not least, there is Mirima National Park, also called Hidden Valley. The small park is just two kilometres out of town. If you want to drive your car in you have to pay a fee, but you can leave the car outside the gate and take the foot path. It's a beautiful walk and not far at all. As I said, it's a small park.
The sandstone formations here are part of the same range as the City Of Ruins, but are much bigger and more impressive. They resemble the domes of the famous Bungle Bungles (Purnululu National Park), which is why they are sometimes called Mini Bungle Bungles.
South-East Of Kununurra
Let me think. Well, there's the rubbish tip...
Actually, Lake Argyle is south-east of Kununurra, but I feel that belongs on the page with day trips from Kununurra.
Next page:
Day trips from Kununurra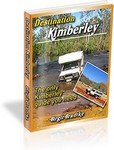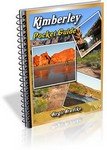 Travelling to the Kimberley?

The free Kimberley Pocket Guide
is a great introduction to travel in the region.
The full Kimberley Travel Guide


shows you how to make the most of your adventure at Australia's last frontier.
Travelling to the Northern Territory?
Destination Top End offers the same comprehensive, detailed insider information for the tropical regions of the Northern Territory.

A must have if you travel to or from Darwin.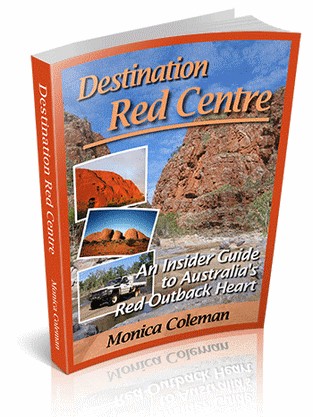 NEW! Destination Red Centre is the latest addition in this popular series. Monica Coleman takes you through Australia's red Outback heart, offering all the detail and insider tips that you have come to know and love about our guides. With special emphasis on Aboriginal communities and culture.

A must have if you travel to or from Alice Springs/Uluru.
---
Return from Kununurra Tourist Attractions to Kimberley Australia Travel Guide home page